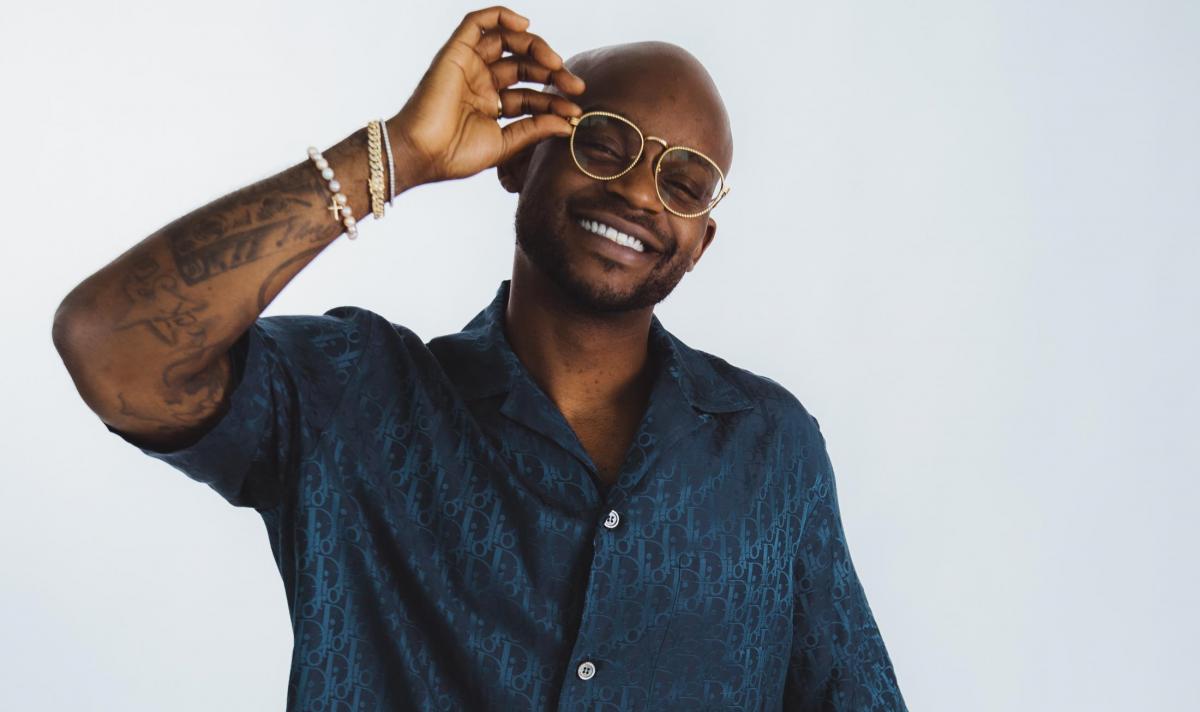 —Photography by Joseph Shaw
[Editor's Note: The Justin Bieber concert scheduled at Capital One Arena for Friday, June 10, has been postponed due to sickness and will be rescheduled at a later date.] 
Considering his star status today, it's easy to forget that Justin Bieber was discovered thanks to YouTube back in 2008. Soon after his enormous break, the then-teenage heartthrob hired Baltimorean Tay James, who had recently graduated from college, to be his touring DJ. Now, the two remain inseparable—both as creative partners and performers.
Later this year, James will join him on the Capital One Arena stage in Washington, D.C. as part of the long-awaited Justice world tour. Before the show—which was scheduled for Friday, June 10, but postponed due to sickness—we caught up with James about his start in music and what led him to collaborate with the "Peaches" singer.
Tell us a bit about yourself.
I was born in Baltimore. I grew up between the city and Columbia. My parents moved us to Harford County around the time I was in middle school, but I ended up going to Calvert Hall in Towson for high school. 
Did you always know you'd want to be a DJ?
I knew from an early age. I got my [first] turntables when I was 12 years old. I had always been infatuated with music, but once I learned the basics of DJing from my brother, it just kind of took over my life. I'd DJ for every little talent show or open mic event. Then in high school, I got cut from the basketball team. That's when I realized I would never be an NBA player. At the time, my coach, who was also my guidance counselor, suggested that I DJ at the basketball games, so that's what I started doing. I DJ'd at some mixers and school parties. I also had the opportunity to intern for the Baltimore label Unruly Records, which has been around forever, and is kind of like a pioneer of club music. That was where I learned about the business of becoming a DJ, and also where I got my first taste of the industry.
Who were some of your earliest musical influences?
I was heavily influenced by Baltimore club music. I [looked up to] DJ Alizay, K-Swift—rest in peace—and DJs like Jay Claxton and Quicksilver, who are still on the radio today. I was also your typical rap fan. I loved Jay Z and DMX. But I also had a versatile sense of music because my father used to make me listen to jazz growing up. I would say I was well-rounded.
How did you initially connect with Justin Bieber?
A friend I made at Hampton University dropped out early to pursue music, and became friends with a bunch of people who were in the industry in Atlanta. One of them was Usher's assistant at the time. So when [he and Justin] were first looking for a DJ, my name got thrown in the hat and he reached out to me. I met Justin on the second show, which was my first show. It was kind of like an audition, so if he liked me, I would do another show with him. We've been friends ever since. 
What's it like to work with him?
Besides being his DJ, I'm also his A&R, so we work closely on his music. It's been an experience that I can't really put into words. All I can say is that I'm blessed. I'm happy to do what I'm doing now, and I'm happy to help connect the world through music.  
Since your first tour together in 2010, you've worked with Bieber to team up with major artists, and even lent production skills to his 2021 LP Justice, which earned eight Grammy nominations. How does it feel to have accomplished all of this?
Justice was my first major project with Justin. I was able to help pick and produce songs on that album. When we first started working on it, we had no idea that it would touch people the way it did. All we were trying to do was put out good music, because the world was hurting. We were going through a pandemic, and there was a lot of social unrest going on. We just wanted to do something to help.
I know this is like picking a favorite child, but is there one particular Justice track that resonates with you?
I'm biased. I can't really just pick one. I like the whole, completed project. 
What are you most excited about playing close to Baltimore?
I can't wait. Being able to perform in front of your hometown is honestly such a nostalgic feeling. 
Any tips for up-and-coming DJs here in Baltimore?
My advice is just to focus on your craft. I like to say "Treat everything like you're a ballplayer or a professional." You've gotta work [hard] every single day. And don't let anyone tell you that you can't do what you want to do. If I can do it, anyone else can. 
What's next for DJ Tay James?
Man…more tours. I'm on this tour for about another year. And we have more music coming. I can't wait for you guys to hear it.