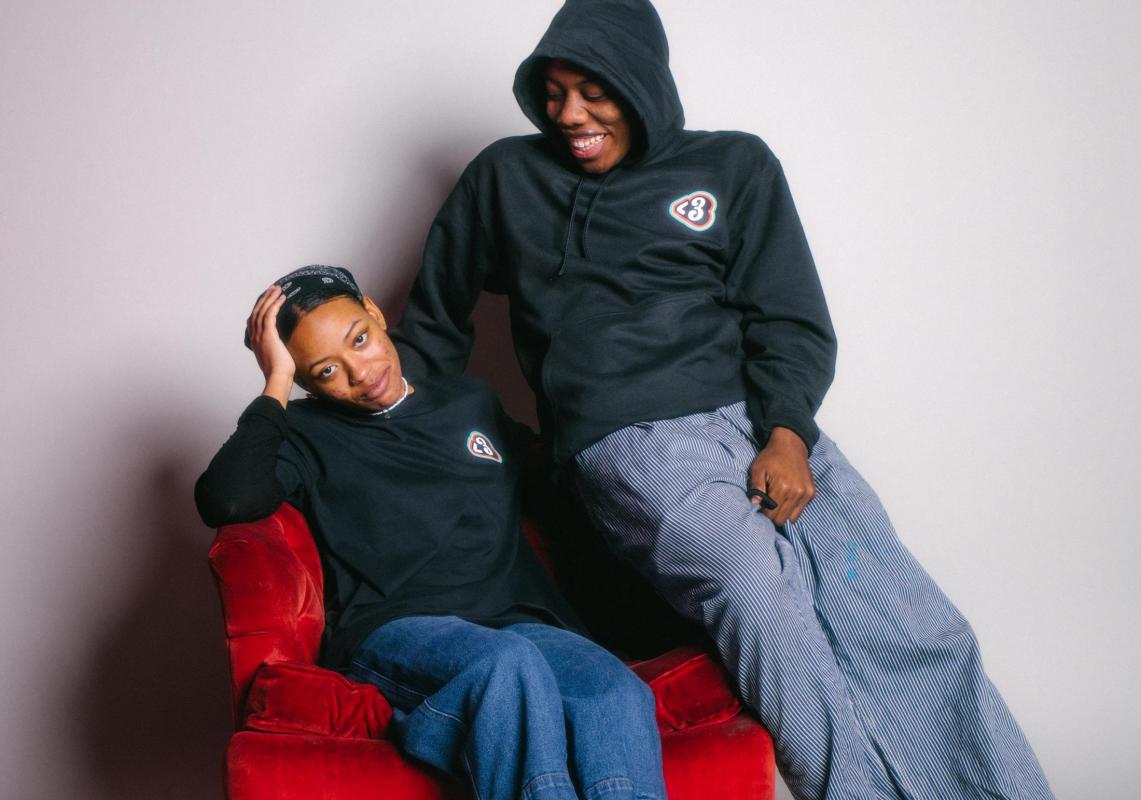 Singer Fola and Love Groove Music Festival founder John Tyler. —Photography by Jarett Loeffler
As a kid, West Baltimore native Nia June, 25, had her sights set on becoming a professional dancer. But she remembers countless attempts from her father, writer Argin Henry, to get her interested in writing and reading his work. 
When Henry passed away from a heroin overdose in 2017 at the age of 47, June found a new love for spoken word poetry. She saw it as a way to express herself, while also honoring her father's passion. 
"It was a language that I was kind of fluent in my whole life," she says, "but I didn't know that I could use it to express myself and also get involved in activism."  
Her roughly three-minute poems are filled with high imagery, rhythm and rhyme, and heavy hip-hop influences inspired by the music she grew up listening to. She draws inspiration from Black female creatives who have gained recognition in the industry against all odds—including singer-songwriters Lauryn Hill and Jill Scott, as well as playwright Ntozake Shange, who wrote the award-winning musical adaptation For Colored Girls Who Have Considered Suicide/When the Rainbow is Enuf. 
At the virtual Women Artists' Showcase presented by the Love Groove Music Festival on March 5, June will perform some of her powerful work alongside several other Baltimore-based female artists, including host and creator Amber Campbell-Wheeler (who performs under the name Amber August), rapper Jacey-Symone, pop artist Peach Face, Neo Soul group Black Assets, and an all-female house band. Proceeds from the event will benefit the Johns Hopkins Breast Center and all of the performing artists. 
The showcase was founded by 21-year-old musician John Tyler in 2017, when he was a high school junior at the Baltimore Design School. Tyler was struck when he learned the difficulties that his female artist friends faced while trying to break into the local creative industry. He intentionally set the date for the event in March to honor Women's History Month.
"I knew how hard it was to be an artist," Tyler says. "I didn't know that women went through losing opportunities because a man in power might say, 'I want you to do this or you're not going to get this opportunity.'"
A multi-instrumentalist who plays guitar, piano, and saxophone, Tyler has always seen music as a way to bring different groups of people together—which is, in large part, why he started the music festival in the first place. The West Baltimore native says his teachers encouraged him to throw student concerts after school and make music with his friends.
"They allowed me to really express myself," he says. Back then, he brought his guitar with him to most places—even his part-time job at the Port Discovery Children's Museum in the Inner Harbor, where he met both June and Campbell-Wheeler.
Two years ago, Campbell-Wheeler, 25, overheard Tyler playing his guitar at work while a parent of one of the visiting children sang along. Impressed by his talent, she remembers asking them, "Can I jam with y'all?" They broke into a freestyle session right in the middle of the museum. "We've been friends and musical collaborators ever since," she explains.
So, when Tyler mentioned his idea for an all-female showcase, Campbell-Wheeler was intrigued: "I thought it was beautiful to highlight women artists in Baltimore," she says. "There are a lot of showcases that mainly center around men and their respective talents, but I hadn't seen anything specifically dedicated to giving space to women." 
The lack of opportunity was echoed by the other artists performing in the showcase.
June, who studied writing at Towson University, says she felt she constantly had to explain cultural references in her work during class presentations at the predominantly white institution. Sometimes, she says, she would receive inadequate critiques from classmates who refused to do prior research before reviewing her poems. "It just seemed like my work was too much of something unfamiliar to them for it to be accepted," she says. "What I experienced in a college classroom is a reflection of the industry."
June, who also creates short films, has aspirations to be an independent artist in the coming years. For his part, Tyler hopes that the showcase will allow all of the performers to advance one step closer to their dreams. So far, almost 200 people have registered to attend the event. 
In the future, Tyler plans to expand Love Groove into a full-blown Baltimore City music festival.  
"I hope to have a safe space for women of all genres of music to be free and express themselves," he says. "This is a movement to me."