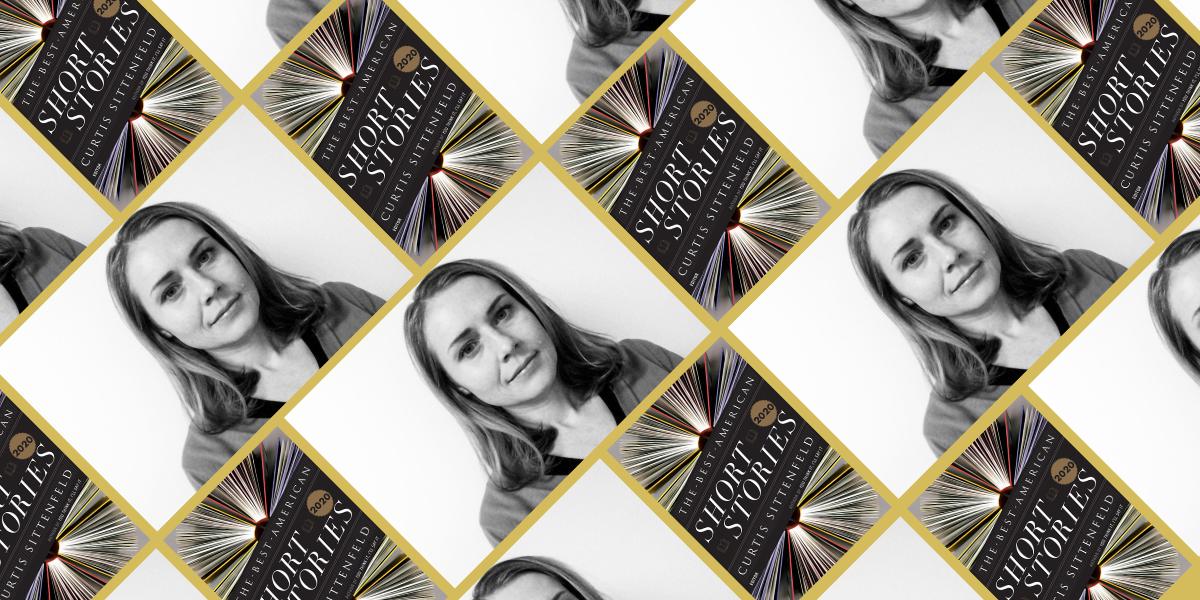 —Courtesy of Marian Crotty
Marian Crotty's short story "Halloween" will appear in the forthcoming Best American Short Stories 2020 (Houghton Mifflin, 2020), slated for release on Nov. 3. The Baltimore-based writer, who has taught in Loyola University's writing department since 2014, is the author of the short story collection What Counts as Love, and is an assistant editor at The Common—a print and digital literary journal with a mission to deepen our individual and collective sense of place. "Halloween," which tells the story of a teenage girl's desire for another (with romantic coaching from her eccentric, outspoken grandmother), was first published in the fall 2019 issue of Crazyhorse literary journal.
We recently caught up with Crotty to discuss the short story, what she's reading now, and her upcoming novel.
What was the inspiration behind "Halloween"?
My students were brainstorming essay topics for a short memoir, and we were talking about topics that often don't work, such as essays about the death of a grandparent, which tend to be predictable and overly sentimental. This got me thinking more about why these essays are so hard to write and how the story of a grandparent's death might be compelling and original. My initial beginnings to this story were an effort to take up that challenge of making something familiar new. In the end, I didn't succeed in telling the original story, but the idea helped me to create Jules and her grandmother Jan.
Why the title "Halloween"?
On a literal level, the story is set in the fall and ends with a Halloween party. Thematically, I was also playing around with the idea of masks and secrets and how the safety of a mask sometimes allows us to reveal ourselves in other ways.
The story left me thinking about the masks we wear—not just on Halloween but yearlong. Your story shows the freedom—and fun—in our ability to change masks as needed. Was it important to you to illustrate what could be thought of as superficiality in that way?
I didn't begin the story with any particular idea. I was mostly just interested in this character, Jules, who is figuring out who she is while at the same time realizing that she can misrepresent herself and get away with it.
Was the grandmother, Jan, inspired by anyone, real or fiction, or an amalgam of people? She's such a great character.
Thanks! I went to grad school in Tallahassee, which is where many of the details of the setting came from—including Jan's apartment complex, which was based on a place where a friend and her husband lived. Where the rest of the story came from is more of a mystery to me, though I do know that Jan became more interesting to me as soon as I began to see her as vulnerable—not just a tough, mouthy grandmother, but also someone who had experienced great pain that still affected her present relationships.
Why is this story an important one to tell?
For me, the importance of any story is simply to allow readers to experience the world through someone else's point of view. I hope this story shows something of what it's like to be this particular teenager—overwhelmed by her love life and also in search of adult guidance and knowledge. Lately, I'm also interested in stories about unlikely friendships and surprising moments of connection.
What was your reaction to the inclusion in Best American Short Stories?
This has definitely been the best news I've gotten in 2020. I've been reading the anthology every year for a long time and was thrilled to have a story included. I was especially happy to learn that the guest editor was Curtis Sittenfeld, whose work I really admire. I highly recommend Eligible, her modern retelling of Pride and Prejudice, as well as her recent short story collection, You Think It, I'll Say It.
How did you become involved with The Common?
I met Jen Acker [founder and editor in chief] several years ago when we were both living in The United Arab Emirates. I was writing essays in Al Ain as part of a Fulbright grant, and she was teaching at NYU-Abu Dhabi as a visiting professor. The journal publishes fiction, nonfiction, and poetry with a strong sense of place. I work with the Young Writers Program, which offers an online course to high school students, and with Weekly Writes, which sends subscribers weekly writing prompts. Working with the journal has introduced me to the work of great writers from around the world, and it's been exciting to see how the journal has grown over the past 10 years.
Is place an important component to your writing? Specifically how place shapes our identity and vice versa? If so, why?
Place is definitely central to my writing, and the location of the story is almost always set in my mind right at the beginning—even before the story itself really takes shape. Thinking about the imagery of a place helps me sink into the fictional world, but it also determines what feels possible to me in terms of the plot. Who might the characters encounter? What are the local conversations? How will the scenery and climate shift the mood of the story?
Do you prefer writing fiction to nonfiction? Which do you prefer to read?
I tend to write more fiction, but I really like to read and write both. Fiction helps me process the world on an almost unconscious level; nonfiction helps me make sense of my own experiences and have a reason to go out and learn new things.
What are you reading now?
I just finished A Good Country by Laleh Khadivi, which is a beautiful and empathetic novel about the radicalization of an American high school student. Now I'm reading Pizza Girl, by Jean Kyoung Frazier. There are three story collections coming out soon that I've been anxiously awaiting—The Rock Eaters by Brenda Peynado, The Department of Historical Corrections by Danielle Evans, and Life Among the Terranauts by Caitlin Horrocks.
Can you talk at all about the novel you're working on and give us a little teaser?
It's an expansion of a short story I included in What Counts as Love called "The Fourth Fattest Girl at Cutting Horse Ranch." It's set at a treatment center for eating disorders and follows a college student's time there.