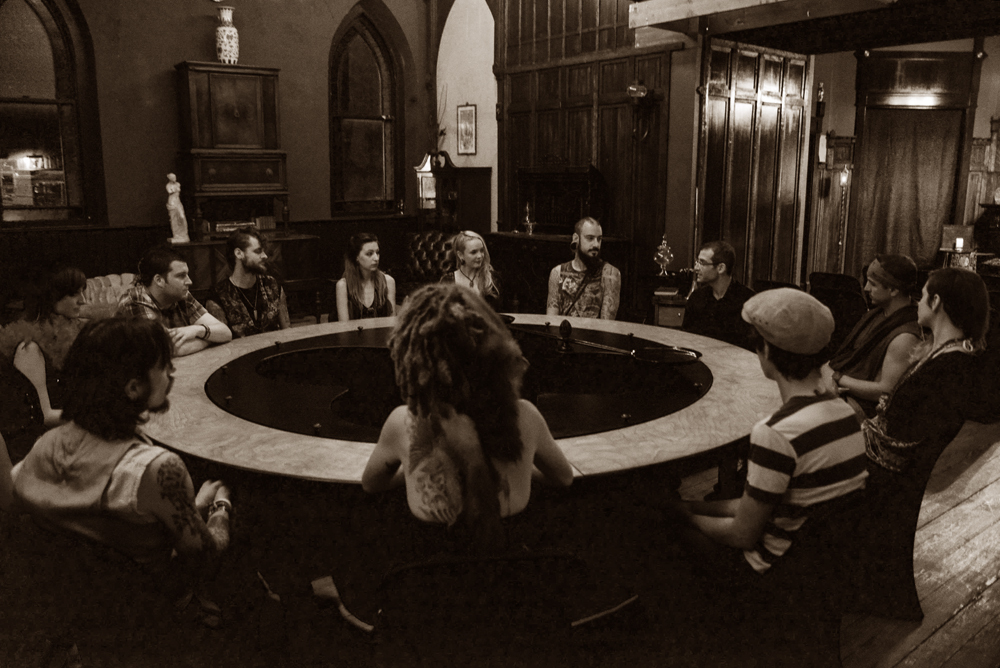 Philip Laubner
There's a definite "wow factor" with David London's Creative Spirit Séance. Held at Hampden's exquisitely funky Church & Company (3647 Falls Road), it weds magic to curiosity and creativity, with a bit of personal empowerment in the mix. London, who's recently performed at Theatre Project and Single Carrot, spent 18 months working on this show, which is designed for an audience of 12 and continues through August 30th. I visited with London just prior to opening night and talked about the seance and his approach to it.
This space is amazing and seems perfect for a séance.
It's so ideal. It has so much magic to it already. It's especially satisfying, because I've been working on this for such a long time. But I will perform this show for the next 20 years, so it also needs to be portable. My séance table is actually custom-made and collapses to fit into my car. Everything is designed to move to a black-box theater and bring atmosphere to wherever we go.
Your work is part magic, part monologue, part performance art. What do you consider it?
I believe wholeheartedly that I'm a magician. That is who I am and what I'm supposed to do. I've known that since I was 7 years old. But my definition of magic is broader than most other magicians. They focus on tricks, but I'm interested in how an exploration of magic tricks can provide a deeper understanding of reality. I believe that magic tricks probably started around campfires of initiation. A shaman, in the midst of a ceremony, would incorporate a trick into that ceremony when people were already in a heightened state, and the trick would shatter their reality. I believe magic started with that type of context. The illusion was used to further that context. In the Internet era, magic has moved to the polar opposite, tricks without context. We've moved from sparse illusion within an integrated whole to trick, trick, trick, trick, trick. My work is a return to magic within a broader context.
Does that make it a harder sell?
I don't have something to wow you in 90 seconds. I need to establish my premise, and the context is crucial to understanding what is being presented. People appreciate that my work isn't instant gratification—it's more thoughtful and deep.
How important are the audience members, or participants, when it comes to establishing context for the séance?
I overtly explore that in the show. I very intentionally, in the script, say, "We will engage in a variety of experiments to diminish our individual boundaries and strengthen our collective mind." The first section of the show is about coming together as an entity to work towards our ultimate goal. I actually state, "You are not an audience. We are 13 active participants."
Why a séance?
The premise is about exploring how we communicate with the creative spirit and the spirit world at large. The whole point is to find, summon, and communicate with the creative spirit. Around the séance table, I go into the history of spiritualism and séances and wonder if the creative spirit lives among the other spirits.
Do you attempt to contact particular people?
We are trying to make contact with the creative spirit. Other spirits may show their faces, but we are not trying to summon a particular dead person. I always wanted to do a séance, and it took me many years to come up with a premise that felt right. I never wanted to do a séance for, say, Harry Houdini. I needed something that philosophically felt right and fit in with the rest of my work. My magic is never about my power. It isn't about what I can do.
Is it about the participants' power?
Absolutely. There is a lot of empowerment built into the show, which is all about your creative spirit. People will leave here feeling empowered and, hopefully, inspired.