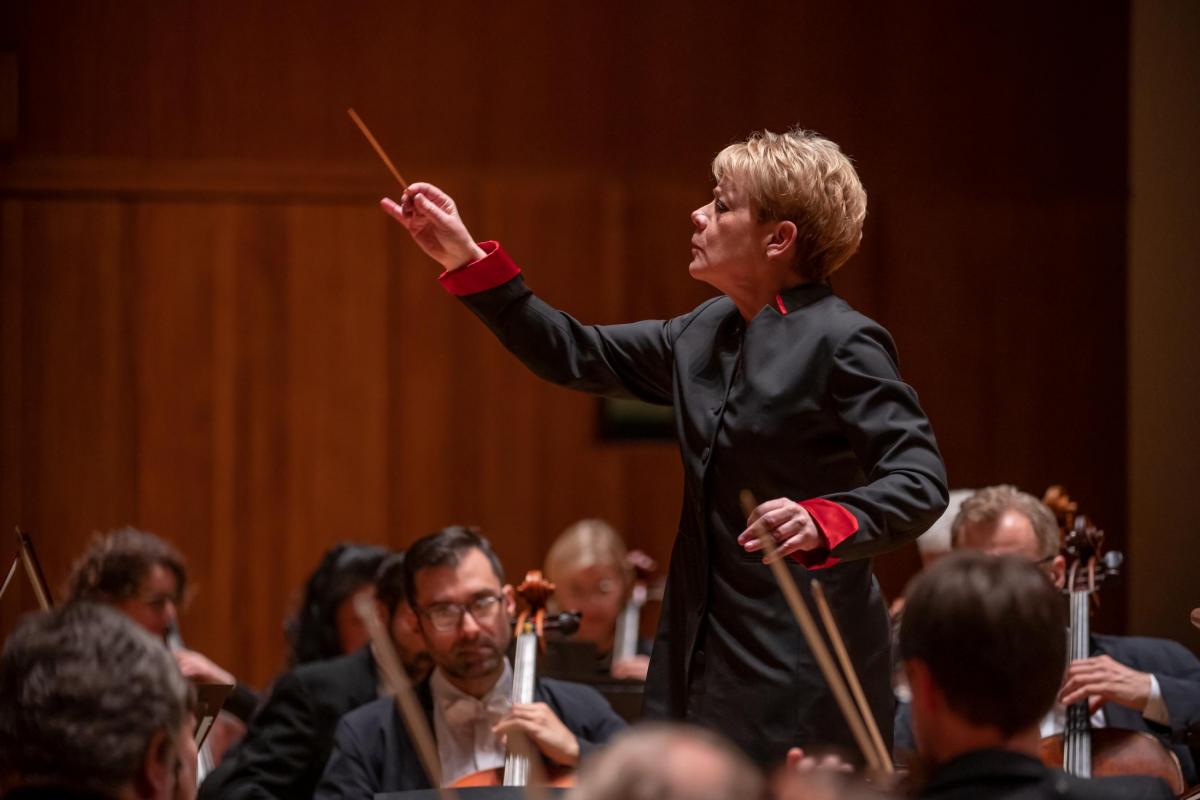 Courtesy of the BSO
Did you know that 2020 marked the 250th anniversary of Beethoven's birth? Don't feel too badly if you didn't. Suffice it to say, it would've been a much bigger deal—a veritable Ludwig-a-Palooza—had we not been in the midst of a global pandemic. Indeed, Maestra Marin Alsop, now music director laureate at the Baltimore Symphony Orchestra (sigh), was planning on doing a reimagined take on arguably Beethoven's most famous and beloved symphony—the Ninth, colloquially known as the "Ode to Joy"—for audiences across the world, including Baltimore. Now she's finally bringing her exciting new interpretation of the piece to Meyerhoff Symphony Hall from April 7-10. Last week, she sat down with me to talk about her vision.
I'm going to say this upfront: Beethoven's Ninth is my favorite symphony.
[Laughs] I hope you still like it after next week!
Why do a new interpretation?
The thing that always struck me about the symphony is that you have the sense that the listeners are enduring the first three movements in order to get to the choir. People didn't understand that the way Beethoven opens the symphony impacts the way he ends it. It's an arc. It's a whole story. I want people to understand the narrative.
So we'll be hearing the symphony with a new text?
You know, the [Friedrich] Schiller poetry is phenomenal, but it's not relevant for us today. The word "Joy" meant something different in his day. Schiller was revolutionary because the idea of individuality and individual freedom was something very new back then. I [thought], why don't we consider reimagining the text? With the same themes, the global themes of unification, tolerance, humanity, humankind, and joy. And what is joy really? So, I started this project called the Global Ode to Joy. And I had scheduled 12 performances with nine new texts, including texts in Zulu, in Maori, for New Zealand. We've had texts in German, Portuguese. They're not just translations. They're really reinventions. Tracy K. Smith, the former U.S. Poet Laureate did a version that we were supposed to premiere at Carnegie Hall. And then the text for Baltimore is done by my friend Wordsmith, Anthony Parker.
I heard that the piece is going to include African drumming and jazz? This is not the Beethoven's Ninth I know!
The idea is not just a new text. I'm also trying to enable the listener to understand why Beethoven wrote those first three movements. To that end, I've inserted music that segues from the first movement to the second movement and the second to the third. And then it goes attaca [straight] into the fourth. I tried to insert music that was culturally relevant to the location where I'm doing it. Here in Baltimore, between the first and second movements, I have African drumming. Just three minutes. But it takes the motif and it evolves it. Because I think that's what Beethoven was thinking. And then between the second and third movements, I have a jazz ensemble that's going to play these close harmonies that are going to take us into the opening of the third movement.
What do you say to people who think it's audacious to try to "improve" upon a masterpiece?
I'm not improving upon it! But you know, one of the challenges with classical music and art that is put up on such a pedestal is that people can't feel close to it because it's so untouchable. I think that Beethoven would be intrigued by this. Because the most important thing to him was the narrative and the message. And this is what I wanted to celebrate about Beethoven. He was not just a musician, he was really a philosopher. And I think that it's valid because it's bringing us closer to his masterpiece.
You're positing that music is this living, breathing, evolving entity.
Yes, and there's another thing I wanted to mention. The evening will begin with a new a cappella piece that's composed by my friend Reena Esmail. It's called "See Me." It's really about the idea of joy. She went back to the original Sanskrit word for joy, which doesn't just mean joy—it means love, life, marriage, like everything. Because that's what joy is.
So how is it going to work. I'm settling into my seat for this performance. What next?
The lights will come down. And the choir is going to come through the aisles singing this Reena Esmail, I hope. This is the plan—if I can keep them together somehow. [Laughs] We have Morgan State. We have Baltimore Choral Arts. We have the Peabody Community Choir. We've tried to really involve community members as well.
Then you're going to hear this piece you've never heard before, because it's a world premiere. And some of the text is in Sanskrit and then it moves into English. The words "See Me" are really important. Especially during this time, finally, of all these social movements. Somehow, I'm going to get the choir through the audience, and directly from that, I start the symphony with the open fifth [chord]. It's about connection, about possibility, about imagination. I'm trying to give people this sense of, "what could this be?" instead of just starting the symphony and they're thinking, "Okay, it's really long until they sing."
This sounds like the quintessential post—we hope—COVID performance! You're literally having singers come down the aisles.
[Laughs] I'm doing everything wrong! I may even ask them to wear masks, I don't want people to be uncomfortable. That's not the goal. The goal is for people to feel humanity and connection again. I want the audience to NOT know what is coming. From the very first aural experience, I want them to feel the suspense and excitement of the unknown.