Art Space: Monthly Poetry Series "Hidden Palace" Charms at Fadensonnen
Words and wine collide at the readings, which gather writers to share poems and other compositions of all genres.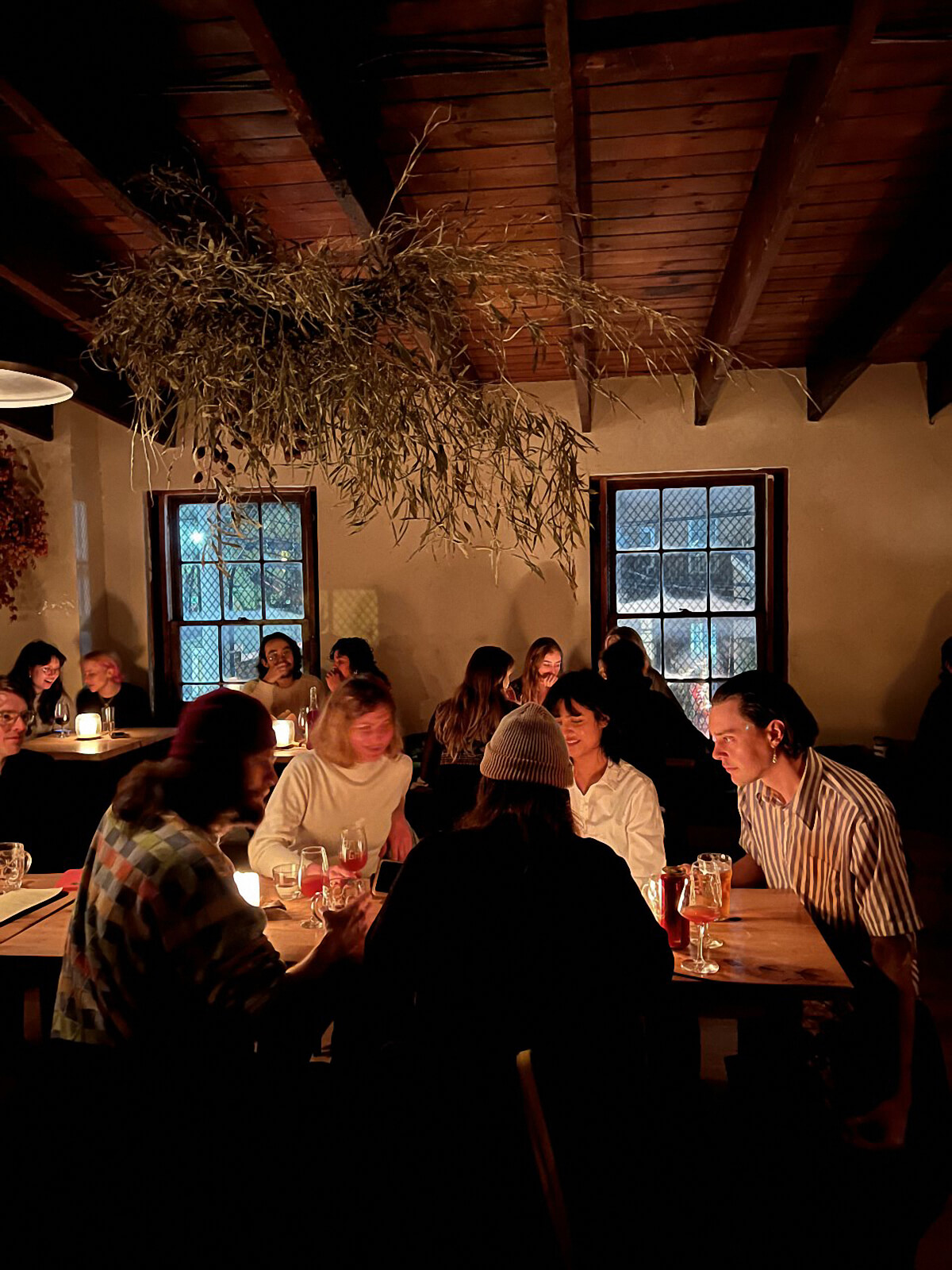 At hip beer garden and wine den Fadensonnen in Old Goucher, words and wine collide to bring local poetry lovers a "Hidden Palace." The series—which takes place on the first Wednesday of the month and is organized by writers Ashleigh Phillips, Joseph Grantham, and the staff at Remington's Greedy Reads bookstore—gathers writers in the upstairs tavern to share their poems and other compositions of all genres. 
"No matter who finds 'Hidden Palace,' as soon as the writer starts reading, everyone in the room is ready to listen," Phillips says. "It never gets old."
The winner of the 2019 C. Michael Curtis Short Story Book Prize for her debut collection Sleepovers, Phillips says that the event took off in the early days of COVID-19, when she was transitioning from working behind the bar at Fadensonnen to managing its natural wine shop, Angels Ate Lemons. When her book came out, Fadensonnen owner Lane Harlan bought a copy for everyone on staff, and later asked Phillips to curate the reading series after pandemic restrictions loosened. 
"It was like Lane read my mind," Phillips says. "Joseph and I have both hosted reading series in other cities. I had been wanting something like that in Baltimore."
The very first installment in March 2022 featured local Poet Sylvia Jones, along with North Carolina novelist Mesha Maren and New York City poet Joshua Garcia. In the year since, other participants have traveled from as far as Louisiana and Oregon.  
"Often, it's the first time many of these writers have been to Baltimore," says Phillips, a Baltimore transplant from North Carolina. "It's fun to get to show them around the city that Joseph and I have come to love so much."
The monthly events are free to the community, and typically feature readings from four different writers and poets. In the digital age, Phillips is pleased to see gathered lit lovers put down their phones and tap into the power of good storytelling.
"Sadly, so many readings these days are rarely about the words," she says. "So often they're about networking, who knows who, and who ends up in what picture on Instagram.
"But here in Baltimore, it's so inspiring to see a packed house of people giving themselves over to the poem and the story. People who come aren't trying to meet a literary agent or an editor at a magazine, they're there to really listen. It speaks to what Baltimore's about."