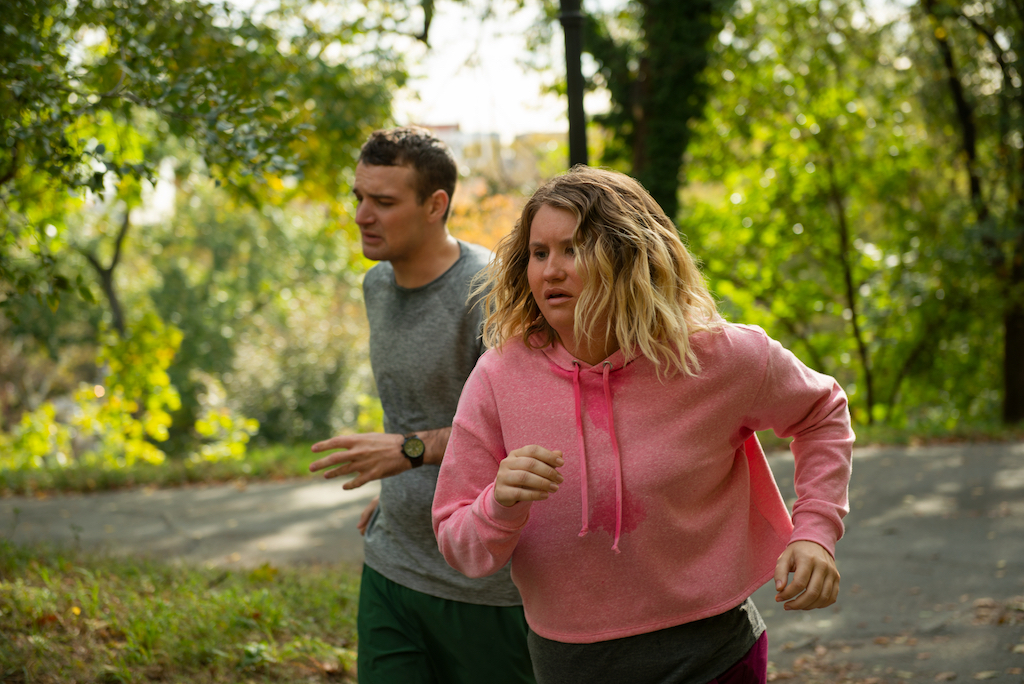 Amazon
I actually like the first incarnation of Brittany (Jillian Bell) that we meet in Brittany Runs a Marathon. She's always trying to make people laugh by cracking inappropriate jokes, loves animals, and parties like a rock star. But the problem is, she doesn't like herself. She's overweight, has a dead-end job as an usher at a playhouse, doesn't have a boyfriend (although she's prone to humiliating, faceless hookups at bars), and her Instagram-famous roomie (Alice Lee) basically uses her to feel better about herself. Then two things converge to change the course of her life: A kindly, but firm doctor tells her that she needs to lose weight to improve her health. ("I feel like you totally missed the point of those Dove ads," Brittany quips.) And a wealthy, fitness-forward neighbor, Catherine (Michaela Watkins), takes an interest in her.
At first, Brittany resists Catherine's overtures of friendship, mistaking them for a kind of noblesse oblige. The truth is, Catherine is going through some troubles of her own (a divorce and a custody battle for her two children) and could use an ally. One of the many things Brittany learns over the course of this film—a kind of ode to self-help that manages to avoid all the treacly pitfalls of the genre—is that when people want to help you, let them. It'll make you both feel better.
In an attempt to start getting healthy, Brittany goes to a gym where she gags over the price of a membership. ("You do know that people can run outside?" she sputters.) So she reluctantly laces up a pair of Chucks (they'll be replaced soon by actual running shoes) and starts to run, dodging ubiquitous pedestrians in annoyance (among other things, Brittany Runs a Marathon is a great New York City film). When Catherine sees her, she invites Brittany to join her running group, which is where she meets Seth (Micah Stock), a fellow running novice who pants alongside her. The three of them make a pact to train for the NYC Marathon.
There's also a boy (Utkarsh Ambudkar)­—a squatter at a rich couple's home where both he and Brittany are pet-sitting—that she might have romantic feelings for. But Brittany is used to deflecting affection and putting up walls to protect herself from getting hurt. Can she lower her guard enough to really let him in?
If you're worried that Brittany Runs a Marathon is a film about a woman who loses weight and therefore improves her life, don't be. Yes, that's part of it, but not the biggest part. The movie, which is loosely based on a true story, is really about learning to love yourself and finding a community of people who truly support you. That being said, Bell underwent a rather remarkable transformation for the role—losing 40 pounds to correspond with Brittany's weight loss. The deadpan actress had already proved her comedic chops in such films as 22 Jump Street and Rough Night—and she is, unsurprisingly, hilarious here. What is surprising is how touching she is. Indeed, I was briefly afraid that Brittany was going to lose her whipsmart sense of humor once she became self-actualized, as if her humor were strictly a defense mechanism and not an innate (and winning) part of her personality. But by the end, she's funny and healthy. Huzzah! I started Brittany Runs a Marathon laughing my ass off. By the end, I was laughing and in tears, fully invested in Brittany's journey—as both a runner and a person