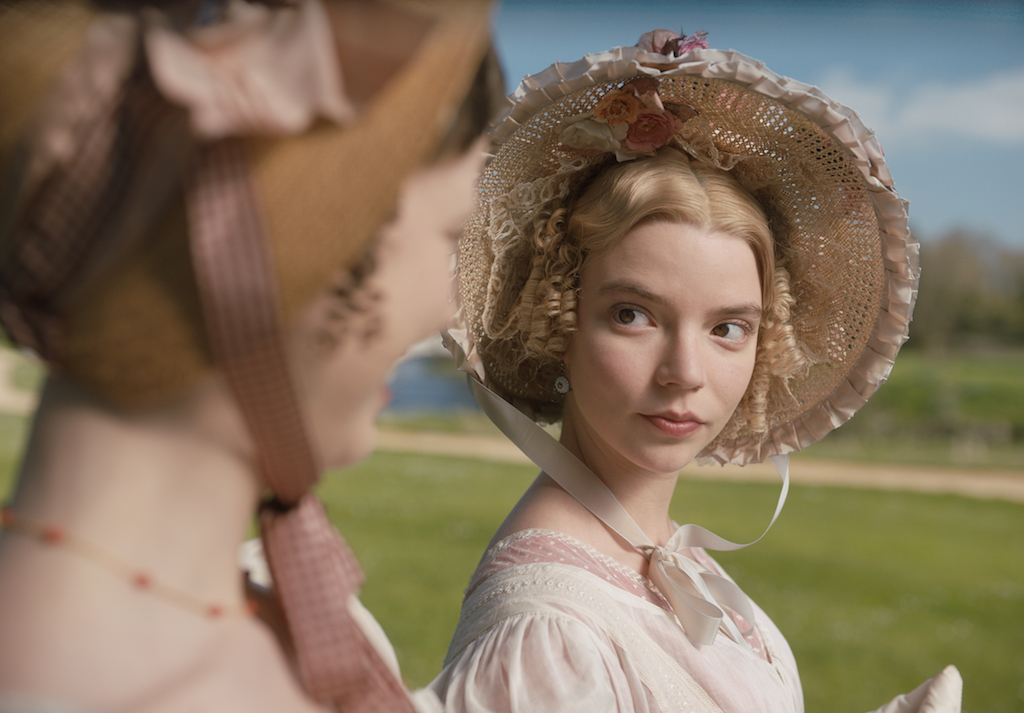 There have been numerous adaptations of Jane Austen's Emma over the years: There was the 1996 version with Gwyneth Paltrow, as well as a PBS miniseries, and, of course, there was the wonderful Clueless, which was an ingenious update of the 19th-century novel. What there hasn't been is a musical version of the book. That's still true. But this latest adaptation—by director Autumn de Wilde, who cut her teeth on music videos for the likes of Florence and the Machine and Beck—comes awfully close.
From the very first scenes, the film looks like a musical. Characters—often servants of the wealthy and spoiled Emma Woodhouse (Anya Taylor-Joy) and her bemused father Mr. Woodhouse (Bill Nighy)—swoop in and out of the frame, swirling, spinning, and sliding with choreographed precision. The elaborate costumes—a veritable bouquet of pastel-colored pinafores and floral waistcoats and poofy bonnets—as well as the playful score of Mozart and period folk music add to the overall effect.
The film, more than any adaptation of a Jane Austen novel I've ever seen, relies heavily on the visuals. Beyond the clearly obsessed-over art direction—on top of the ornate wallpaper, the delectable macarons and petit fours the characters eat, and the to-die-for table settings, the characters sometimes actually match the foliage—there's all manner of unspoken glances. In Austen, of course, there are always asides and glances—some filled with longing, some filled with disgust or amusement or dismay. De Wilde positively nails these, for both comic and romantic effect. (Having Nighy play the exasperated Mr. Woodhouse certainly helps the comic cause.)
Every adaptation of Emma relies heavily on the skills of its lead actress, who must navigate a tricky tightrope: Emma is sheltered but thinks she's worldly; she's selfish, but thinks she's generous; she's obsessed with fixing other people's lives because her own taste, happiness, and sense of superiority has never been disrupted. In short, she's a brat, but a well-meaning one, who has no idea that her meddling can be so destructive. And Taylor-Joy, with her pale skin, tulip-lips, and eyes as wide as an anime character, calibrates her perfectly. We see her careless cruelty but we love her all the same because we sense her innate goodness, her desire to make the world as pretty and comfortable as she is. Family friend George Knightley (Johnny Flynn) also senses her goodness. He's amused by her, taken with her, but he's literally the only person in her life who challenges her, too. (Indeed, it's his pointed criticism that results in her first truly destabilizing and life-changing moment of self-doubt.) Eventually, he realizes that he's in love with her.
There's a wonderful scene when it finally dawns on Knightley that his feelings for Emma are romantic. He stumbles outside of a ball—there's always a ball—and stares, dumbstruck into the dark night. He turns to his right. Emma is sitting, nestled in a carriage. They lock eyes, about to speak. Then with a jolt, the horses lurch away. It's all there: the romance, the visual wit, the exquisite delay of gratification.
Emma. (yes, I'm afraid the period is part of the title) pulls off a wonderful oxymoron: It's a substantial confection. I delighted in nearly every minute of it.