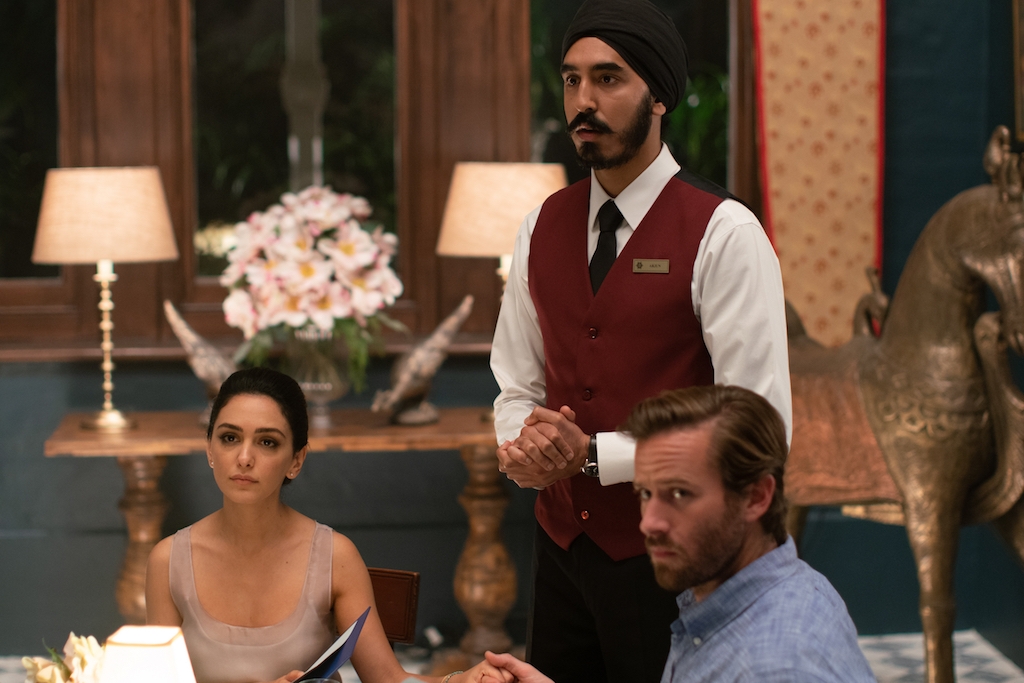 Bleeker Street
Hotel Mumbai is a shockingly violent action thriller—Die Hard on steroids—except the events it depicts are real.
It tells the story of the terrorist attacks in Mumbai in 2008, focusing on the brutal assault of the Taj Mahal Palace Hotel. Because Mumbai didn't have any kind of militarized police force to combat these terrorists, who were armed with assault rifles and grenades, the city had to wait several hours before reinforcement from New Delhi could arrive. They were essentially sitting ducks.
The film keeps you in its sickening thrall for all of its 125 minutes, and is mounted, by Australian director Anthony Maras, with undeniable skill. But I'm still trying to sort out if it should have been made at all.
Let's go on this journey through my thought process together, shall we?
For starters, I'll just say it right out: I'm uncomfortable with a film that highlights extremist Muslim terrorism at a time when Islamophobia is raging. Do we really need such a film right now? To what end? The men who commit these atrocious acts represent a statistically irrelevant band of zealots and in no way reflect the 1.5 billion peaceful Muslims around the world. So why add to the dangerous propaganda?
To (slightly) combat that, Maras depicts the Pakistani young men who execute these brutal acts of terror in a somewhat compassionate way—for starters, most are still in (or barely out of) their teens. They've been indoctrinated by a mastermind, who convinces them that the people they're killing are soulless infidels. A few are even given humanizing moments—one terrorist tearfully calls his father to tell him he loves him, another playfully convinces his friend he's just eaten pork as a gag, and at least one of the boys shows actual mercy. But those moments are few and far between. For the most part, the terrorists are rampaging through the hotel, indiscriminately but efficiently killing people and, in some cases, making others do their bidding for them. Quite frankly, we want to see them dead.
The good news: the heroes in this film are mostly brown people, too—the Indian staff and management of this world-class hotel. What makes Hotel Mumbai watchable, and even poignant, is the commitment to service that these hotel workers demonstrated, even when it could potentially—indeed probably—lead to their own deaths.
I should set the stage a bit. The opulent Taj Mahal Palace Hotel lives up to its name—soaring ceilings, marble staircases, chandeliers, and guests that include numerous high rollers and VIPs. The management knows—and caters to—all of its guests' needs: a warm bath with rose petals when they arrive, a favorite vintage of wine in the cellar, etc. They pride themselves on complete customer satisfaction. The main players in the film are both guests and workers at the hotel.
We have our hero, Arjun (Dev Patel), a poor young Sikh with a toddler and pregnant wife at home, who works as a waiter in the hotel's main restaurant. In his rush to get to the hotel in the morning, he has lost his shoes. He's nearly sent home by the restaurant's exacting head chef Hemant Oberoi (Anupam Kher)—another hero—but when he pleads to stay, Oberoi loans him a pair of his own shoes, which are far too small. Arjun gratefully crams his feet into them anyway. Once the shooting starts, he demonstrates leadership qualities and bravery that are a credit to his faith.
Outside the hotel are two local cops who realize that reinforcement isn't coming and they'll have to try to save as many guests as possible by themselves—two men with pistols against multiple terrorists with machine guns. "If we don't go in there, everyone will die," one of the cops says, with sad determination.
Among the guests are a famous American architect (Armie Hammer), his beautiful Muslim wife (Nazanin Boniadi), their infant son, and their nanny. There's also a crude Russian millionaire with large appetites (Jason Isaacs), who proves to be more gallant than he initially seems.
One of the best scenes of Hotel Mumbai showcases the film's saving grace—its humanity. As many of the VIP guests are crammed into a private club, hiding from the terrorists, one white woman demands that Arjun remove his turban—it's making her nervous. The way Arjun handles this moment, and the mutual understanding it leads to, is truly extraordinary.
So yes, Hotel Mumbai has moments of grace. But it's still brutal, unforgiving—and the viciousness of the violence can't help but to feel exploitative. Is it worth watching? I guess that's up to the individual. I'd say ultimately that those glimmers of extraordinary bravery and kindness on display made me glad I watched it. But I can't make that call for you.