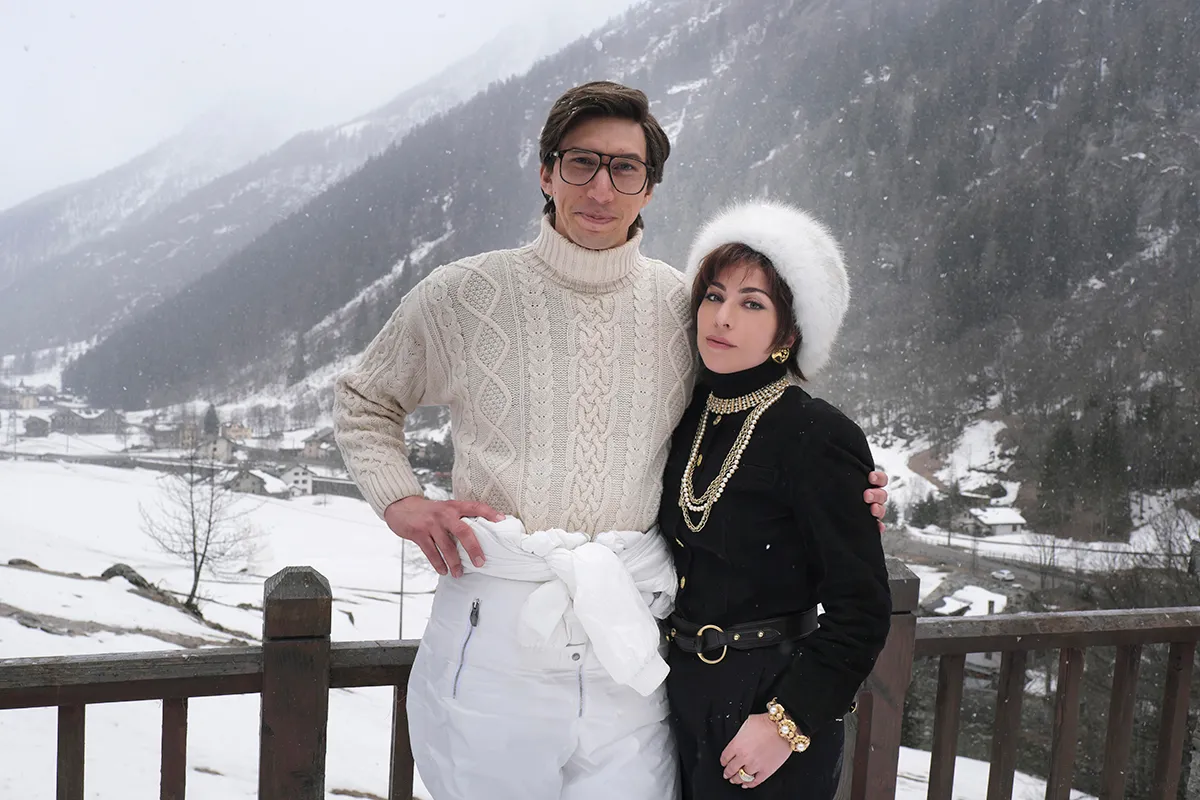 Universal
It's been said of films before but it's particularly true here: Everyone in the cast of House of Gucci seems to be acting in a different film. Lady Gaga is giving us glorious Italian melodrama; Jeremy Irons is going for a sophisticated villain in a Bond film; Adam Driver seems to think he's in a much more sober production than everyone else (although his oversized glasses camp him up a bit); Al Pacino is doing his normal scenery chomping, this time aided by a truly preternatural tan; and Jared Leto, well I'm not quite sure what he's doing. Totally unrecognizable under a bald cap and mounds of prosthetics, he's either fascinatingly awful or fascinatingly great—but no matter how you slice it, he's fascinating. Playing Paolo Gucci, the Fredo, if you will, of the Gucci clan, he's utterly ridiculous—preening, whining, self-aggrandizing, fretful, and defiant. Leto goes for the gusto—and then some. It's a hilarious performance. I think on purpose.
And I haven't even mentioned the accents. Every single actor is doing a thick Italian accent straight out of a cartoon. At one point, Jeremy Irons says, "How you say…" before finding the right word, leading me to wonder: Are they supposed to be speaking in English to each other? If so, why? Or are the Italian accents there to remind us that they are actually speaking in Italian? If so, why didn't Ridley Scott scream "cut!" when Irons said, "How you say?"—because no one speaks that way in their native language.
If it sounds like I didn't like the film, forgive me, reader: I loved it. It gave me everything I needed—and then some. I wanted the film to be over-the-top, messy, silly, involving, gorgeous, stylish—and it's all those things. And God bless Scott for following his passions at the ripe old age of 84. This year, on top of Gucci, he gave us the medieval sword and sandal epic, The Last Duel, also starring Driver. A few years ago, he gave us All the Money in the World, about the J. Paul Getty kidnapping, another film featuring a wealthy, decadent family coming undone in Italy in the 1970s. Scott is clearly drawn to '70s cars, fashion, and customs—discos, cocaine, hedonism, and the like—and frankly, so am I. All the Money was fun, this is even funner.
Somehow the stakes feel higher here—the Gucci brand, once synonymous with luxury and wealth, is on a downslide, thanks to hipper competitors and expert knockoffs. The two patriarchs of the family are old and out of touch. Rodolfo Gucci (Irons) clings to the brand's former glory, while Aldo Gucci (Pacino) considers expanding the brand into Japanese shopping malls. But which of their sons can take over the business? Clearly not Aldo's son, the ridiculous Paolo. But what about Rodolfo's son, Maurizio (Driver), who, despite being a strapping man and a good athlete, is quiet and bookish and seems to have no interest in the family business.
Enter Gaga's sexy, fiery, and ambitious Patrizia—poor Maurizio never stands a chance. He gets swept off his feet and quickly decides to marry her. Rodolfo, however, takes one look at Patrizia, deems her vulgar and a gold digger, and disowns his only son.
At first, it's clear that Patrizia does love Maurizio—and not just for his money. He gets a job doing manual labor for her father's trucking business and the simple life agrees with him; he's never been more content. She accepts him like this. But when Uncle Aldo invites the newlyweds to his 70th birthday party, she gets a glimpse at a world she believes she deserves access to—not just for herself, but for her husband. She's that kind of fierce pit bull of a woman, who will fight for her loved ones as fiercely as she fights for herself. Cross her, however, and pay the consequences. If you thought Gaga's star turn in A Star is Born was a fluke—a near perfect marriage of performer to role that could never be replicated—fear not. She's the real deal. She's absolutely mesmerizing here, often outshining her more experienced costars.
House of Gucci is essentially how Patrizia forces Maurizio to get back in the business—and encourages him to play hardball. She understands things, intuitively, that he doesn't—like the fact that those designer knockoffs really are bad for business (the Guccis are such snobs they think the quality of their goods will win out). She also recognizes the various enemies at the gate, especially Aldo's haughty and watchful consigliere (Jack Huston). But Maurizio understands something she doesn't—that there really is a cachet and magic to the Gucci name. At one point, he's pursuing some reluctant investors. He gifts the primary investor with a pair of limited-edition Gucci loafers, as worn by presidents and movie stars. It works. The investor leaves with stars in his eyes. But can Maurizio save the family brand? And will his similarities to his father come into sharper focus as he gains more confidence?
If you're looking for a spicy ragu of a film, overstuffed with sex, fashion, scheming, betrayal, and pursuit of power, House of Gucci is for you. If you're not looking for those things, well…we probably shouldn't sit together at parties.