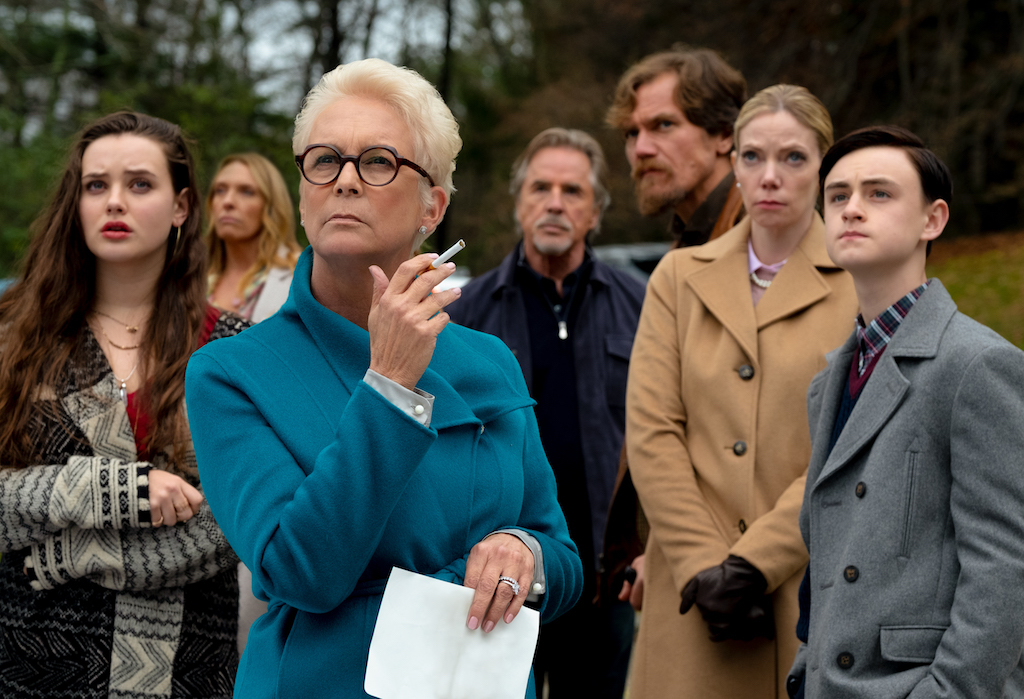 Director Rian Johnson gives good genre. He exploded onto the scene with the nifty teen-noir Brick, then gave us the mind-altering sci-fi Looper, then directed a little film I like to call Star Wars: The Last Jedi (it's great, you textualist weirdos), and now is serving up the delicious, Agatha Christie-style whodunnit, Knives Out.
Man, this film is just flat out fun. It doesn't sacrifice humor for suspense, and feels both of the moment and perfectly retro.
The premise: Harlan Thrombey (Christopher Plummer), the world-famous suspense novelist, has died on his 85th birthday of what appears to be a self-inflicted knife wound. The family has assembled for the will reading, which is also an excellent time for two police officers and a private eye to interview the family and rule out foul play.
The house is a comedic set piece of its own—filled with macabre statues and dolls and tarantula figurines and a literal roulette wheel of knives. It's a parody of a creepy, haunted mansion, but of course, at least somewhat believable as the home of a mystery writer.
The adult kids and in-laws are a largely motley crew. The most successful of the bunch is the eldest daughter Linda (Jamie Lee Curtis), a real estate mogul married to the lightweight preppie Richard (Don Johnson). Their rascal of a son is the family black sheep Ransom (Chris Evans), who is content to waste his family's millions and do little else.
There's sad sack Walt (Michael Shannon), who runs Harlan's publishing company but doesn't actually seem to have any control over it, and his son, the sullen, alt-right-favoring Jacob (Jaeden Martell). There's a widowed in-law Joni (Toni Collette), a vapid aging social media influencer, and her "social justice warrior" daughter, Meg (Katherine Langford). Finally, there's Harlan's mother (K Callan), a nearly mute doyenne who watches the proceedings keenly from her wheel chair.
There's also, of course, the help, including the maid, Fran (Edi Patterson), and our heroine, Harlan's nurse and favorite companion Marta (Ana de Armas). Of all the characters, Marta is the most decent: She genuinely adores Harlan (their relationship is strictly father/daughter in nature, lest you were getting the wrong idea) and is so pure of heart that she vomits every time she tells a lie (this will come in handy for the detectives). She's also the daughter of an undocumented immigrant, which makes her vulnerable to blackmail.
As for our trio of detectives? Lakeith Stanfield plays Lieutenant Elliott, a somewhat jaded, by-the-book type. Noah Segan is Trooper Wagner, his wide-eyed sidekick, a big fan of Harlan's novels, who just seems happy to be there. And then there's famous private eye Benoit Blanc (Joni excitedly notes that she read a tweet about a New Yorker article about him), a Southern gentleman with a corny, thick-as-molasses drawl and a tendency to finger and toss coins played by Daniel Craig doing his best Kevin-Spacey-as-Frank Underwood impression.
Knives Out is not quite satire—but it's on the edge of satire. Ransom, for example, makes fun of Benoit's accent (he refers to him as "CSI KFC"). We find out that the family's so-called "ancestral home" was actually purchased at a fire sale in the mid-80s. And all the knives in the house are downright ridiculous.
But that's what makes the film so great: It really does find that sweet spot between meta commentary and involving whodunnit. In that sense, it truly is the perfect successor to those Agatha Christie style thrillers. Today's audiences want to be goosed and intrigued and stumped by a film's various twists and turns, but we want to laugh at ourselves (and others) while doing it.
Knives Out opens nationwide on Wednesday, November 27.