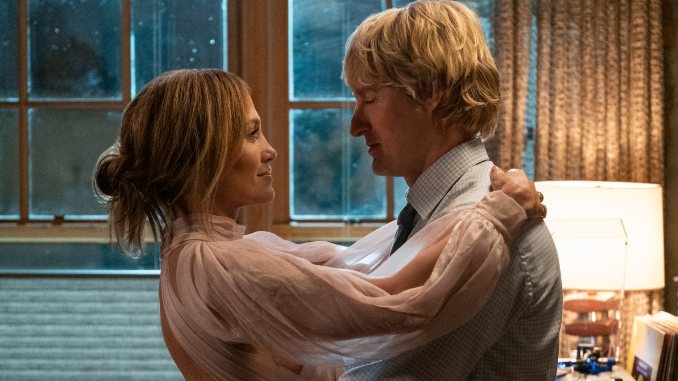 Universal
At one point in Marry Me, Jennifer Lopez's Kat Valdez is described by her manager (John Bradley) as "north of 35." I had to chuckle. Yeah, way north of 35. (Join the club, sis.)
But seriously folks, let's give it up for the divine Ms. Lopez. Still looking luminous at 52. Still pouring herself into tight stage costumes. Still dancing with the energy and elasticity of a teenager. And still providing the kind of blandly entertaining, eminently re-watchable rom-coms the market has so sorely lacked.
No, I'm not going to argue that Marry Me is a good film. But in its own way, it's better than good—it's exactly what we needed. Everyone has their cinematic version of comfort food and for many of us, it's a dying genre: the rom-com headlined by two actual movie stars. Back in the day, one of those movie stars was often Lopez. (See also: Meg Ryan, Kate Hudson, Sandra Bullock, Drew Barrymore, and Julia Roberts.) In this film, her co-star is the ever-affable Owen Wilson.
The premise is so far-fetched, the words "Just Go With It" might as well flash on the screen. Lopez's Kat is a world-famous recording artist, not completely unlike J-Lo herself. She's about to get married on stage to her lothario crooner boyfriend Bastian (Maluma). It's the social media event of the year and tickets to the show are a hot commodity.
We can see right away that Kat is having misgivings about the whole thing; she says she wishes that she and Bastian could do it all over again and just have a small, private ceremony. He scoffs at the idea. He's thrilled about this highly public affair—maybe a bit too thrilled.
Just as Kat sings the (undeniably catchy) "Marry Me" song, a titter goes through the Madison Square Garden crowd. Page Six has pictures of Bastian kissing Kat's assistant. Kat snatches her manager's phone, sees the photos, and is devastated. She grabs the mic, lowers the music, and raises the house lights.
Now, here's the part I didn't quite understand. Kat gives some self-reflective speech about trying something new, not repeating old mistakes (she's been divorced three times). And in that spirit, she points to an unsuspecting dad in the crowd who is holding his daughter's "Marry Me" sign. "Okay," Kat says. "I'll marry you."
That dad is the divorced Charlie Gilbert (Wilson), a math teacher who's struggling to convince his 12-year-old daughter, Lou (Chloe Gilbert) that he's not tragically dull. As the crowd chants encouragement, he stumbles onto stage and goes through with the ceremony that was intended for Bastian.
If there's one thing Marry Me gets right, it's the immediate reaction on social media as the concert is live streamed.
"Who dat?" reads one post.
"WTF?" reads another.
"What is HAPPENING?" says a third.
Then Charlie is quickly ushered backstage where Bastian rages to Kat that she "married some random albino guy on stage!" (Heh)
The next steps seem obvious: Kat and Charlie should go their separate ways and get the marriage annulled (if it ever counted to begin with; the officiant referred to Charlie as "this guy" during the ceremony).
But not so fast! "Just Go With It" sign number two. Kat wants to stay married to Charlie, at least for a month or so, until the scandal blows over. A few public appearances together and then they can say they parted as friends. (Of course, one could argue that this is a sly commentary on the types of arranged-by-publicists relationships that celebrities, including J-Lo herself, have been accused of partaking in.)
Well, we all know where this is going: Charlie and Kat slowly begin falling in love. She goes to his mathletes practice and coaches the kids on how dancing is surefire way to relax if you're mentally blocked. She surprises Charlie by shutting down an amusement park—a source of a treasured childhood memory to him—and takes him there for his birthday. They listen to show tunes together. They dance. "Is it presumptuous of me to assume I'm about to have the best night of my life?" Charlie says, before kissing her.
It's a darn good thing that Wilson is such a loveable guy because, as written, Charlie is a little judgy. He scolds Kat for falling into old bad habits when she considers taking a trip to Puerto Rico to meet up with Bastian. And later, he encourages her to have a day without assistants: No one to make her smoothies, drive her around, arrange her life. (Dude, if you could afford assistants all day, you'd have them, too.) Still, Wilson and Lopez have an undeniable chemistry–you root for them, which is pretty much all you need to make this sort of thing work.
Look, Marry Me is no Notting Hill, the ne plus ultra of "regular schmo dates celebrity" movies. But it gets the job done. And I must say that for women like myself who are north of 35 (ahem), it's nice to have our moment in the rom-com spotlight, too.
Marry Me is now playing in theaters and streaming on Peacock.