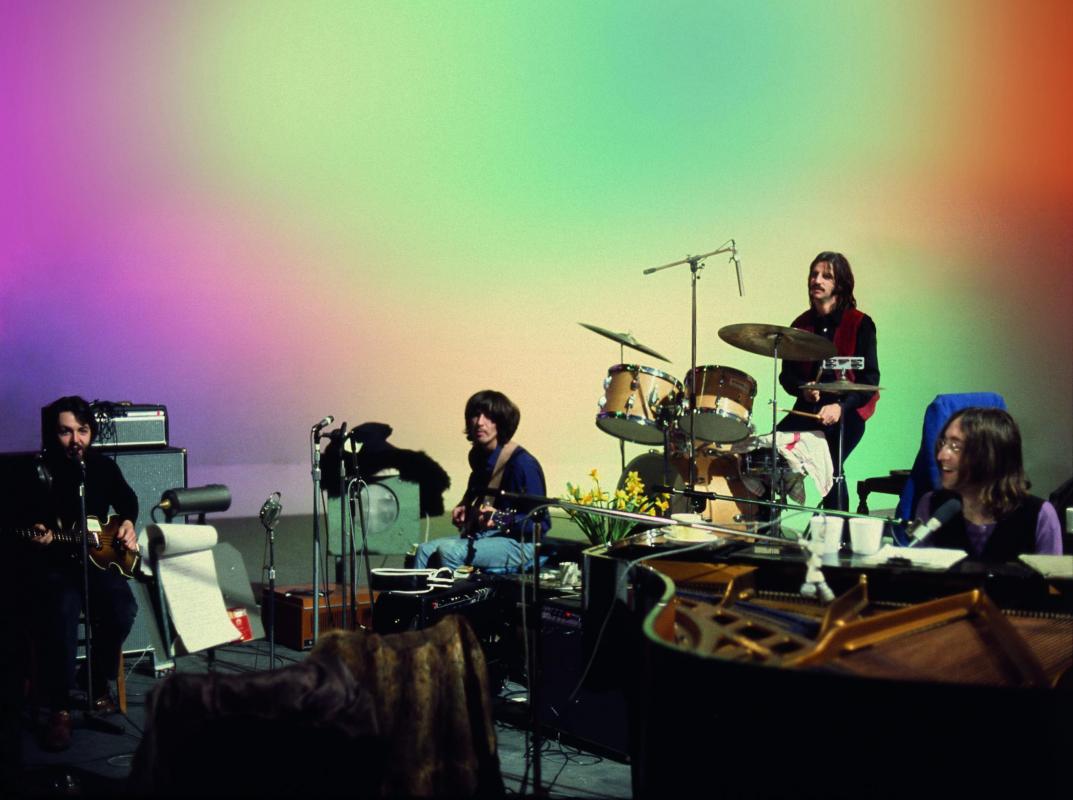 Disney
Last year, Regina King adapted One Night in Miami, a speculative play about what might have happened in the hotel room where Malcolm X, Cassius Clay, Sam Cooke, and Jim Brown hung out, goofed around, and debated the cultural and political climate of the day. Such plays are irresistible, because who wouldn't want to have been a fly on the wall where greatness occurred, to be, as they say in Hamilton, in the "Room Where It Happened"?
Peter Jackson's The Beatles: Get Back is like such a speculative work of fiction—except it's all real. The eight-hour documentary, released in three episodes, is culled from 60 hours of footage recorded from the Let It Be sessions. The footage has been meticulously restored; it looks and sounds like it was filmed yesterday. The result is uncanny. It feels like a dream, a magic trick, a work of time travel science fiction.
There are the Beatles, looking very much the way they do on the Let It Be album cover. It's 1969, so their hair is longer and shaggier. John has mutton chops and those iconic round wire-rimmed glasses. Paul has a beard. But they're still so young, impossibly young; we forget how young they were. (Ringo, the oldest at the time, was just 29.)
The band would break up in a year so there are already palpable tensions. The Yoko factor is undeniable. She's there all the time, attached to John like a barnacle. Not just occasionally dropping by and sitting on the edges of the rehearsal space, as Paul's soon-to-be wife, Linda Eastman, did. But actually sitting in a semicircle with the band, like some sort of unofficial member. It's…weird. (To be clear, this was John's doing as much as Yoko's. They are beyond smitten with each other—they nuzzle each other, share cigarettes and gum, curl into each other, like cats.) A lot of the tension focuses on George Harrison, who felt left out of the songwriting process, overlooked. He sulks a lot during the first episode, which ends with him briefly quitting the band. (He has his own entourage in tow, as well: Two members of the Hari Krishna society, who sit in cross-legged silence in the corner of the room.)
But George is right. Not only does Paul assert himself as a self-appointed leader, but John and Paul clearly have the unspoken simpatico of longtime collaborators. Even when the band is all together, John and Paul focus on each other, writing songs like a duo, building sound, crafting harmony, improvising lyrics. What becomes perfectly clear is this: We can put to rest the debates about who was the better songwriter, Paul or John. It was together that they created a kind of transcendent magic that will never be replicated.
It should be noted that during all of this, lovely Ringo comes out smelling like a rose—ever good-natured, musically attentive, and willing to do as he's told. He is, officially, the least problematic Beatle.
But what a joy to be able to get to know these men as humans, flesh and blood, not just fantasy projections. John is goofier than I realized, making silly noises with his microphone, mugging for the camera, laughing a lot. There's a lightness to him that I didn't expect. As for Paul, he's an interesting paradox: Still boyishly enthusiastic and hyperactive—literally doing acrobatics on some scaffolding at one point; always buzzing with ideas, riffs, and energy. But he's also clearly the most responsible of the group and he wears that burden heavily. It's a classic scenario that has undoubtedly broken up many bands (and marriages): On the one hand, Paul takes a leadership role because no one else will. On the other, his bandmates resent him for it, especially George—and Paul begins to resent it a bit himself. (Again, Ringo remains singularly unbothered.)
At one point, Linda brings in her daughter, Heather, to the studio, and it's wonderful to see all the bandmembers being so playful and tender with her. Paul is particularly paternal—it's clear that Heather adores him—it's like he's already become a family man. In fact, there's a sweetness and humility to all the Beatles that is so impressive in light of their astronomical success. They eat simple toast with marmalade and drink beer or tea. George comments that he only has one pair of black shoes—it doesn't occur to him that he can have shoes by any designer brought to him at any time. The members tease each other like brothers. They often seem to forget they're the four most famous men in the world.
Another thing the film reminds us: Some people in England had turned on the Fab Four at this point. They were no longer the dreamboats in suits and skinny ties who skyrocketed to fame as teens. They were deeply influenced by the '60s culture of personal and political revolution. They experienced sex, drugs, broken marriages, forays into mysticism—and they now dressed like the hippies of the day: bell bottoms, ruffles, fur coats, and vests. (The film is a sartorial wonderland.) Even their music became more psychedelic, bluesier, harder. I'd forgotten how much the Beatles rocked by the end.
Get Back moves from a large soundstage in Twickenham to a small recording studio at the Apple headquarters on Savile Row. The film culminates in an unannounced rooftop concert that would provide some of the audio for the Let it Be album. It was the band's first public concert in four years. It's a wonderful scene, straight out of a BBC comedy. As people on the ground realize, whoa, that's the actual Beatles performing up there, some are delighted while others are less than amused. "I don't like it at all! They woke up my sleep," grumbles one female curmudgeon. The bobbies show up, with ruddy cheeks and those ridiculous hats with the straps dangling on their chins, demanding that the concert be stopped, that it's disturbing the peace. The officers are stalled and stonewalled by the Apple staff just long enough for the set to be completed.
All the while, the Beatles sound amazing, aided by a phenomenal young Billy Preston on keyboard. The layers of sound they build and the confidence and looseness with which they perform is breathtaking. But I'll never again have to wish that I could be magically transported to 1969 London, to that famous rooftop concert. I felt like I was really there—for all of it.
The Beatles: Get Back is streaming on Disney+.