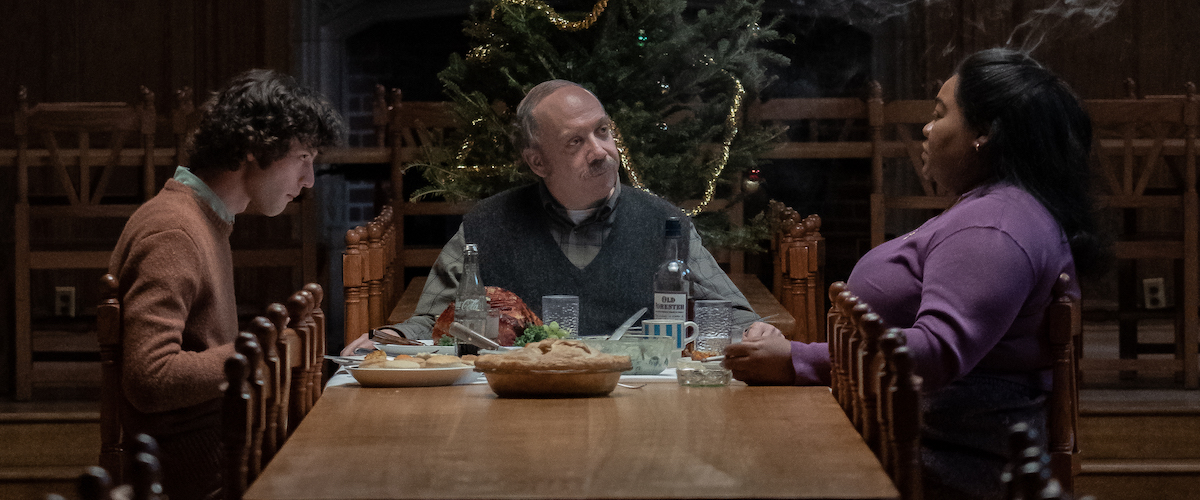 Focus Films
Films about teachers generally fall into two categories. We have the inspirational teacher genre (Dead Poet's Society, Mr. Holland's Opus) and we have the strict or abusive teacher genre (Whiplash, The Paper Chase). Generally, the students are depicted in contrast to the teacher. So the kids in Dead Poet's Society are a little too conformist and rigid, deeply in need of John Keating's urging that they "Carpe diem!" And Miles Teller's earnest, working class drummer is presented as a good guy foil to J.K. Simmons' sociopathic music professor.
In Alexander Payne's The Holdovers, set in 1970 at the fictitious Barton Academy in New England, we certainly have a strict teacher. He's Paul Giamatti's Paul Hunham, who teaches ancient history to a group of thoroughly disengaged students. Hunham, who has working class roots, resents his young charges, who are wealthy and entitled. He's a textbook misanthrope—drinks too much, has no wife or kids, prefers ancient times to the present. He also has a lazy eye (his colleagues call him "that wall-eyed bastard") and a condition that leaves him with an unpleasant, fish-like body odor. It's no wonder he hates his life—and seems downright gleeful when he doles out Ds and F-minuses to his class.
One student, however, manages to get a B+. That's Angus Tully (newcomer Dominic Sessa). But Angus isn't earnest or innocent. He's almost as surly as Professor Hunham—he's full-of-himself in the way that only really smart high school boys can be; he has no friends, he constantly gets into fights.
As winter break approaches, Angus is looking forward to heading out to St. Kitts with his mother and her new husband. He boasts that he has the same swimming trunks as James Bond in On Her Majesty's Secret Service. Then, a call from his mother ruins everything: She wants to spend time alone with her husband, and Angus has essentially been disinvited.
Suddenly he finds himself among the losers and stragglers left behind at school—the holdovers. And, you guessed it, Professor Hunham is the luckless teacher in charge of this luckless bunch.
The Barton Academy of 1970 is rendered perfectly here—from the patrician portraits gazing down at the students; to the imposing, polished wood dining halls; to the snow-covered fields where one might stumble across a stray football; to the Loden coats and wide-wale corduroys favored by Hunham and massive sideburns favored by the younger professors. The folk music adds to the 1970s vibe, although I was tricked into thinking that the wistful "Silver Joy" by Damien Jurado (born in 1972!) was period appropriate.
There's a third major figure here—cafeteria manager Mary Lamb (Da'Vine Joy Randolph), whose son has died in the Vietnam War. Her son was a scholarship student at Barton and Hunham genuinely admired him. This is our first indication that it truly is the casual privilege of the boys that offends Hunham the most (he gets in big trouble for flunking a Senator's son). He wants the boys to be grateful for their opportunities and as passionate about knowledge as he is. He also has great affection for Mary, or as much as he can muster in light of his anti-social tendencies. She's a big-hearted woman, a natural caregiver, but she carries the burden of her son's death at all times. It makes her wary and a bit weary.
Angus does, in fact, come from money, but he's not carefree like so many of the other boys. He's been kicked out of three schools (one more and he's going to military academy, with a direct path to Vietnam). He's bitter, depressed, confrontational. It seems to have something to do with his father, who is mysteriously out of the picture.
Ultimately, the remaining boys will go on a ski trip, leaving Angus, Hunham, and Mary behind. And it's Mary who will remind Hunham that Angus may be an asshole but he's also just a boy missing his family at Christmas. Her humanity will begin to rub off on him.
Yes, they will form a kind of unconventional family—a fatherless boy; a mother without a son; a man secretly craving human connection. It's sentimental, but in a measured way. Hunham and Angus will stay prickly and combative for much of the film—but eventually they will grow close.
The Holdovers' sharp writing and expert sense of place is matched by its pitch-perfect performances. Giamatti, working with Payne for a second time since Sideways, is honestly a national treasure at this point—he's the Michael Jordan of playing curmudgeons—and Randolph is revelatory as the kind, sad Mary. As for newcomer Sessa, he doesn't beg us to love him, which somehow makes his character all the more lovable. Wry, funny (with some zingers that will stay with you long after the film is over), and closely observed, The Holdovers is my kind of Christmas film.