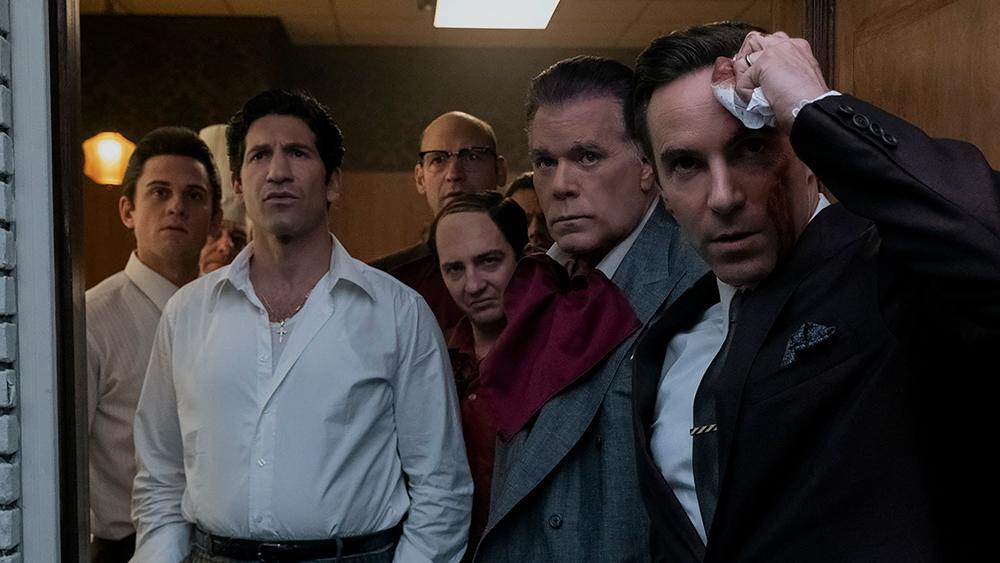 HBO Max
In The Sopranos prequel, The Many Saints of Newark, almost everyone is doing an impression of their original counterpart. You've got John Magaro doing the familiar stiff gait and head tilt of Silvio Dante. (The famous pompadour, we discover, is a wig, covering an unforgiving balding pattern.) You've got Billy Magnuson giving us his take on the tough, loyal, none-too-bright Paulie Walnuts. Corey Stoll, in oversized glasses, is giving us sour, tetchy Junior Soprano. As for Vera Farmiga, as the Sopranos matriarch Livia, she seems to be doing more Edie Falco's Carmela than Nancy Marchand's Livia, which is possibly intentional, the Oedipal complex being what it is.
Indeed, the only person not doing an impression is Michael Gandolfini, playing the younger version of the character that made his late father a superstar. This is probably because he doesn't have to. With his big head, slightly crooked nose, and puppy dog eyes, the junior Gandolfini looks uncannily like his father. We believe that he's a young Tony without hesitation—he can just act, he doesn't need to resort to mimicry. (He's great here, although the jury is still out on whether he has a future beyond this one specific role.)
For fans of the original The Sopranos, there's certainly some pleasure to be derived from all of this cosplay. And the film is filled with Easter eggs, meant to make us chuckle with recognition. "Oh, pooooor you," Livia says to Tony at one point, and we feel the satisfaction of being in on the joke. (The film doesn't deploy the series' famous theme song until the very end—causing another fissure of pleasure.)
Unfortunately, that's not enough to make The Many Saints of Newark a great—or even good—film. There are new characters, of course, notably Alessandro Nivola (solid here, as ever) as Dickie Moltisani, the uncle that Tony idolizes; Ray Liotta as Dickie's hot-headed father; Jon Berthnal as Tony's father, who spends much of the film in jail; and Leslie Odom Jr. as Harold McBrayer, a Black gangster who works for Dickie and wants to run his own crew.
The film is filled with gangster film tropes. Dickie has a temper that he regrets, that takes over his body like a possession, causing him to snap. How many times have we seen that character trait? He wants to atone for his sins, by coaching a blind children's softball team ("You're a saint," a mother tells him) and visiting an old mob henchman serving life in prison (I'd say more on that but it would ruin one of the film's more unexpected twists). Everyone's got a goomah, or mistress, as they did on The Sopranos. There are scenes of cooking sausage and eating baked ziti. There are shocking, unexpected mob hits.
The one variation of the trope is the film's frank acknowledgement of the racism among these mobbed up men. They are shamelessly and conspicuously racist, making cracks about how lazy Black people are and how incapable they are of handling their own money. When Johnny Soprano gets out of prison, he's disgusted—mortified—that a Black family has moved into his neighborhood. It's brave for Chase and co. to acknowledge this ugly fact—and it makes us root for Harold McBrayer all the more. (That flagrant racism is partly what fuels Harold's desire to get out from Dickie's thumb and start his own gang.) The early part of the film corresponds with the Newark race riots. It serves two purposes: Harold has his consciousness raised. And Dickie conveniently uses the confusion of the riots to dispose of a body.
All of this is done well enough (although the late '60s and early '70s costuming feels a bit exaggerated, too on the nose) but it's certainly not enough to elevate this film to the level of The Sopranos. Just out of curiosity, I rewatched The Sopranos' first episode after finishing the film. It's still a masterpiece. Just that one episode had more humor, more nuance, more bold choices, more things to say about toxic masculinity, shifting American ideals, and the legacy of bad parenting than The Many Saints of Newark had in its entire running time. The missing humor is huge here. The Sopranos was funny and the humor revealed character. Tony described himself as a "sad clown" and that duality—Tony as equal parts ridiculous and tragic—permeated the series. But for the most part, The Many Saints of Newark is serious stuff.
If you're in the mood for a halfway decent mafia film I suppose you could do worse than The Many Saints of Newark. But I've seen The Sopranos. And this is no The Sopranos.
The Many Saints of Newark is now playing in theaters and on HBO Max.