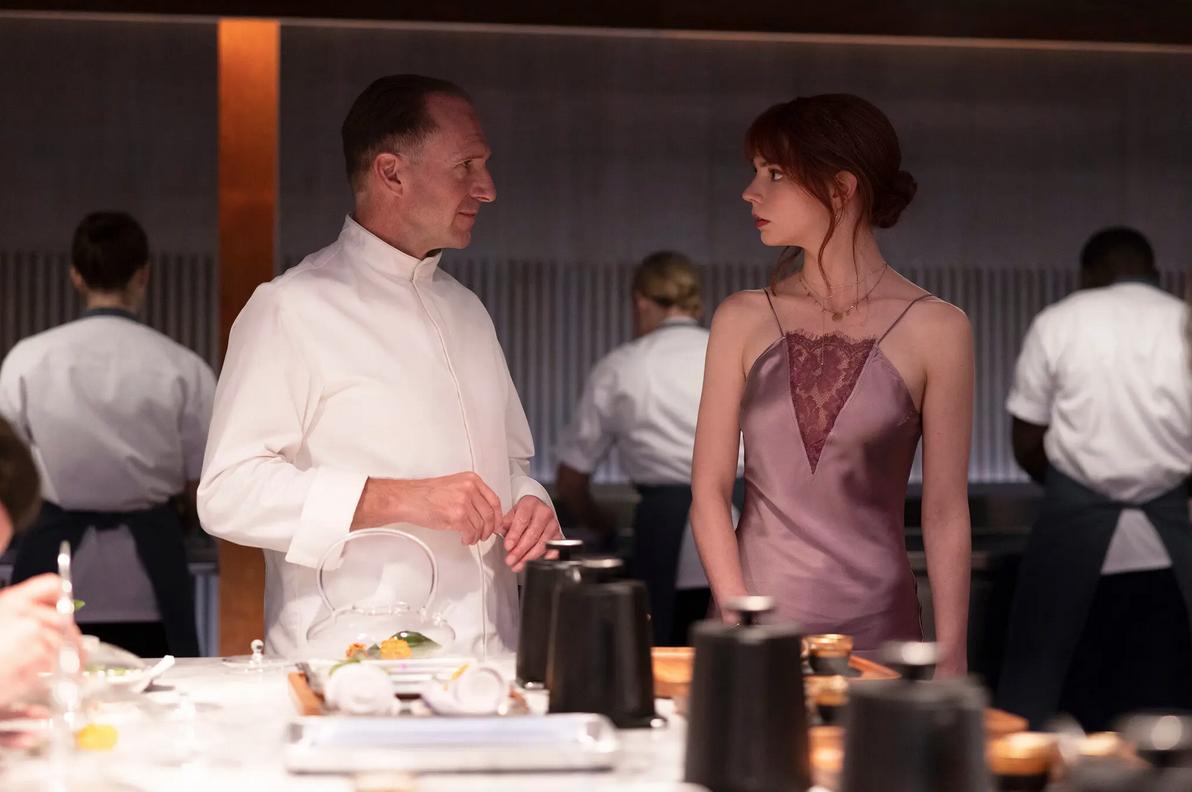 Searchlight
Horror films often begin with our heroes heading down some dirt road to a remote cabin in the woods. First they isolate you, then they get you.
But in Mark Mylod's The Menu, that isolation is part of the cachet.
Eleven diners have made their way to a remote island for what promises to be the meal a lifetime. They are greeted upon arrival by the officious and humorless Elsa (Hong Chau, hilariously deadpan), who leads them to the dining room. It's all reminiscent of the kind of thing we've seen on HBO's wonderful series The White Lotus: fancy people arriving at a fancy place and basking in the exclusivity of it all. The fact that it's hard to get to this restaurant isn't a bug—it's the point.
Indeed, had we all not seen the trailers and commercials for The Menu we would have no sense that something menacing awaits. Not even when the heavy, garage-style door thuds behind them, essentially locking them in.
The Menu would best be described as a horror/comedy but at heart it's a hilarious send-up of foodies—both the guests who pride themselves on their superior palates and knowledge of haute cuisine and the pretensions of the restaurants that cater to them.
Yes, the chefs who call themselves "storytellers," who insist on no substitutions, who line their plates with precious gels and foams and drizzles, who want their kitchen staff to speak to them as though they are military generals—"Yes, chef!" "No chef!"—are risible. But equally risible are their eager consumers, so desperate to prove that not only can they get a table at one of the hottest restaurants in the world, they have the impeccable taste to belong there.
Among the guests today are three obnoxious tech bros (Rob Yang, Arturo Castro, and Mark St. Cyr), a married couple (Judith Light and Reed Birney) who are so rich they've been to the restaurant 11 times, an aging film star (John Leguizamo) and his over-it handler (Aimee Carrero), a famous food critic (Janet McTeer) and her obsequious editor (Paul Adelstein), and a rabid Instagram foodie, Tyler (Nicholas Hoult), and his last minute date for the night, the skeptical Margot (Anya Taylor-Joy).
The chef overseeing tonight's one-of-a-kind, $1,250-a-head tasting menu (with wine pairings, natch) is Julian Slowik, who can barely contain his contempt for his diners. One of the courses is the "breadless bread plate," because bread is the food of peasants and these diners are anything but peasants. Another course comes with tortillas that have been imprinted with special designs for each diner—a would-be personal touch that becomes threatening in the hands of Slowik. ("Who's that woman you're with?" ask Judith Light's character, squinting at a likeness of her husband looking cozy with a younger woman on her tortilla.) But the diners take these provocations and at least pretend to like them—after all, they need to impress Chef Slowik with their deep understanding of his esoteric concept.
All of this proves to be riveting fun—even if the fate of these sitting ducks will occasionally have you squirming.
The performances are uniformly excellent, with Taylor-Joy continuing her string of playing impossibly cool girls who we nonetheless root for and Hoult expertly sending up every pretentious gourmet-food bro you've ever met. (Tyler's tortilla depicts him taking a photo of Chef Slowik's food, which is strictly verboten.)
The supporting work shines, too, particularly McTeer as the egomaniacal, unruffled restaurant critic ("It's stagecraft!" she insists with knowing confidence as things begin to look very dire) and Adelstein, taking on the kind of role normally reserved for Stanley Tucci as her fawning, fancy-man sidekick.
But towering above them all is Fiennes, who is clearly relishing every moment of this character—part master artist, part villain, part fraud, part proletariat hero. You can't take your eyes off him.
The Menu is very on the nose, satire-wise, but that doesn't make it any less funny. Look, this stuff was ripe for lampooning.
The question: Will you still be hungry after seeing The Menu, despite its, er, macabre turn? The answer: Most definitely, but the specific food you're craving at the end just might surprise you.