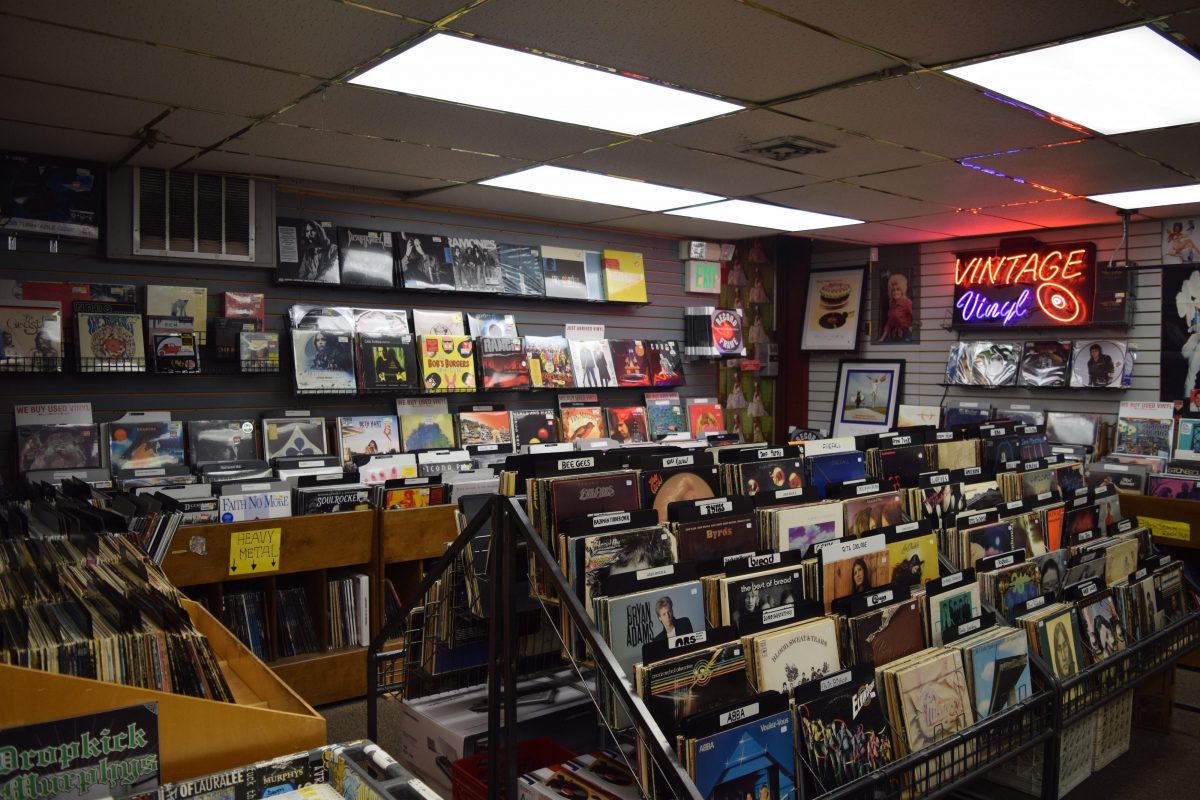 Mapquest
Record and Tape Traders Towson, the last remaining iteration of what was once a chain of music and movie purveyors scattered around the state, will close its doors after 40 years of business this winter. The institution in Baltimore's music community will remain open through Christmas to liquidate its current stock.
"We would like to thank our customers for their loyalty over the years and we look forward to seeing you over the next few weeks," reads an announcement posted to the store's Facebook page last week. "Please come visit us and help us say farewell. We were so proud to be your music and movie location for as long as we could. That's the way she goes…"
The post has been shared nearly 1,500 times, and hundreds of commenters have expressed their sadness and memories in the wake of the announcement.
As a farewell of our own, we gathered stories from R&TT patrons both past and present, who look back at their first musical experiences, record store shenanigans, and just what we're losing as the Dulaney Plaza Shopping Center staple closes its doors.
Jeff Gorman, Baltimore

Member of local band Illiterate Light, patron

Gorman, who grew up less than one mile from the store, remembers buying his first album there when he was in elementary school.
"My dad and I stopped by after soccer practice, and I bought Third Eye Blind's self-titled album because "Semi-Charmed Life" and "Jumper" had been blasting on WHFS," he says. "We'd go in, ask the clerk for some recommendations, and they'd walk us around the store and tell us about each band while sharing stories about seeing them live. Then we'd take those albums to the listening booth, throw on a pair of headphones, and preview a few songs."
Though he says he isn't "anti-streaming," Gorman is quick to point out the differences between buying and consuming music then and now.
"Every single album I bought from R&TT, I know the whole thing front to back," he says. "Because if you're gonna drop $15 on something, you're gonna get every cent out of it. Music consumption is different now. You don't like a song on Spotify, you just go to the next one. Back in the day, if you didn't like a song on the record you just bought, you either learned to like it or returned it for something better."
One of the things that Gorman will cherish most about R&TT is its reputation as a "hub of culture for many different genres of music."
"In one aisle you're transported to Woodstock and the hippie revolution, then you turn around to the aisle behind you, and suddenly it's L.A. in the mid-'80s and you're thrown into the thick of punk," he says. "Then you walk into the next aisle and it's 1995 and Biggie and Tupac are taking hip-hop and blasting it into a whole new dimension. Race, time, politics, everything could mysteriously come together and even be transcended in the aisles of Record and Tape Traders."
Scotti Anne Kondracki-Gunn, Glen Burnie

Patron

Back in the late '80s is when Gunn discovered R&TT on Ritchie Highway in Glen Burnie. She and her best friend, Dawn, would go in to peruse the music, grab the free mags, and, scope out cute guys. She still has the very first CDs she purchased there, including Type O Negative's Bloody Kisses, Stone Temple Pilots, and The Ravyns.
"Of course, I also snatched up several Metallica tapes—ahh, tapes," she says. "If R&TT didn't have something I wanted, they would put down my name and what I was looking for. Soon enough I'd get a phone call, or the next time I stopped in, there would be the record or CD I wanted. It was businesses like this that gave me that much more appreciation for music and the world around it."
Gunn moved away from Maryland in her mid-20s and found out that R&TT in Glen Burnie had closed soon after.
"I was just heartbroken," she says. "But when I moved back five years ago, I found the one in Towson. All my great memories came rushing back, and I was so very elated. It's funny how, in this community, some things never really seem to change, and yet, everything eventually does."
Now, in the wake of the Towson location shuttering its doors, Gunn is hoping to take her 17-year-old son to the store before Christmas so that he can have the same music experiences that she did.
"R&TT was this place where local legends could be found amidst great world legends," she says. "And they were just about equal there."
Chad Gautier, Glen Burnie
Former employee, patron
Despite occasional issues with theft and dealing with some unconventional customers, Gautier says he had plenty of good times working at the R&TT store in Glen Burnie.
"We used to laugh so much," he says. "When you went to work it was like going to a party. There was music and all your best friends were there. It was like a family."
His love for music was passed down to him from his mother, and now, he is proud to say that his 15-year-old daughter thinks that the Towson store is the "coolest place on Earth."
"I have always felt that music is loved by so many people," he says. "It lets us say things we can't put into words. But when it's heard, everyone knows what we are feeling. R&TT really is going to be a place that, when it is gone, people will then realize what they are missing."
John Fahres, Philadelphia
Musician, Patron
In 1999, two years after having left the Baltimore-based roots-rock band The Poorhouse Rockers to pursue music as a solo musician, Fahres put out his first album, True Stories, Total Fabrications.
"It was an exciting time, and the internet was new and shiny but not necessarily the best promo and distribution tool available," he explains. "As such, you had to get your music out there the old-fashioned way, meaning selling it at shows and getting local record shops to carry it."
Fahres had been visiting R&TT since he was a student at Towson in the early '90s. It was an easy walk or bike ride from campus, and he frequently made his way there to flip through bins of his favorite acts, such as Del Amitri and Elvis Costello.
"There were numerous times I would be in the store digging through the CD bins in search of elusive UK import CDs," he remembers. "And I would get turned on to something new thanks to whatever record the employees were spinning."
Fast-forward to 1999, when Fahres finished his first album and the manager of R&TT bought copies to stock in the Local Music section.
"It was one of those moments where you feel like you've stepped up to the next level in regards to your musical career," he says. "At the end of the day, they are and will remain a part of my personal musical history."
John Roth, Baltimore
Patron
Roth remembers first going to R&TT as a young kid with his dad to buy Elvis tapes for his mom: "I didn't have the opportunity to go back until I was a teenager—my parents weren't really the types to frequent record stores—but I have the image of the original store in my head to this day," he shares. "I didn't know what I'd walked into, but I knew at that age it was something special."
He'll always appreciate the spot-on suggestions given to him by the store's staff, which he says "always got it right."
"Music people can smell BS a mile away, but R&TT was just so genuine," he adds. "They catered to every sort of music lover, from the people picking up a single they liked on the radio to the freaky collectors who've gone over the edge. If it was good, they had it. If it wasn't so good, they had enough of it to keep customers happy, but I believe they hid it halfway out of sight out of decency and honor."
Now, Roth, 45, says that, as much as he promised himself he would never go all digital, he hasn't purchased a physical album in years.
"When I heard that R&TT is closing once and for all, I felt a sense of irrational responsibility in some ways," he shares. "The closing line of the posting on Facebook says it all, though. It's sad. It sucks. As much as it saddens me to realize that an era is over, that's the way she goes. Time moves on, and consumer preferences did, too."