New Architecture and Design Hub Opens at One Charles Center
A new design gem is offering a place for students, creatives, and others to learn and experiment.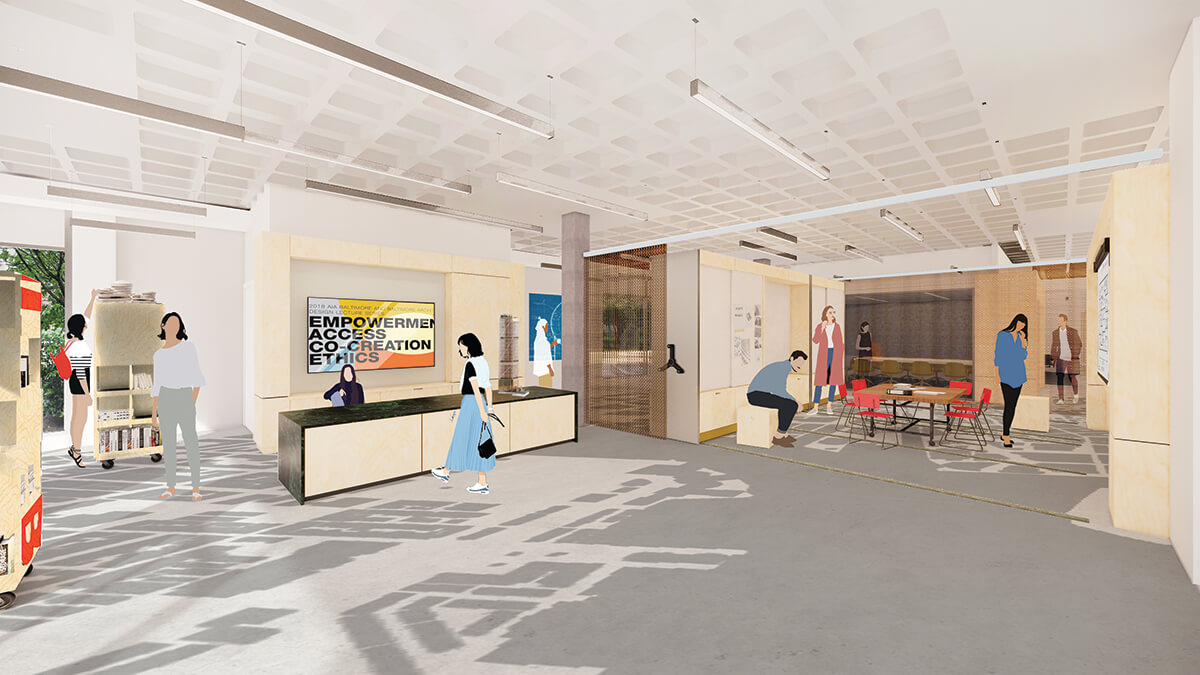 Downtown's One Charles Center is already an architectural landmark—our own small piece of renowned architect Mies van der Rohe's massive legacy. But now, at its base, a new design gem is offering a place for students, creatives, and others to learn and experiment.
The newly opened Center for Architecture and Design at One Charles Center has been in the works for the past decade, and in addition to housing the headquarters of both AIA Baltimore and the Baltimore Architecture Foundation, it now serves as an industry hub. The nearly 4,000-square-foot space also plays host to several other organizations, including Baltimore Heritage, the Baltimore Chapter of the National Organization of Minority Architects, and the Charles Street Development Corporation, among others.
"We plan to work together on common goals and learn from each other," says AIA Baltimore President Scott Walters. "We know the more diverse our experiences are, the more impactful our messages will be."
Designed by the Baltimore office of Quinn Evans Architects, The Center features workspaces and flexible, multipurpose "project bars," all housed in the glassy former retail space on Fayette Street. From the street, passersby can see students and professionals hard at work, or wander in to view rotating exhibitions.
"A social critique of modernism says that spaces can feel static, exclusive, and inaccessible to the public," says Mark Nook, Principal at Quinn Evans. "We created multiple spatial zones and experiences with just a few key elements, but also introduced the ability to move these elements and transform the space…The result is a fluid space that is easy to reshape."
This fluidity—lacy chain curtains that can divide areas and create privacy, a floating wall that can move across the ceiling, modules that transform in arrangement and use—allows the space to constantly adapt and change from intimate learning environments to a wide open lecture hall. The Center's first exhibition, SAY IT LOUD, will transform the space into a celebration of the work of Black, minority, and women architects and designers in Baltimore through both an in-person display beginning in October at The Center and an online exhibit accessible to all starting in June.
"[SAY IT LOUD] was chosen as our first major gallery program to prominently recognize architects and designers of color and the important impact of their work in our communities, and to inspire more Black and minority students in Baltimore to pursue careers in architecture and design," says Kathleen Lane, executive director of AIA Baltimore and Baltimore Architecture Foundation. "Central to our goals is for the Center to be a place to bring [together] students of architecture, landscape architecture, urban design and planning, historic preservation, and real estate development…for dialogue and networking with professionals in each of these disciplines, and with the community."