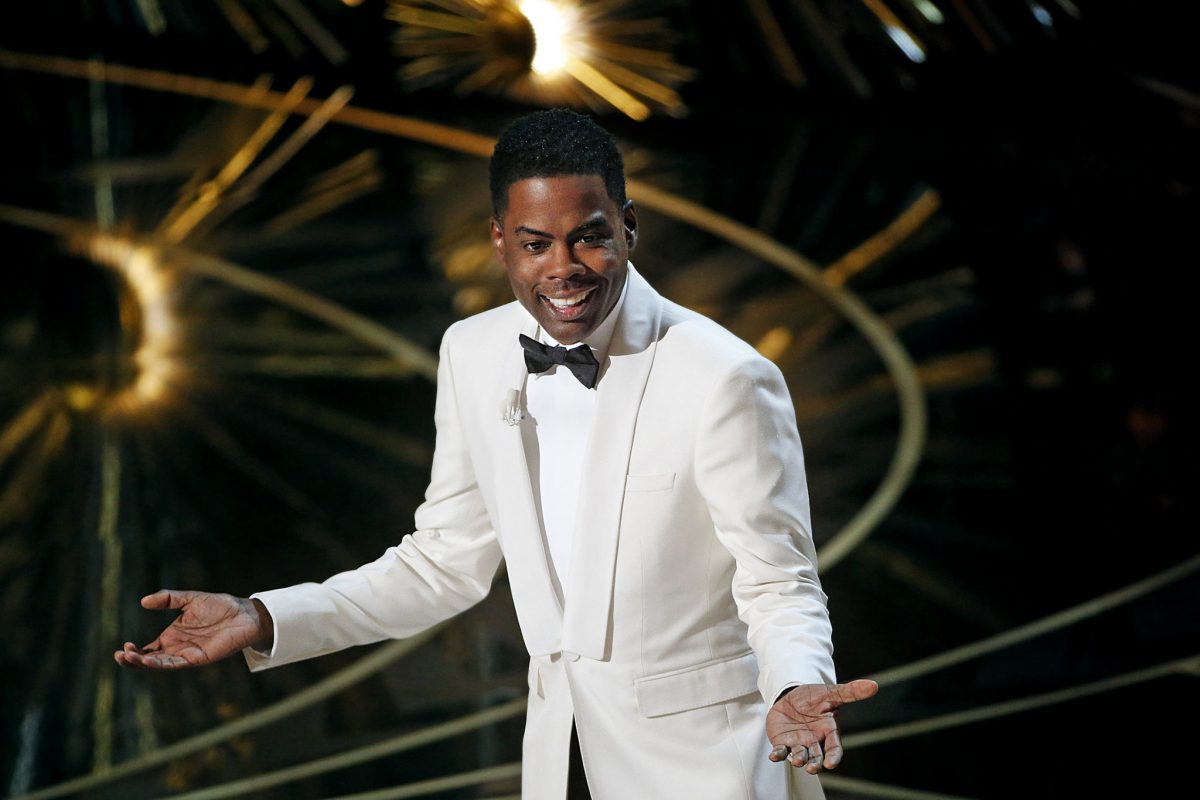 Patrick T. Fallon for The New York Times
Well, another Oscars in the books! Let's break down the good, the bad, and the, uh, Stacey Dash.
The Good: Chris Rock's opening monologue.
We all knew he was going to address the proverbial elephant in the room (aka, The Incredible Whiteness of Oscar) but it was how he did it that proved to be so artful. He basically treated the monologue as an extended stand-up routine, where he riffed, in true Chris Rock truth-bomb fashion, on the Oscar's history of racism, while also putting it in historical perspective. (Addressing why the #OscarsSoWhite campaign was such a recent development in the face of 88 years of neglecting black talent: "Because…we had real things to protest; you know, we were too busy being raped and lynched to care about who won best cinematographer.") He was funny, not scolding, but he kept it blisteringly real ("I'm here at the Academy Awards, otherwise known as the White People's Choice Awards.") In a way, Rock's monologue reminded me a bit of the film The Big Short, which won for Best Adapted Screenplay—he took a dead-serious subject and made it both accessible and funny, without diminishing its seriousness. I tip my hat to you, Mr. Rock.
The Good: The fact that the jokes about race continued throughout the evening.
I had expected them to essentially "get it over with" early—like some messy bit of business they had to dispense with discreetly. Instead, the jokes kept coming throughout the evening. There was a brilliant bit where black actors like Whoopi Goldberg, Leslie Jones, and Tracy Morgan were inserted into the Oscar nominated films. (You haven't truly lived until you've seen Morgan, in a dress, eating a Danish and repeating, "I'm The Danish Girl!" in his "I'm Brian Fellows" voice.) And there was another funny and poignant bit where Rock interviewed (almost all black) moviegoers outside an L.A. cinema and questioned them about the current slate of Oscar nominees. "Those are real films?" one movie goer queried, incredulous. "Where? In London?" OTOH, not all the race bits landed, leading us to the evening's first…
The Stacey Dash: Stacey Dash
This was an inside joke, wrapped in a meta commentary, locked in Neil Patrick Harris's doomed lockbox from last year. Some context: Stacey Dash, an actress known best for the movie Clueless, is also a regular contributor on Fox News, and is famous for saying racially inflammatory things like, "We should get rid of Black History Month." So when Rock brought her out as the (pretend) director of minority outreach for the Academy, it was an inside joke that only the tiniest percentage of people would get—mainly people who closely follow racial media politics on Twitter. The whole thing was so fast, so diffident, so awkward, it led to some to wonder if Dash herself was in on the joke (she had to be, right?). Anyway, I'm sure a lot of 23-year-olds, both black and white, were explaining that bit to their parents.
The Bad: Abe Vigoda dissed
You do not leave Abe Vigoda out of the In Memoriam tribute. You just do NOT. Although I did have a theory:
Abe Vigoda fake died so many times, when he really died they forgot to put him in the montage. #Oscars
— Max Weiss (@maxthegirl) February 29, 2016

The Bad: Girl Scout Cookies
It was cute when Ellen DeGeneres made celebs buy slices of pizza two years ago. Rock having them pay for his daughter's Girl Scout cookies seemed derivative—and indulgent.
Plus, as many on Twitter pointed out, the time wasted with that lame bit could've been put to better use—like perhaps bringing honorary Oscar winners Spike Lee, Gena Rowlands, and Debbie Reynolds onto stage?
The Stacey Dash: Sam Smith's Delusions of Grandeur
Okay, Sam Smith you can sing well enough and good on you for losing all that weight. But your Bond theme song was dreadful and, no, you were not the first openly gay person to win an Oscar. (Tell that to Elton John, who won for The Lion King and Dustin Lance Black, writer of Milk.)
The Good: Lady Gaga's Tribute to Victims of Sexual Abuse (and maybe Kesha?)
Joe Biden introduced her and Lady Gaga sang her heart out, as she is wont to do, looking flawless in her alien-meets-white-orchid pantsuit. The song, "Til It Happens to You" was featured in The Hunting Ground, a documentary about campus rape. But the true emotional show-stopper was when a group of young people—mostly women, but notably, not all—came out, dressed in street clothes, a stark contrast to the glammed up folks in the audience. They were all survivors of sexual abuse, standing together, in solidarity. Some trembled visibly as Lady Gaga sang. Gaga had tweeted earlier that she would be thinking of her friend Kesha, the pop singer who has accused her producer, Dr. Luke, of rape. There wasn't a dry eye in the house.
The Good: The Mad Max-apooloza
Some had hoped George Miller would win best director. (He didn't. That honor went to Alejandro González Iñárritu for the second year in a row.) A few dreamers had even hoped Mad Max: Fury Road would score an upset win Best Picture. (Nope, that went to Spotlight, as I predicted.) But Fury Road, a gloriously gnarly apocalyptic road film that is hardly your typical Oscar fare, had itself a helluva night, picking up virtually all of the artistic awards—Production Design, Film Editing, Costume Design, Makeup, Sound Editing, and Sound Mixing. Best of all was Jenny Beavan, her hair a defiant blonde frizz, who won for Best Costume Design and marched to the stage wearing a leather biker jacket with a rhinestone skull emblazoned on the back. Some, apparently, were not amused. Get over yourselves, dudes.
The Bad: The Thank You Scroll
It was pointless, dumb, and nobody read it.
The Good: This dress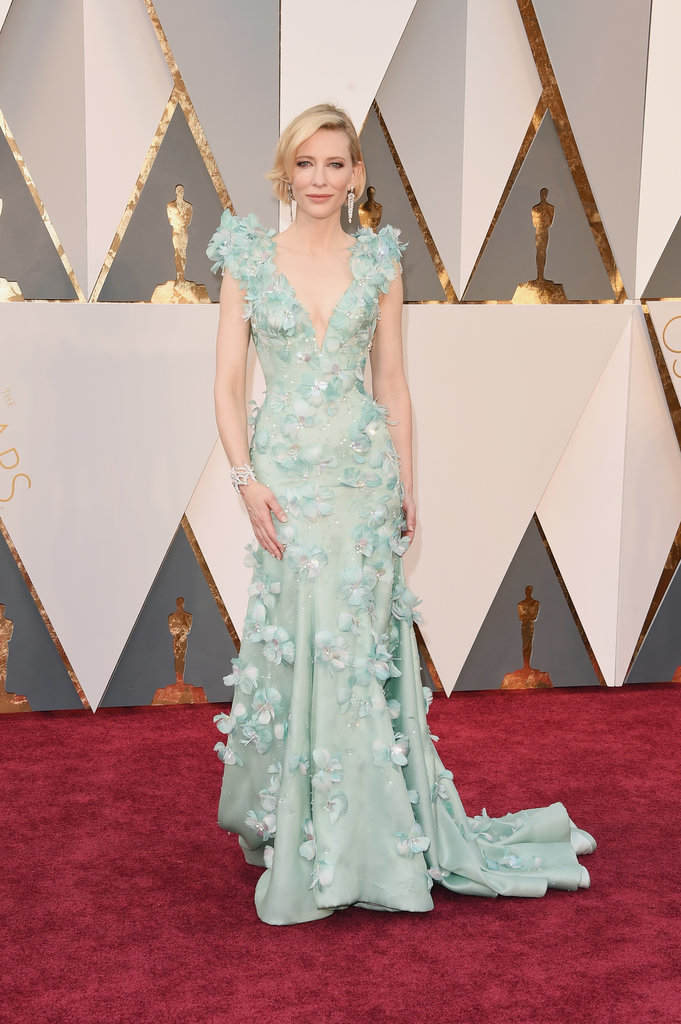 The Good: Also this one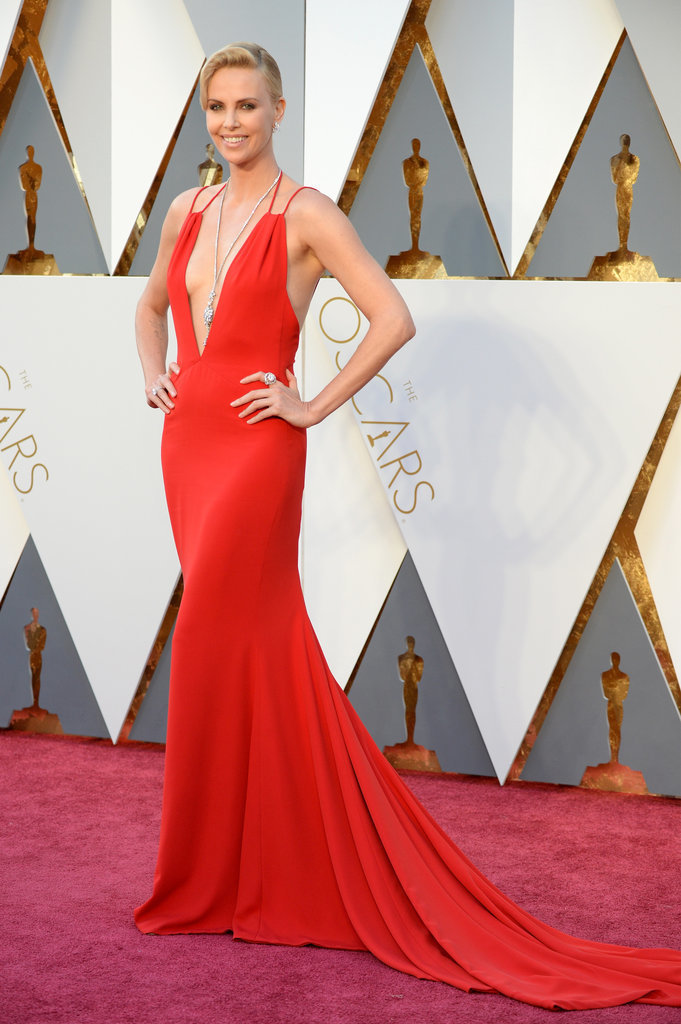 The Good: It's Leo Time!
After his failure to win an Oscar had become a meme, Leo finally won the big one for his committed performance in The Revenant. He got a standing ovation from his peers and the band did not dare play him off, even when he went off on a (brilliant) tangent about climate change. Now that's Hollywood clout.
The Stacey Dash: The Song That Closed the Show
Yes, Oscars, you openly discussed race. Yes, you were cool enough to give a boatload of awards to Mad Max, the coolest film of the year. But ending the show with Public Enemy's "Fight the Power" was downright bizarre. Newsflash: You are the power. Hopefully, next year, you'll put your money where your mouth is, the nominees will be more diverse, and we'll discover that the #OscarsSoWhite movement took on the power—and won.