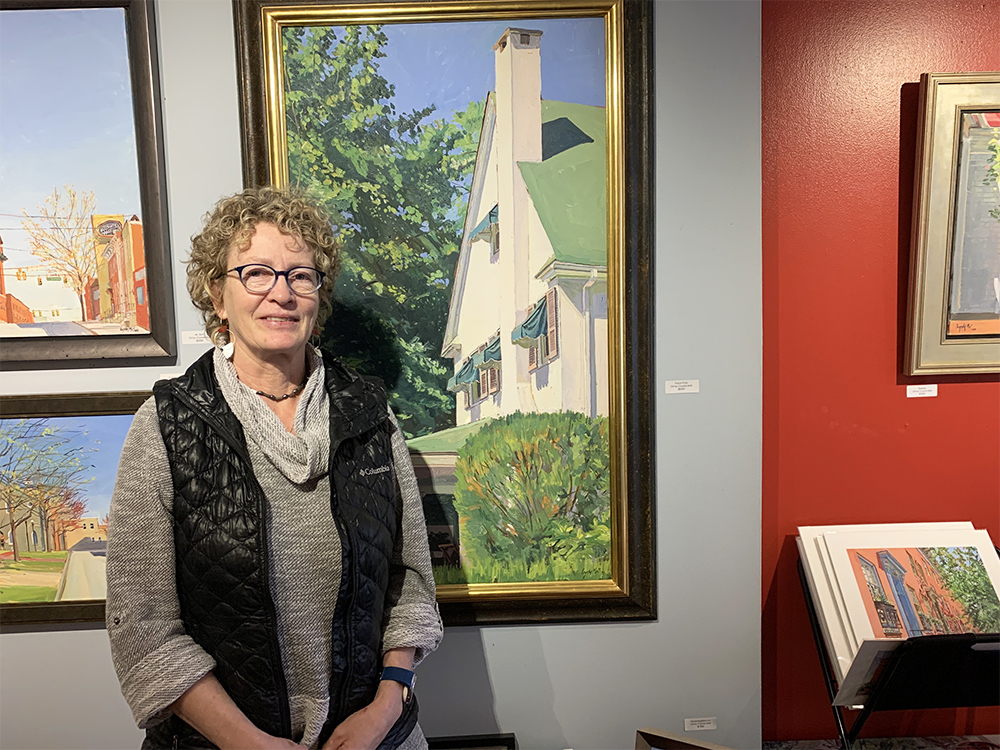 From the beaches of Charleston, South Carolina to a balmy sidewalk in front of an old Baltimore brewery in the 105-degree summer heat, Baltimore artist Crystal Moll has traveled far and wide for her work creating plein air paintings.
But on this Wednesday night, Moll is mingling with local artists, friends, and family at Sobo Cafe just around the corner from her gallery in Federal Hill. She's not just there for dinner, though. Every two months, Moll rotates her work displayed throughout the space.
"We kind of packed the house, had some hors d'oeuvres, had some wine, and stayed for dinner," Moll recalls later, mentioning some spectators who came from as far as Annapolis. "Since I wasn't hosting it, I was able to just talk to people and enjoy the event."
If you were to have told the 58-year-old artist in high school that she'd be a gallery owner and a painter full-time, she probably wouldn't believe you. In fact, the Virginia Beach native barely touched a paint brush before college, with the exception of her father's Saturday-morning painting sessions.
"I actually come from an artistic family," Moll says. "When we were kids, my father would have art class on Saturday mornings. So that was the beginning."
Moll stumbled upon the gallery business, and the neighborhood, accidentally. When a French-inspired cafe on South Charles Street closed 10 years ago, the landlord asked Moll to hang her paintings in the front window. She was inspired, so she told herself that she'd hang a few and give it until the end of the month.
This year, the gallery celebrates its 10th anniversary, but like any successful business, longevity doesn't come without sacrifice. For Moll, her greatest challenge is finding time to do what she loves: paint.
Today, the mother of two cats doesn't regret quitting the advertising business to paint full-time, but she does acknowledge that there are daily obstacles she has to overcome. We sat down with the artist to talk about her trajectory, the challenges of owning a gallery, and finding beauty on Baltimore's streets:
What makes a good landscape painting? What do you look for when you're scouting one?
I typically paint what I call "urban landscapes," because I'm usually in the city. What strikes me usually has to do with a lot of light and color. It's usually the effect of light on the surface that makes it a warm color, and then shadows become purpley colors. So, it doesn't really matter what I paint, but that's actually what makes me excited about the things that I choose to paint. I used to paint a lot of still life and interior work and then I started dragging all of my equipment out onto the streets because I had moved to Baltimore and people painted their houses great colors. I was like, "Instead of spending all this time setting up a still life, I could just find it."
So, what exactly is plein air painting?
Plein air is actually just painting on location. It's a French term that means "out in the open," and hundreds of years ago, artists adopted it as their term. So, even though in general it could be doing almost anything outdoors, really plein air painting means you're painting and being influenced by what it is that you are perceiving. Across the country, there are plein air events all over the place. One of the biggest is in Easton, Maryland, and they pull artists from all over the world to participate. We do a plein air show here at the gallery every summer. So that's usually about 30 different artists, who all paint on location.
You once described yourself as more of a slow plein air painter. How long does it take you to finish a piece?
I am very slow. In fact, that's why I don't do a lot of plein air events because a lot of artists will do a painting in a couple of hours and they'll knock your socks off. When I first started painting on location, I told myself, instead of sitting in a studio and working on a painting, I'm just going to go sit outside and work. In a studio, you might go back to a painting day after day until you've finished. So that's what I do. I go back day after day and I go back at the same time.
What's the most important thing that you learned while studying at Moore College of Art in Philadelphia?
Well the biggest thing was that I learned to see color with light on it. In a very simple Painting 101 class, [one of my professors asked us] to paint eggs using just black, white, and yellow ochre. But I kept thinking, "what was the yellow ochre for?"
Then, there was a girl in the class who brought in her pieces and the yellow was where the light was hitting it—I saw the warmth of that. After that class, I walked around for probably three days with everything in front of me changing color. Literally, as if I had taken a drug. People's faces were yellow where the light was, and greens and purples, I mean, it was wild. Then it calmed down, but that actually was a major light bulb being turned on. I probably could have left school after that class, but I stayed for the next three years.
Why did you move to Baltimore?
Because I married [my husband] Bob. He lived here, and I lived there, and he didn't love Philadelphia like I did. The only way he could get me down here was to marry me.
What was the inspiration behind opening the gallery 10 years ago?
The gallery was sort of an accident. There was a wonderful gift store in this space called "Le Petit Cochon," but the recession killed a lot of businesses. In December of 2009, the people who had the shop closed it. Wayne Brockie, who is my landlord here, called me up and said, "Would you put a painting in the front window? I just don't want it empty for the holidays."
He owns these three buildings connected. So, I met him, and I said I've always thought about a gallery, but how do you run it and still do your artwork? And how do you pay for it? So, I said, "Why don't I put up a lot of art? I won't pay you any rent. I'll give you a percentage of sales, we'll try this till the end of January and we'll see where we go from there."
How do you manage your time, then, and still make sure you're able to paint?
It's pretty tough. I don't paint as much as I used to, and part of that's okay because then when I do paint, I'm so excited about it. In the last two years we've been trying to change things a little bit so I can eventually get back to painting more. Part of that is actually having a few exhibitions with a lot of different artists. So, we're doing smaller shows and letting them run a little longer. It's a major balancing act, and now I'm personally trying to take more time off with my husband and trying to have a little bit of life outside of the gallery, too.
What would you say is the hardest thing about running a gallery?
Probably the hardest thing is just tapping into the buyers. The point of this is to sell artwork, it's not just to show it. When I started painting full time, my husband and I made the decision, because I was running my own advertising business, that I was going to quit that, and I was going to paint. I love to paint, but also the bottom line is, it's for a living.