The King and I
Saxophonist Del Puschert has played with rock and R&B royalty for the past 60 years.
Del Puschert's most prized possessions are two scraps of fabric, each about six inches long and frayed at the edges. One is lavender-colored cotton with faint white lines forming a rectangular pattern; the other is black wool with thin pinstripes and a zipper attached. At first glance, they're nothing special. In fact, if they weren't framed together and hung on the wall of Puschert's Annapolis home, you'd pay them no mind. Puschert stands before the scraps like a pilgrim in the presence of a reliquary. "There they are," he says, dialing back his boisterous voice to a murmur.
For rock-and-roll devotees, the scraps do, indeed, have near-religious significance—they were cut from a jacket and pants that clothed Elvis Presley. In fact, photos of a young Presley wearing these clothes are displayed alongside the fabric. Del Puschert appears next to the King in a few of the pictures, which ran in Photoplay magazine in 1956.
"It was the week before he went to Hollywood to film Love Me Tender," the 81-year-old saxophonist says later, sitting at a desk in his memorabilia-crammed "off-limits" room. ("Jesus is coming. Look busy," reads a sign, amongst many.)
Puschert leans back in his chair and hoists one foot, clad in an ostrich-skin boot, onto the desk. "I played with him at the Olympia Theater in Miami," he says. "We had some fun."
Presley played seven shows to a total of 15,000 fans over two days in August. Puschert, who first met Presley in a Texarkana nightclub, recalls that girls started lining up at 4:30 in the morning for the first concert, which was scheduled for 3:30 p.m. He watched Presley dangle a leg out of an upstairs window, setting off a riot of shrieks and screams below. By the time Presley hit the stage for his set, the crowd was charged.
"The mob of girls surged to the stage, where they knelt, arms upraised," a Miami Herald review noted. "A band of policemen, who were shaking their heads in disbelief, rushed in and pried the kids from the stage. Presley smiled, his shaggy brown hair began to fall like a horse's mane, and even that brought a thundering of delighted squeals."
At one point, the crowd got ahold of Presley and tore at his jacket and pants, and, after the show, some women exited the theater clutching pieces of his ripped clothing. Once safely upstairs, Presley cut the remains of his tattered jacket and pants into small pieces and tossed them out the window to fans lined up for the next show.
Puschert went home with a few of those pieces, and some great stories. "Those were lean years, but good times," he says. "I've had 60 years of good times. Playing with Elvis wasn't even the best part."
Puschert lives on a few acres off of Route 450 in Annapolis. He and his wife, Harriet, occupy something of a compound—next to Best Buy and across the street from Mr. Tire—consisting of two small houses, a barbershop, and a few barns and workshops housing everything from vintage cars to a pair of life-sized Elvis figures, one of which looms over the property from an upstairs barn window.
"He was probably the best R&B saxophonist I've ever seen. He was the man."
Chik-fil-A contacted Puschert about selling his land, and so have developers wanting to build a high-rise office tower, but he isn't interested. "They would bulldoze this place, plain and simple," he says, "but it means more to me than money. So much of my history is here."
Puschert was born and raised in Annapolis, the son of a clarinetist in the Naval Academy band. He started playing a small soprano sax at the age of 3 and made his professional debut with a local dance band at 10. Around that time, he also played a New Year's Eve show with the Academy band at the Elks Lodge. It wasn't long before he was gigging regularly and knew what he wanted to do with his life. "My schoolteachers knew it, too," says Puschert. "I flunked four years of school and never graduated. They'd be talking to me in class, but my mind would be drifting, thinking about where I was playing that weekend," places like Baltimore's 2 O'Clock Club, where he accompanied stripper Blaze Starr.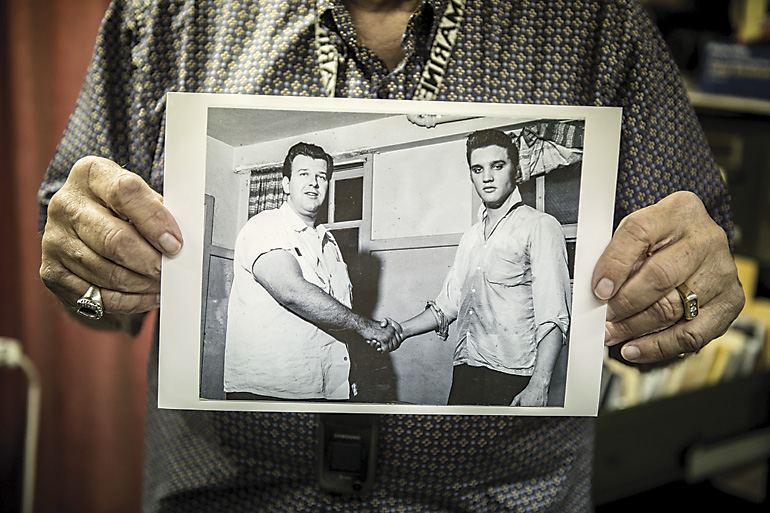 Puschert says he set out in search of fame and fortune in 1953 and, in the next breath, mentions "chasing a girl piano player" he met on a show in North Beach. Bette Kirby was touring at the time and, though the band included her sister on vocals and husband on drums, the 21-year-old Puschert was undeterred. "Musically, we just clicked," he says.
He followed Kirby to Chicago and Texarkana, a town on the Texas/Arkansas border, where she had a run of shows at Chaylors Starlight Club. Puschert put together his own band with musician friends from home and got booked at The Hut Club, a roadhouse up Highway 67, just north of town. His group outdrew the Kirby Sisters, who were given an ultimatum by the manager of the Starlight: "Hire that damn horn player or you're fired."
So Puschert found himself in a band with the woman he was crazy for
and her husband. Not long after, "she and I started hooking up," says Puschert. "We were young. You know how it goes."
It got even more complicated after Kirby's husband learned what was going on, and Puschert left the band and returned to The Hut Club, where he'd been promised more money: $20 a night. His relationship with Kirby fizzled, but the Texarkana gig remained steady.
He first met Elvis Presley when the singer showed up unannounced one night in November 1955. After a show at nearby Arkansas Municipal Auditorium, guitarist Scotty Moore crashed Presley's pink Cadillac into a pick-up truck, stranding the group in Texarkana for the night. Looking to salvage the evening, Presley, Moore, and bassist Bill Black were directed to The Hut Club, where they sat in with the band.
Puschert recalls that Moore and Black played "Night Train," a blues instrumental, and Presley sang "St. Louis Blues," the W.C. Handy standard. "They were nice guys," he says, "and we hit it off. After that, whenever they came through town, they'd stop by the club and hang out."
Puschert reaches into a desk drawer and pulls out old snapshots of the guys onstage at The Hut Club. The back of one photo is signed by Presley and Moore.
A year later, the friends reunited at Presley's Olympia Theater show in Miami, where Puschert had enrolled in barber school.
Barber school was a hedge against the insecurities of the music business. Puschert's father, with firsthand experience as a musician, advised him: "Boy, you'd better learn a trade, so you have something to fall back on."
Puschert reasoned that people always need haircuts no matter what the economy's doing, so he learned to cut hair and returned to Annapolis. After working at a few different places, he opened a shop behind his house in 1961.
Del's 3-Mile Oak Barber and Styling Shop, formerly known as Del's Styling Ranch, still has a loyal clientele, though Puschert is officially retired. He employs eight stylists and regularly drops in, urging everyone within earshot to "keep smiling." The shop does a brisk business of flat tops ($16), regular cuts ($15), layered cuts ($18), beard trims ($7), and goatee trims ($4). Long hair is extra. The women's portion of the salon is closed on Mondays and Tuesdays.
"I cut hair for years," says Puschert, "but I never quit playing music."
"He plays like he's getting a jolt of electricity. We love Del's energy on and off stage."
Soon after coming home, he joined R&B greats The Van Dykes, an integrated group (Puschert was the only white member) that played the teen center circuit, Sparrow's Beach in Anne Arundel County (backing up the likes of Otis Redding and The Coasters), and the Dixie Ballroom at Gwynn Oak Park. They also recorded a single for Atlantic Records, "Stupidity," that was a local hit in 1962. "The Van Dykes were great!" recalls filmmaker John Waters, who saw them frequently at Gwynn Oak. "They were a bad-boy band you could dance the 'Dirty Boogie' to. The checkerboard girls loved them, and so did I."
"That band was excellent, and Del Puschert was probably the best R&B saxophonist I've ever seen," says country music legend Charlie Daniels. "He was the man."
Long before "The Devil Went Down to Georgia" made Daniels a household name, he toured relentlessly and ran into Puschert while playing in the area in 1960. "I tried to hire him for my band," says Daniels, "but he didn't want to leave. He already had a good gig."
That gig lasted until 1966, when musical tastes shifted, and The Van Dykes broke up. Puschert put together a series of "tuxedo bands" to play weddings and Bar Mitzvahs around Annapolis and appeared regularly on New Year's Eve at the local Elks Club.
These days, he splits his time between Annapolis and a winter home in McAllen, TX. He's made his presence felt around Austin, playing with Dale Watson, the Cornell Hurd Band, and Asleep at the Wheel. "He plays like he's getting a jolt of electricity," says Asleep at the Wheel pianist Floyd Domino. "We love Del's energy on and off stage. He hangs out like a 22-year-old."
In October, Puschert will be playing the 25th annual Lincoln County Cowboy Symposium with Mel Tillis and Connie Smith in New Mexico.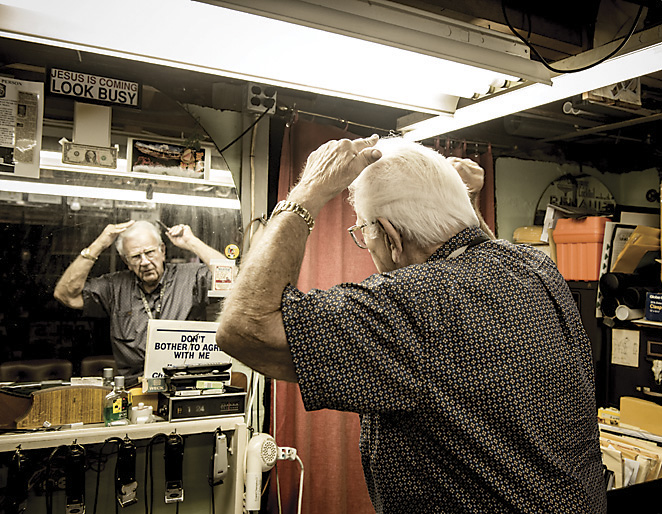 Closer to home, he picks up the sax when the mood hits, so you can still catch him around the region. In recent years, he's appeared with Chuck Berry at Strathmore, backed local favorite Tommy Vann at the Towson American Legion, and played some shows, including the Eastern Shore's Bay Music Festival, with Deanna Bogart.
"I don't perform that much anymore, but who really gives a rat's ass?" he says. "I had my time, and it was a pretty wild time at that."
Puschert pulls out a small comb and runs it through his white hair—left side first, then the right. He does the same thing after soloing onstage. "You gotta sound good and look good," says Puschert.
He returns the comb to his pocket and smiles.
---
For more images of Del, including his 1955 Plymouth, check out our exclusive gallery below: