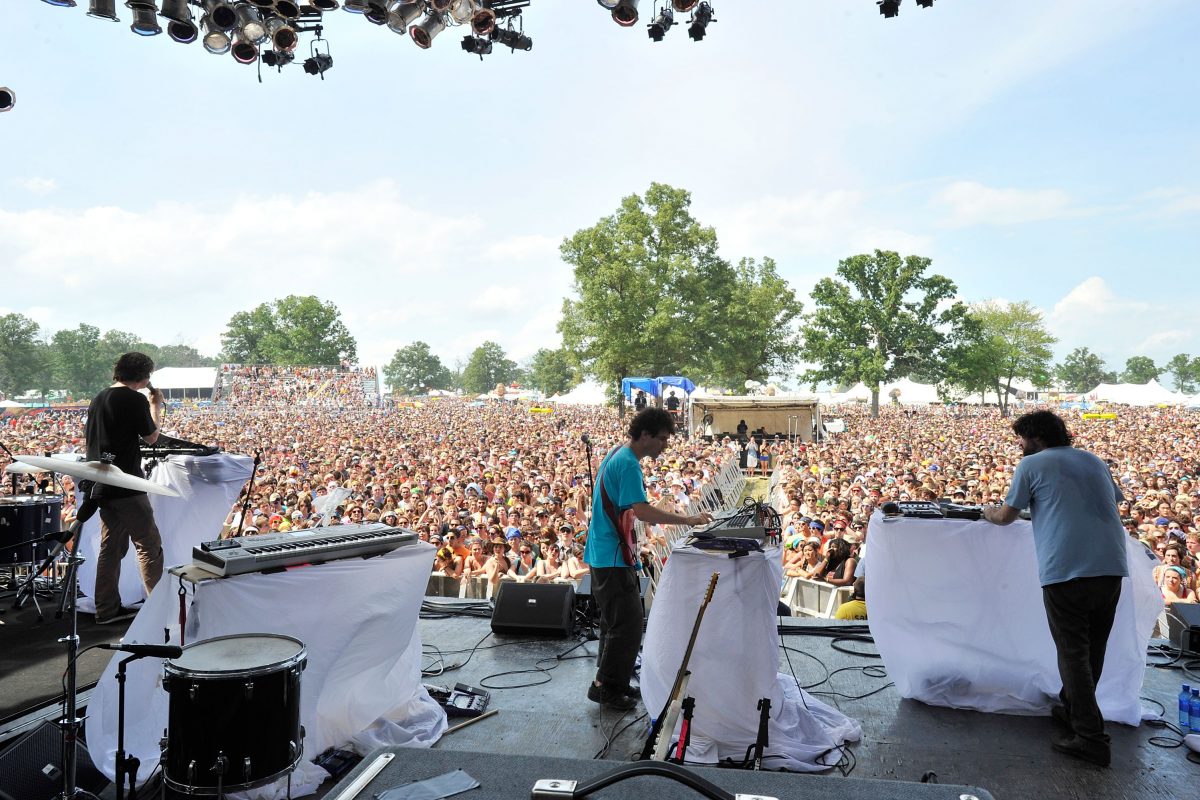 Photo by C Taylor Crothers
We got back from Bonnaroo a few days ago and saw some really awesome music—especially from headliners Beastie Boys and Bruce Springsteen and other favorites Wilco, Ani DiFranco, Jenny Lewis, MGMT, Snoop Dogg, Phoenix, Dillinger Escape Plan, and Ben Harper and Relentless7. Also loved discovering new bands (like Hockey, seriously check them out). Some things we thought we'd never see? Flavor Flav totally rocking out in Public Enemy. Yeah, he might do some dumb stuff on TV, but he and Chuck D have some serious skills. Also, witnessing Ani DiFranco and Janeane Garafalo having a mini political debate. Who would have thought those two would disagree?
But a real highlight was sitting down with the guys from Animal Collective Friday morning, a few hours before they were set to play. Dave Portner (Avey Tare), Noah Lennox (Panda Bear), and Brian Weitz (Geologist) sat down and discussed their Baltimore upbringing, planning their set lists, and what makes them work as a band.
How did growing up in Baltimore help to bolster your creative spirit?
Dave Portner: We hung out in Baltimore mostly in high school, where we all met. I grew up in an area that was very woodsy. It was 22 acres of farmland out in Monkton. That sort of environment had a big influence on how I approach music.
Brian Weitz: In the 90s there weren't really any all-ages clubs, and bands didn't come to Baltimore as much, so we ended up going to a lot of DIY stuff. We went to places like the Loft and The Small Intestine and kids would just be playing shows. Seeing them do that was really inspiring because they were in high school, the same age as us at the time.
You guys have since gotten scattered all over the world, between Lisbon, New York City, and DC. Has it been difficult as a group to be so far apart?
Noah Lennox: We've known each other for so long that when we do get together and work on stuff, it's like we've never been apart. We also do a lot of file sending over the Internet, so distance doesn't really affect that. Our songs become songs one way or another.
You guys have said that you like bands who create "really special sonic environments." How does playing a show of Bonnaroo's scale affect your own "sonic environment?"
DP: Time of day matters a lot and the length of our set matters a lot. Since we're playing outside, in the afternoon, for just a little over an hour, we'll have to put a different spin on it. We think about what people would normally want to hear outside and we'll just have to get comfortable with the environment. We hope for the best.
NL: You'll definitely see more energetic songs out of us.
DP: Yeah. Songs like "No More Runnin" and "In The Flowers" probably wouldn't go over too well in a big festival space. But more upbeat songs, like "My Girls," we could play that.
Speaking of your latest album, Merriweather Post Pavilion, can you explain why the venue was significant enough to inspire your album name?
DP: It wasn't so much the actual venue, as it was the idea of it, and Merriweather was the closest we could come. Plus, we were really into the way the words sounded together.
NL: Yeah, it was more about a big outdoor space filled with music and sound.
Kind of like here at Bonnaroo.
NL: Yeah, exactly.
A couple hours after our interview, Animal Collective came on stage. The trio played an impressive set that included the crowd-favorite "Summertime Clothes" and especially went all out on "Fireworks," which featured a festival-inspired extended jam. Our only complaint? We wish the powers that be would have given Animal Collective a later time slot. The band's dreamy, celestial sound definitely would have carried over better at night and, surely, the lights they had on stage would have been more appreciated. But given the time, environment, and crowd, Animal Collective represented Baltimore well.