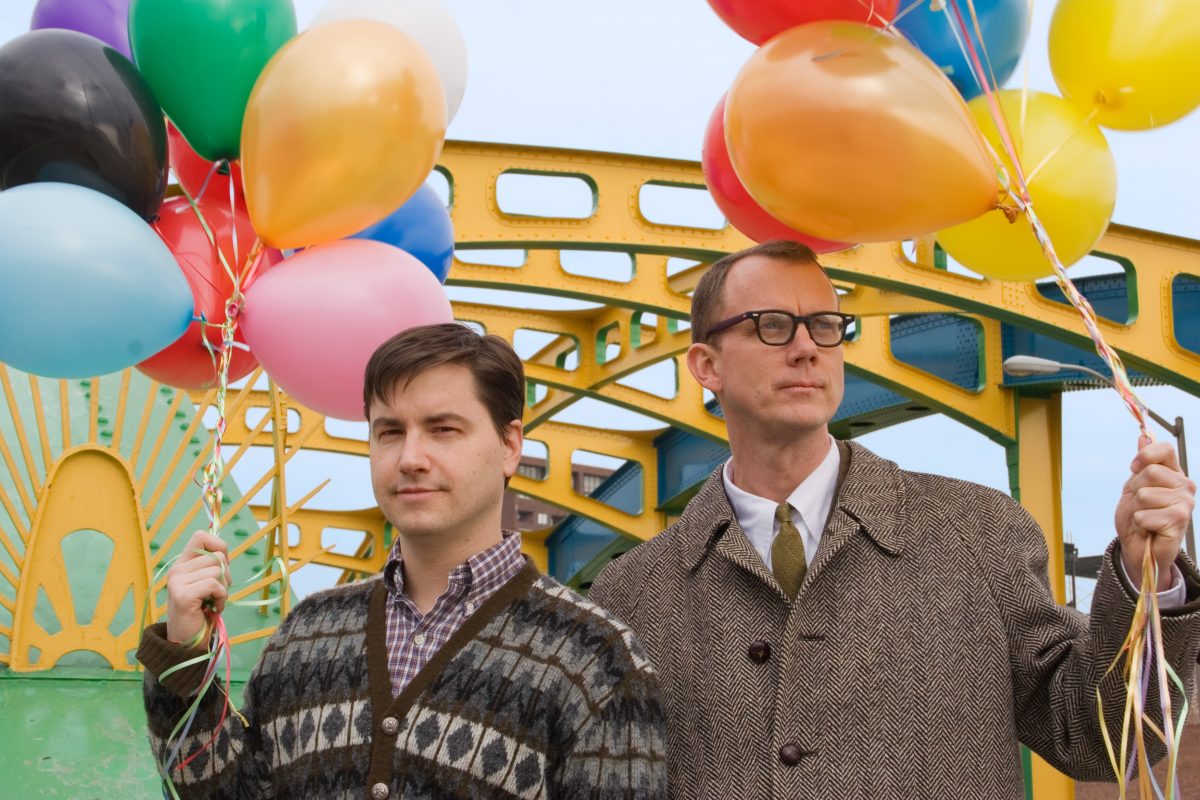 Courtesy of Matador Records
When the Baltimore Museum of Art
turned 100 this year, they decided to throw one hell of a birthday party. Two birthday parties, to be exact, and both are popping off this Saturday night. The first will feature the who's who of Baltimore—a black-tie gala with dinner and jazz in the newly renovated American Wing—while the second—the gala's hip, younger sister, the "Party of the Century"—will be getting down in the historic Merrick Entrance with dancing and drinks.
The latter will also feature music by two somewhat-surprising guests. They're probably not what most posh partygoers would imagine for a champagne-sipping, cocktail-attired affair. They're not your typical, to-be-expected, Top 40 DJs. There won't be any Iggy Azalea. There won't be any turning down for what.
Instead, the BMA has chosen
Matmos to perform a DJ set for their special centennial celebration. The experimental, electronic, Baltimore-based duo comprised of Drew Daniel and Martin "M.C." Schmidt will be doing what they do best: turning (and shaking) things up, which is what they've done over the course of eight ambitious albums, full of mixed mediums, unusual instruments, and synthesized soundscapes. Their influences range from classical music and Civil War folk to hip-hop, electronic pop, and death metal, and they might be most famous for their collaboration with fellow nonconformist, the one and only Björk.
Though a seemingly curious decision at first, all you really need to do is listen to Matmos's music to understand why the BMA awarded them top billing. Simply put, they're artists, and so they'll fit right in in the historic halls of our city's outstanding art museum. They'll be bouncing their beats off the works of other boundary pushers, other rule defiers, other convention breakers, other avant-gardes. Among Matisse, and O'Keeffe, and Warhol, they'll be right at home, both figuratively and (as you'll see below) literally.
We talked with them about their upcoming performance, the BMA, and Baltimore itself.
---
So how did this all get started?
Drew Daniel: We moved to Baltimore eight years ago when I was hired to teach at Johns Hopkins and our house was on Art Museum Drive so we literally looked out of our bedroom window at the BMA.
I take it you were regular patrons then.
DD: Of course, yeah! The BMA has always been such a fantastic resource. It's got cool, weird slices of art history, all wedged together—great Renaissance holdings, great Impressionism in the Cone Collection, and then really cutting-edge contemporary stuff. It's a small jewel of a museum.
Martin "M.C." Schmidt: The fact that it's free makes it an unbelievably pleasant resource to walk to and just have a beautiful afternoon or what not.
So is that how the Party of the Century gig came about?
DD: Doreen Bolger sent me an e-mail that said, 'Hey, do you guys want to be involved in this event?' And then Martin met the donors—the shadowy council of 50, or committee of nodules, or whatever. It's cool that they reached out to us.
Were you a little surprised?
MC: I could tell in the people I talked to that hired us—some people were very excited and some people were like, "Oh,
no. What have we gotten ourselves into?" But that's good art. You know you're getting somewhere good if it's a little bit scary.
DD: The public performance events at the BMA have always embraced the weird. They haven't been safe and boring and I think that's important. That spirit is part of what's going to inform our DJing. We're not there to play "The Macarena" and "The Electric Slide." It's not a wedding. You know what I mean?
Please no "I Gotta Feeling."
DD: That kind of DJing has its place but that's not who we are.
MC: And I don't think that's Baltimore. It's certainly not the pulse of the Baltimore arts scene.
DD: I'm not trying to flatter myself here, but I think they showed some courage in asking us rather than someone whose more of a middle-of-the-road, gets-the-job-done, party DJ. It's cool that they asked
us.
Yeah, I think everyone attending likely expected it to be some crowd-pleasing, iTunes-shuffling DJ, but the choice stays true to the BMA's mission of catering to the entire Baltimore community, in all of its facets—showing them something that's new or might teach them something.
DD: Yeah, that's our goal. We don't want it to be stuffy. We want to be inclusive. For me, that means I want to play Baltimore Club, and
musique concrete [French experimental music using recorded sounds as raw material], and indie pop, and, like, Hawaiian lounge music, and kitsch. I don't want to decide in advance that people won't understand, because I don't think that's true of Baltimore. They're hungry for weird.
So no set list.
MC: DJing is a dangerous thing to over-prepare.
DD: You don't want to script in advance. You need to be responsive to the crowd, the feeling, and your own mood. A gala is about networking, having fun with your friends, and talking about art in a good environment. People are not there to drop everything and stare at you for 40 minutes. We'd rather stay loose, keep it fun, and keep it moving, you know?
MC: Yeah, I've seen some disastrous DJ sets by people who were renowned as
the greatest DJs in the world, but they weren't reading the crowds. We recently played an electronic music festival in Mexico City and these DJs from Berlin just pummeled the crowd with this relentless Berlin club music.
DD: Ice-cold minimal techno. No one was dancing—and this was a Saturday night in Mexico City! And everyone was drunk!
Yeah, how do you not dance in that situation?
DD: Yeah, and by the way, no one should treat this like, "Oh, this is what Matmos is like live." When we play live, it's a
very different thing. This is designed to be a helpful component of somebody else's party.
A layer of you.
Both: Yeah.
It's going to be pretty cool being and performing in the museum after all the new renovations.
We'll be in the new lobby in the top left-hand corner at our little table between two columns, playing fantastic music.
"Between Two Columns." Sounds like a Zach Galifianakis skit.
DD:
Snug.
MC: It'll be snug and fun.
You've played some stellar venues, but as patrons and neighbors of the BMA…
MC: Yeah, it's super exciting—
and convenient.
You can just roll home afterwards.
DD: We can get insanely trashed and then just stagger home, so that's perfect.