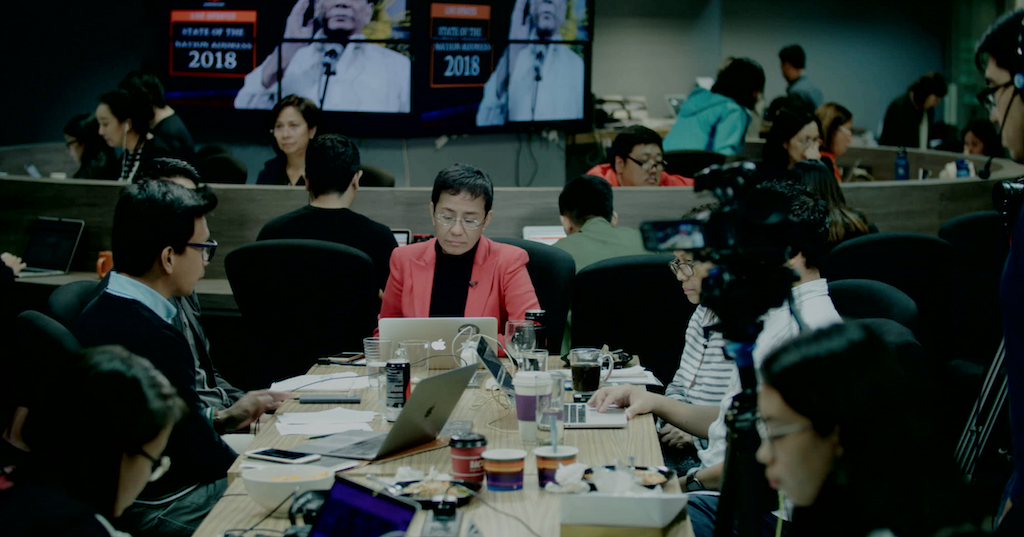 To no one's surprise, the Maryland Film Festival (MdFF), which was supposed to run from April 29-May 3, was forced to cancel this year in the face of the ongoing coronavirus pandemic. The Parkway Theatre, the festival's headquarters, has been closed since last month but—in some heartening news for fans of alternative cinema—has (temporarily) rebranded itself as the Parkway Virtual Theatre, hosting a streaming movie platform directly on its site.
Nonetheless, for indie filmmakers, the cancellation of festivals like MdFF can have a chilling effect on the success and viability of their movies. To that end, we wanted to check in with local documentarian and MdFF board member Ramona S. Diaz, whose A Thousand Cuts, about a fearless journalist taking on a corrupt Philippine president, was set to have its local premiere at the fest.
She spoke to us from her home in Mt. Washington.
Tell us the about your film.
It's about press freedom in the Philippines under President Rodrigo Duterte, who's widely known for his war on drugs. It takes place in 2019, against the backdrop of the midterm election. I follow the journey of Maria Ressa, a prominent journalist who is speaking truth to power. And I follow her through this season of election when she gets arrested twice. The film turns out to be about press freedom, disinformation, and the war on drugs, all those things intertwining.
You had brought A Thousand Cuts to Sundance, right?
Yes, in competition. We were scheduled to screen at 12 film festivals this spring. And special screenings, all of which, of course, were canceled.
It was just going to be a classic roll out of small independent film—you premiere at a top tier festival, the spring festivals give you momentum, and then you do your sort of limited theatrical in the summer, and then it's on to award season. That was a nice plan many years ago, it seems.
How was the reception at Sundance?
Something happens at Sundance and other festivals. You show them a documentary film and the audience has been immersed in someone else's life for two hours…and then when the lights come up those people actually come up on stage. Like, they jump off the frame. The audience absolutely levitates. It's this magic that happens that can't ever happen on Zoom. It was beautiful.
You were also supposed to screen at SXSW in Austin. When did you find out that it had been canceled?
I was on my way to Manila to have a private sneak preview screening of the film to the people who participated in it. So they were flying me out. I fell asleep—by the time we were over the Pacific, I woke up and saw on my phone that it was canceled. And I knew then that everything would be canceled. A lot of people were looking to see what SXSW was going to do because it was the first major festival. By the time I left Manila five days later, everything was canceled—Cleveland, Full Frame, Hot Docs.
Some people were postponing, which I think was just postponing the inevitable.
Was it hard getting out of Manila?
I flew there, I think March 7. The screening was on Tuesday. I did some master classes. And then the plan was, on Thursday, I would fly directly to Austin.
The world changed in a week. So when South By was canceled, I thought, I'm going to stay the weekend in Manila. Why not?
So I stayed, which was not a very good idea! In the span of like 48 hours, the country was shutting down and the president gave everyone 72 hours to [come home]. All international flights were being grounded. But yes, I was able to get out.
How disappointing was the cancellation of the MdFF for you?
It was interesting for me to be a filmmaker and then sitting on the board of the Maryland Film Festival. I could really see it from both sides. Of course, as a filmmaker, you always wish, let's just postpone. But the reality is, it's a tough choice. Even if you postpone until fall, six months later you're mounting another festival. How do you do that?
What's the plan to roll out the film? Are you going to do Video on Demand? Or take advantage of the Parkway's new streaming platform?
We've turned down most digital offers. As a consumer there's so much glut right now. Because everyone's thinking the same way: "Let's put our film out there! People are home!" But I personally get very overwhelmed by choices. So I just decide I'm going to read a book. I really love that specialness and anticipation of a live audience. We're willing to sit it out until the summer [in the hopes that the film gets a theatrical release].
This whole thing must be so disappointing for you.
I do have to say: I'm very lucky. I have a team. I have sales agents and funders backing it and other people thinking as to what to do with it. But I'm still mourning my film. There's something that happens when you roll out a film like this. You form a cohort with other filmmakers who are at every festival and that becomes your cohort throughout the year. It becomes a special group. I'm mourning that cohort. It's not going to happen this year. Relative to what's happening in the world—people are dying—I feel a little guilty for mourning. But it's still a real grief, I think.
I really look forward to seeing the film when this is all over.
In the theater! Hopefully at the Parkway, live.