Remington's Iconic Reptile Mural Gets a Fresh Look From Its Original Artist
The Maryland State Arts Council recently awarded a conservation grant for the full restoration of the mural, which has become something of a symbol for its historically working-class neighborhood.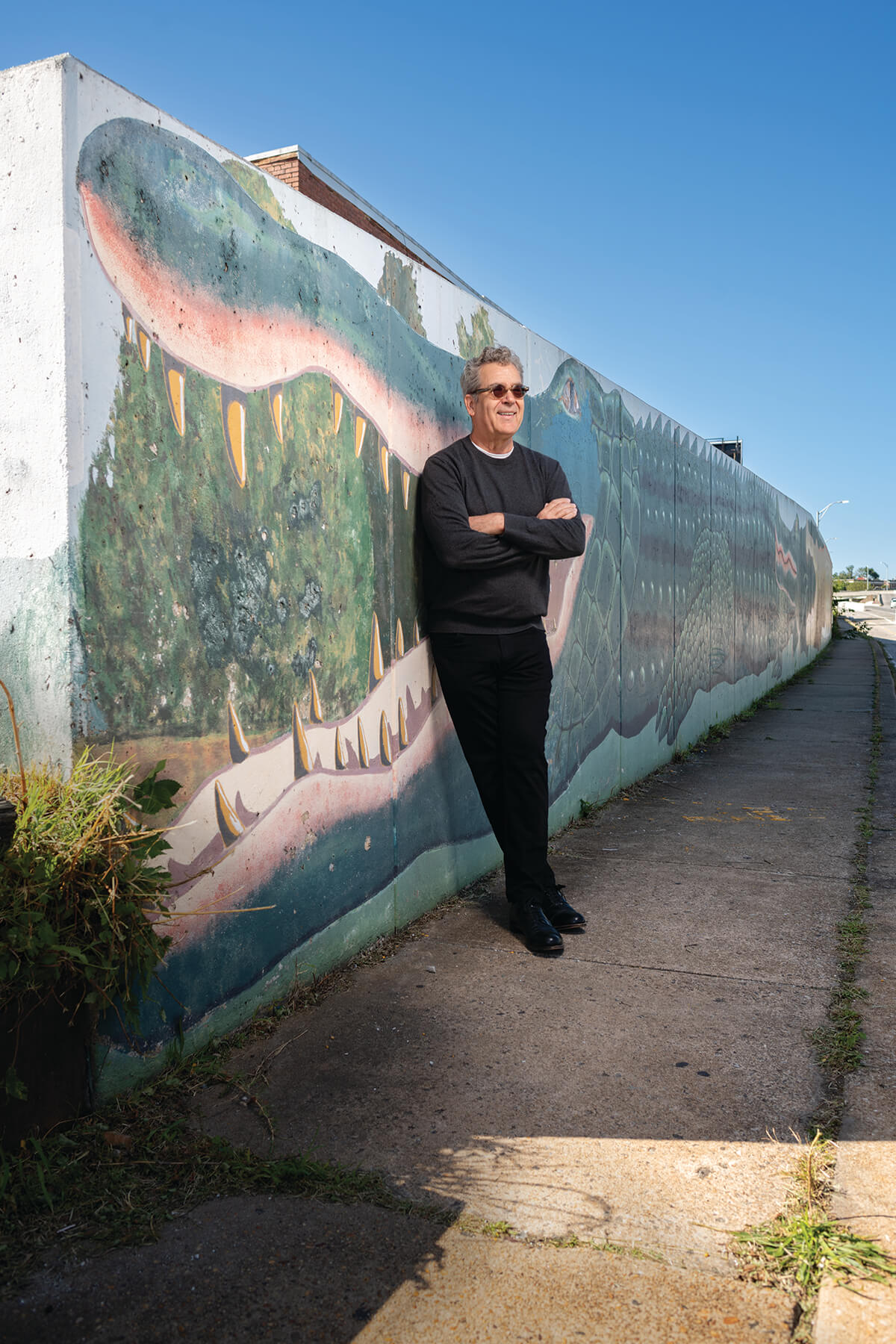 John Ellsberry insists that he didn't set out to put Remington on the map when he painted his 1987 alligator mural just off the Jones Falls Expressway.
As the Stone Hill artist tells it, the city was offering to pay local artists to paint murals as part of a campaign to deter graffiti on public property, and that got his attention. One commonly tagged site was a long, low concrete retaining wall on the south side of 28th Street just before the traffic signal at Sisson Street.
Given its proximity to the Maryland Zoo, "I kind of wanted [it to depict] some animals escaping," says Ellsberry. "I also wanted to have an animal that had some teeth, some bite to it, that looked a little scary so that the graffiti people might have a little more respect for it…and also, at the same time, make it colorful and cute."
Then 32, he won the spot, and with a $5,000 stipend, plus help from fellow local artist Gary Wimmer, he created "The Alligators"—his first of six murals in Baltimore—depicting a trio of gators, one with its jaw open, revealing a formidable set of teeth.
In the years that followed, the work has become something of a symbol for its historically working-class neighborhood, gracing logos for local organizations and even inspiring Peabody Heights Brewery's "Remington's IPA," aka the "Improbable Pet Alligator."
"It's an important piece from early in the mural movement here in Baltimore," says Doreen Bolger, former director of the Baltimore Museum of Art. Not only did it serve as a physical marker on the way to the BMA, she says, but the artwork is also appealing as a metaphor. "Because people are always afraid of alligators, but alligators are actually sort of friendly. In a way, to me, that sort of epitomizes Baltimore City."
Over the years, between newer stained-glass mosaic projects from his Mill Centre studio, the former City Paper photographer and comic illustrator has visited the mural for routine upkeep—refreshing the paint, mowing the weeds, and removing any trash. And  drivers have come to recognize him.
"They give me the thumbs up, like, 'Hey, Alligator Man! Alligator Man! How you doing?'" says Ellsberry. "It's really a rush, getting so much positive feedback."
And this year, the now-68-year-old received what might be the ultimate confirmation that a work of art has stood the test of time. The Maryland State Arts Council recently awarded a conservation grant of more than $40,000 to the Greater Remington Improvement Association for the full restoration of his alligator mural, to be completed by the original artist himself.
After nearly 35 years, the almost-200-foot-long mural has begun to fade, peel, and otherwise deteriorate to the extent that periodic touch-ups aren't enough. Once a permit has been approved by the city, with the help of local conservators Lori Trusheim and Gillian Quinn, paint will be removed, the wall will be repaired and reprimed, and then it will receive a new coat of pigment with the original colors, which were once much more vibrant than the hues one sees today. Ellsberry hopes to complete the work in time for a dedication ceremony during Remfest next spring.
"I'm going to try to keep it as close to the original as possible," he says. Which means that, for the foreseeable future, like the cars that drive beside them, "The Alligators" will continue to wait in line for the light to change. But after all these years, the artist has one clarification to make about his trio, which includes a pair of bright green reptiles, followed by a third brown specimen.
"The reality of it is, two of them are alligators," he says, "and one of them is actually a crocodile."