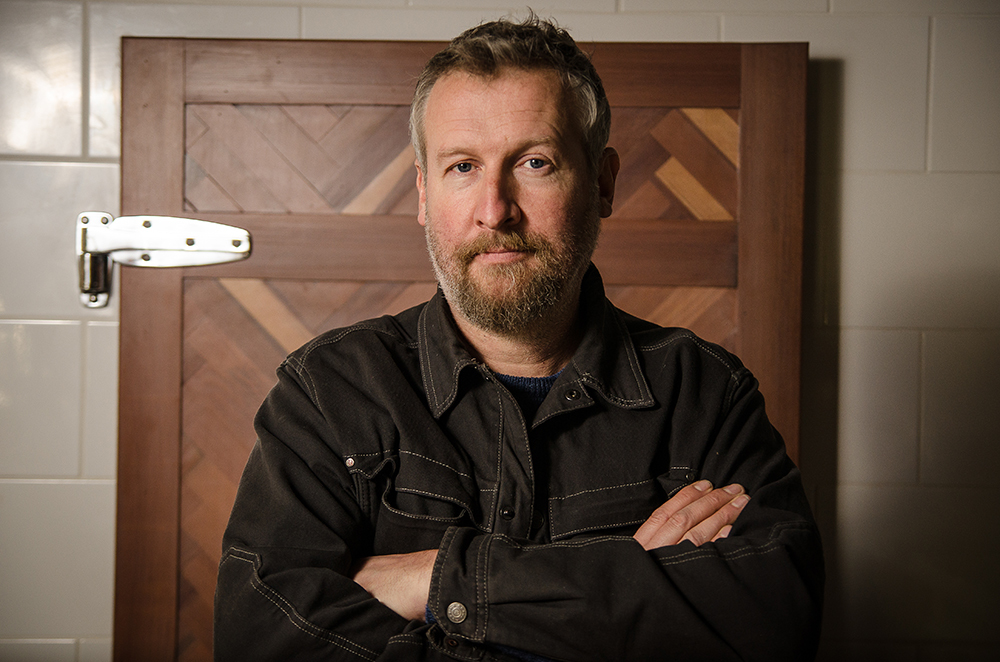 Adam McCall
From his former steampunk dive bar Fork & Wrench in Canton (which is closed and up for auction) to his eye-catching mixed-used space Modern Cook Shop in Fells Point, restaurateur Andy Gruver is known not only for owning cool spaces but designing them, too.
In fact, these days the talented artist-restaurateur is spending more and more time in the basement of his studio at Natty Boh Tower, where he builds up business for Gruver Design, his eponymous company. "I'm pretty handy," Gruver says. "It doesn't take much for me to pick something up."
How did you become interested in design?
Growing up, I was always interested in art and design. I was born in Holland, and my uncle over there is an artist. Growing up, we'd travel back there a lot and it spiked my interest.
What kind of inspiration did Holland provide?
Holland was a second home. We'd visit Heerlen, which was a five-minute walk from Germany, every few months. That's where I picked up a lot of the feeling of what I do. Living over there is so different than the U.S. If you go to a coffee shop, chances are, the mug was handmade. I'd visit family there and all the paintings on the walls were ones they did themselves. My uncle also did a lot of woodwork and sculpture.
Did you ever study art more formally?
I was accepted to the Corcoran College of Art and Design in D.C. and went for a brief period, but I left to be in a rock and roll band, so it didn't work exactly out. But it's a lifelong endeavor. With everything I do, I try to have some design sense or some artistic aspect around it.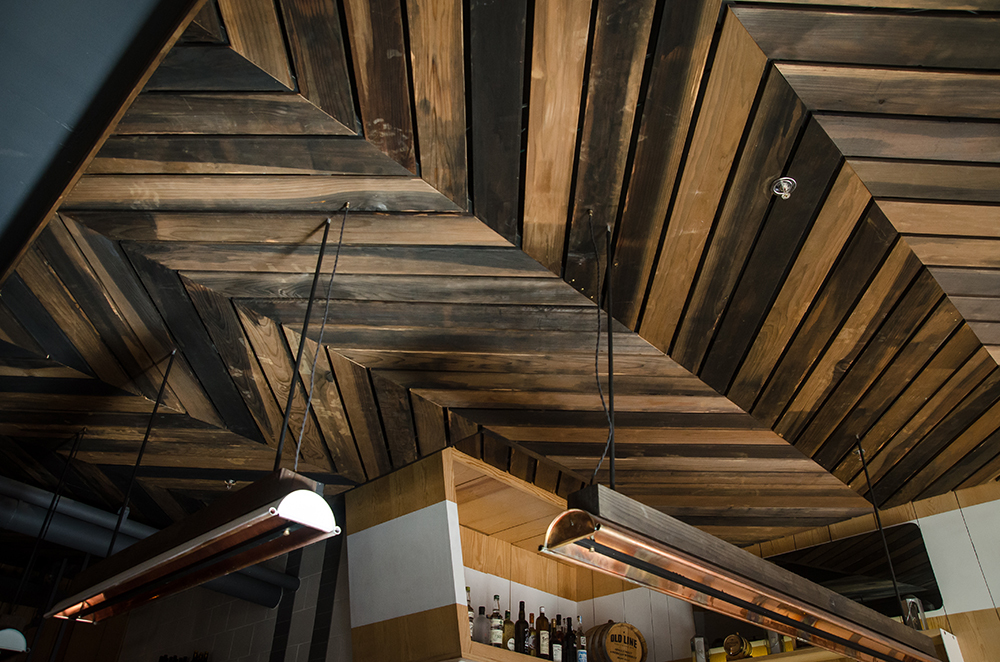 What mediums do you work in?
I've done all kinds of things since I got into the restaurant business, whether doing interior design for my restaurants or making actual furniture. I paint and sculpt. At Modern Cook Shop, I made all of the tables and chairs. At Fork & Wrench, I came up with the interior design and built everything from scratch. I work in metal and wood and glass. I'm going to get into making custom lighting. If I had a kiln, I'd make pottery.
I know you've talked about doing design work for other clients. How's that going?
It seems like there's really a need for it—and I'm putting my name out there. I have a number of residential and commercial projects including one with [Clavel's] Lane Harlan. I built an Art Deco-style speakeasy bar for Westminster American insurance company in Owings Mills. Now the owner wants me to build a bar in the basement of his new home. I also did a custom-etched mirror with his logo. I want to pursue this as a more serious aspect of what we do and am working on a website.
With fewer patrons visiting city restaurants, what has it been like for you to try to run Modern Cook Shop?
We bootstrapped Modern Cook Shop using Fork & Wrench money and that was pretty difficult. It's a sign of the times. Baltimore is more difficult right now, but it won't be long before things are back to normal. Nothing is set in stone yet, but I definitely want to focus on the design work.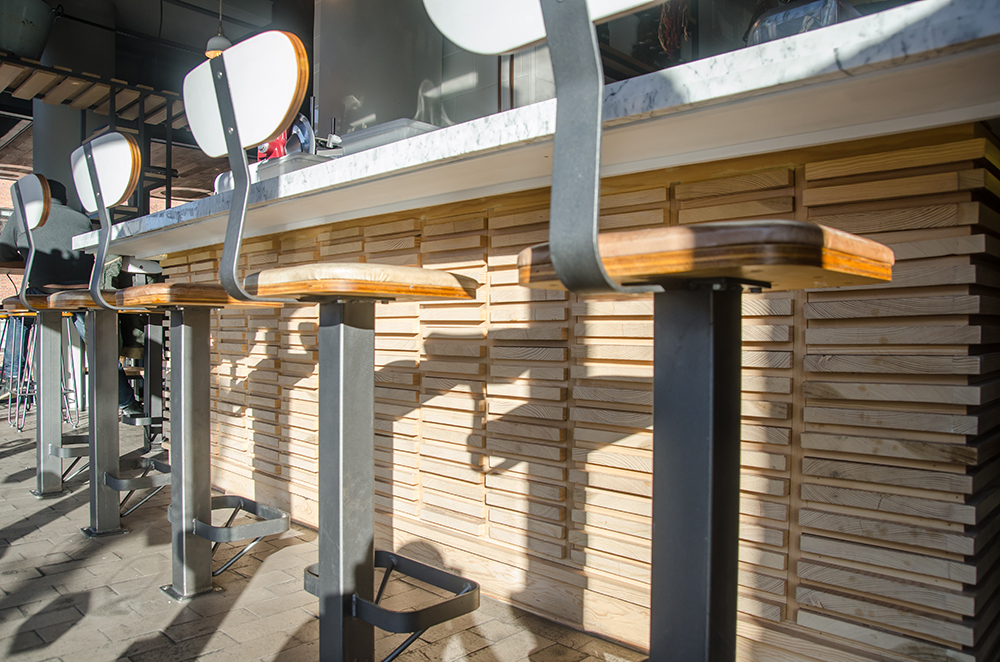 You opened one of Baltimore's first gastopubs with Fork & Wrench and then gave us Modern Cook Shop, an entirely new concept for the city with a marketplace inside the restaurant. What else do you wish Baltimore had that it doesn't?
We're on the water and we don't have a lot of great seafood. You don't find these really authentic restaurants and that doesn't make sense to me. I'd like to see more of those.
How have you seen the food scene change here?
I've been in Baltimore going on 15 years. There have always been a couple of gems like Peter's Inn that inspired me to do Fork & Wrench. Baltimore is growing—it's on the verge of exploding. But had we not had the unrest that we had a few years back, things would look different today.
As Baltimoreans become more sophisticated in their culinary tastes, does it make it harder to survive as a restaurant?
Restaurants have to try harder, and that's a good thing.  
So, what's the ultimate dream for you career-wise?

I will always open restaurants, but I'm really enjoying the design work, and this is where I'll be focusing my attention. There's a design firm in Brooklyn called AvroKO that inspires me. I like their philosophy. When I'm doing design work, I come in and get to know someone whether it's a restaurant I'm designing or a residential project. They show me a few ideas and I come up with the design. I'm fond of antiques that have been done well, though something new is perfectly nice, too. In a perfect world, I would have time to build cool, heirloom furniture and then be known for design and install in great restaurants. That's who I want to be. In a weird way, it's all been leading up to this.