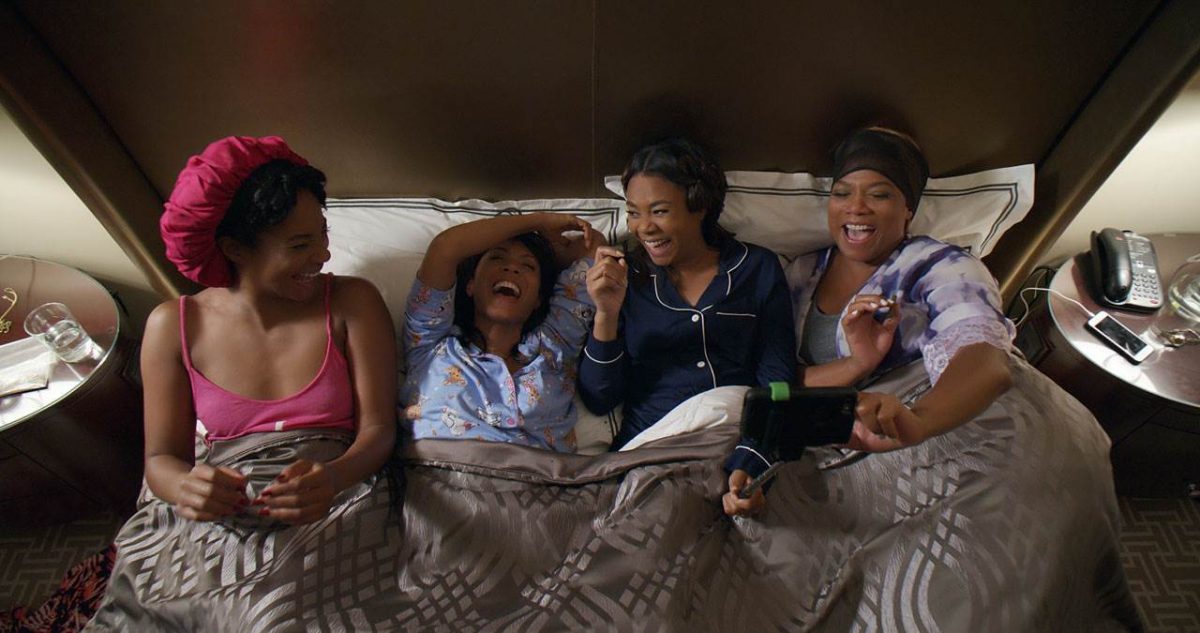 The four female leads of Girls Trip—Regina Hall, Queen Latifah, Jada Pinkett Smith, and Tiffany Haddish—have been getting a lot of love, and deservedly so. They're all pitch perfect in their roles, with Haddish nearly stealing the movie out from under her more famous costars. But I want to take a moment to praise director Malcolm D. Lee and writers Kenya Barris and Tracy Oliver, because they're the ones who created the framework in which these hilarious ladies can flourish. The movie is about a group of old college friends—the so-called Flossy Posse—who take off for a long overdue girls' weekend in New Orleans, but, thanks to the smart script and Lee's slick direction, we're emotionally invested in each of their journeys.
Hall's Ryan Pierce is a self-help writer trapped in a nearly loveless marriage to her ex-jock husband Stewart (Mike Colter)—they have to keep up the appearances of a happy union to promote their "you can have it all" brand. Pinkett Smith's Lisa is a divorced, high-strung, control freak mom of two, who hasn't let her hair down since college. Queen Latifiah's Sasha was once a promising journalist, but sold herself out to write a gossip column—and now finds herself financially struggling. (What's more, there's a touch of lingering bad blood between her and Ryan—they were supposed to start a venture together that Ryan jettisoned when her own career took off.) Finally, Haddish's Dina is an unrepentant party girl who wants to be seen as not just the comic relief, but as a formidable person and a ride-or-die friend.
Yes, it's small stuff, and hardly revelatory, but as we watch these women hop from bar to club to parade to P Diddy concert, these personal stakes are there, making us care about the members of the Flossy Posse that much more.
Of course, you come to Girls Trip to laugh, and laugh you will. There are more spit-take-inducing set pieces than I can begin to describe, but off the top of my head, one involving the perils of a full bladder while zip-lining comes to mind, as well as a post-absinthe night out/dance-off in a club, and a very naughty demonstration with a grapefruit. Also, keep your eye on the skeevy white guy who shows up at the motel room where the ladies are temporarily crashing. (And by "keep your eye on" I actually mean, "For the love of God, avert your eyes, people!")
The supporting cast, including cutie-patootie Larenz Tate as a flame from Ryan's past and Kate Walsh as Ryan's wannabe "down" manager, who has been instructed to never use the words "turnt" or "on fleek" (she doesn't listen) are strong. And, as I said, all the leads are all fantastic—Regina Hall, in particular, has a leading lady grace that effortlessly grounds the film—but the horny, hyper, down-for-anything Haddish is on the next level. This is a star-making performance, the likes of which we haven't seen since Melissa McCarthy in Bridesmaids. Don't screw it up, Hollywood!
Another thing I appreciated: The film takes place at an ESSENCE Festival in New Orleans. Not every bawdy weekend film has to be in Vegas! The beads, parades, and zydeco music—not to mention the numerous cameos from recording artists (along with Diddy, I spotted Common, Maxwell, Ne-Yo, and Mariah Carey, just to name a few)—were a refreshing change of pace.
Honestly, my only objection to Girls Trip is that it's a bit flabby—had it been 20 minutes shorter, the film would be near perfection. That being said, who can blame Lee for wanting to hang out with the Flossy Posse a little bit longer?