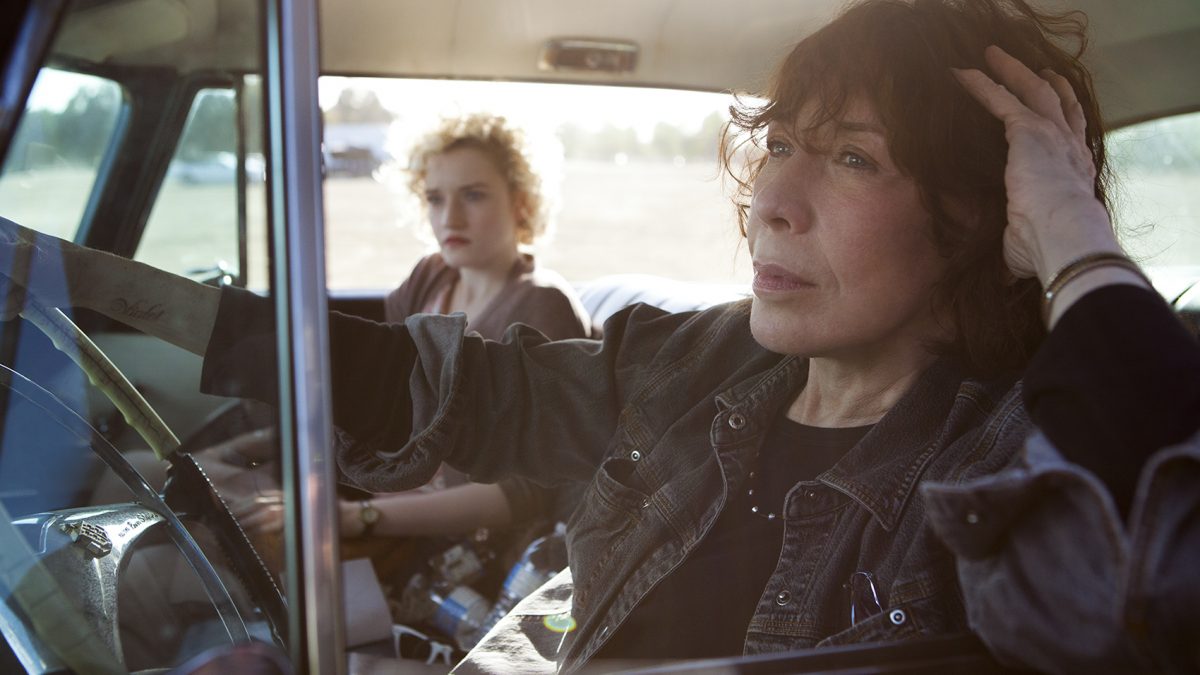 Sony Picture Classics
The crusty and irascible old person is something of a film staple, but the character is almost invariably played by a man. Indeed, actors like Walter Matthau, Robert Duvall, and, more recently, Bill Murray built whole second careers out of that role.
So let us celebrate the fact that in Paul Weitz's Grandma the old grump is played by a woman. And not just any woman, the great comic icon Lily Tomlin, who, at 76, is having something of a surprising career renaissance.
She plays Elle Reid, a lesbian, feminist poet who was a big deal in the 70s and now gets by as a guest lecturer and "writer in residence" at universities. When the film begins, she's about to be tactfully and gently broken up with by her much younger girlfriend Olivia (Judy Greer) but she cuts her off at the pass and dumps her first, in cruel and dismissive fashion. Then she goes off and sobs in the bathroom, alone.
It's a great first scene, because it establishes Elle as a character who self-sabotages, who uses her caustic wit and blistering intellect to mask her own sensitivities. However, I wish the film had delved into that more, explained why Elle was so abrasive and so afraid to be vulnerable.
Instead, we get a minor road trip story. Elle's teenage granddaughter Sage (promising Julia Garner, also notable in the most recent season of The Americans) comes to her, needing money for an abortion. But Elle is broke, having paid off all her debts and cut up her credit cards (and assembled them into a decorative mobile). So Elle pulls out her big, belching vintage car and, after a jump start, the two set out to find some cash, with Elle alternately embarrassing Sage ("she's already pregnant," she tells the AAA guy who glances at Sage as he jumps the car) and teaching her to be more assertive.
As for the prospect of the abortion, it's not treated lightly— "You'll remember this day every day for the rest of your life," Elle tells Sage—but it's not questioned either. Elle sees it as one of life's grim and necessary realities. Depending on your own view of abortion, you will find this either refreshingly honest or perhaps a bit dismissive.
As the day goes on, we learn that Elle was married for a long time to a woman she loved dearly named Vi, who grounded her and smoothed out her rough edges. It turns out that Olivia was Elle's first relationship since Vi died, almost two years ago. We also learn that Elle is semi-estranged from Sage's corporate bigwig mother (Marcia Gay Harden), that she was briefly married to a man (Sam Elliott) who still resents her, and that she has disdain for trendy coffee houses. ("All coffee is drip!" she barks, contemplating the menu.)
The best thing about Grandma, other than Tomlin's furious and funny performance, is that Elle never gets too cuddly. Yes, she's softened by her day with Sage, determined to be a better grandmother, mother, and even ex-girlfriend. But she's still the same cranky old dame she always was. I would've liked to have known more of what made Elle tick, but I'm glad to know she's still ticking.