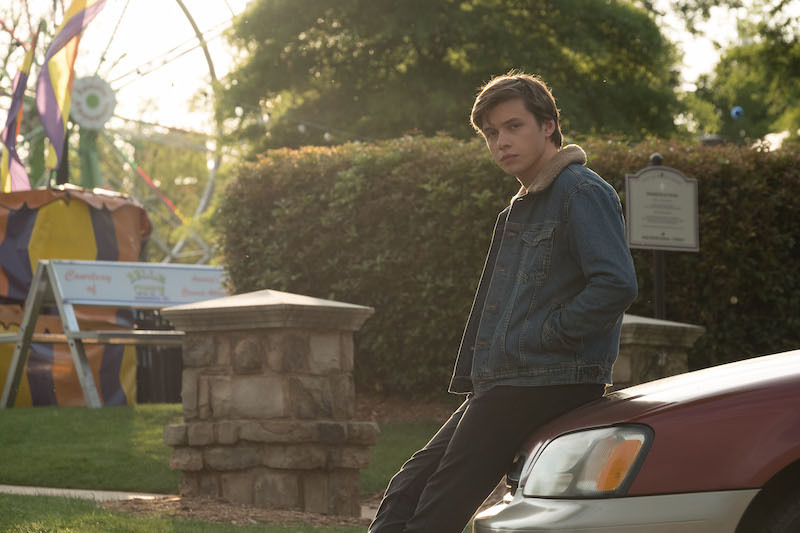 Fox
Closeted gay teen Simon (Nick Robinson), the hero of Greg Berlanti's Love, Simon, is the sort of normcore kid who wears denim jackets with a sherpa collar and who mostly keeps quiet in class. He's contrasted with his school's out and proud gay boy Ethan (Clark Moore), whom Simon can only regard with a mixture of awe and anxiety. Simon actually likes being under the radar—or at least he tells himself that.
You see, Simon isn't just afraid to tell people he's gay. He's afraid of change. He likes his life just the way it is. He's close to his parents (Jennifer Garner and Josh Duhamel), enjoys the company of his precocious kid sister, and has a network of good friends who adore him. If he comes out, will people look at him differently? Interact with him differently? And will he, himself, have to change? (And for that matter, why is it only gay people who have to come out? Why don't straight kids have out to come out as heterosexual?)
Then one day, Simon finds an anonymous message from a boy going by the name "Blue" on his high school's online gossip site. Blue writes that he's gay and struggles with his fear of coming out every day. Simon writes back to him under the alias Jacques (a slightly-too-clever play on Jacques a Dit—France's answer to Simon Says), and they commence an online friendship, with the possibility of more.
Simon becomes preoccupied with finding Blue's true identity: Is it his friend Bram (Keiynan Lonsdale), who shares Blue's fondness for themed Oreo cookies? Or the cute platinum blond boy in drama class (Miles Heizer)? Or maybe it's the marginally flirty waiter at the Waffle House (Joey Pollari)? (Among other smart observations, Love, Simon illustrates the difficulty of honing your "gay-dar," especially when lots of other kids are closeted, too.)
Things gets complicated when Simon's classmate, the mostly obnoxious (but occasionally endearing) Martin (Logan Miller), finds out about Simon's correspondence with Blue. He essentially blackmails Simon into helping him romance the new girl, Abby (Alexandra Shipp). Meanwhile, Simon's good friend, the soccer-obsessed Nick (Jorge Lendenborg, Jr.) also has a crush on Abby. And Simon is oblivious to the fact that Leah (Katherine Langford), his best friend since childhood (they still have sleepovers), is secretly pining away for him. In attempting to keep his secret, Simon will inadvertently manipulate and hurt the ones he loves most.
Love, Simon has a few sad moments as Simon's mistakes come crashing down around him, but mostly it's a sweet, funny, warm-hearted film. The adults are generally understanding and smart—although, in the case of vice principal Mr. Worth (Tony Hale), perhaps a bit too gung ho. And, with the exception of a few school bullies, the kids are thoughtful and kind to each other. As Simon, the lanky Nick Robinson gave me major War Games-era Matthew Broderick vibes and is easy to root for—he makes for an endearing and pleasantly low-key protagonist.
Maybe this film was more necessary 10 years ago, before the era of Glee and The Fosters and Sense8. But that doesn't mean it's not still necessary today. And if Love, Simon is ushering in the era when gay rom-coms are simply seen as "rom-coms," all the better.