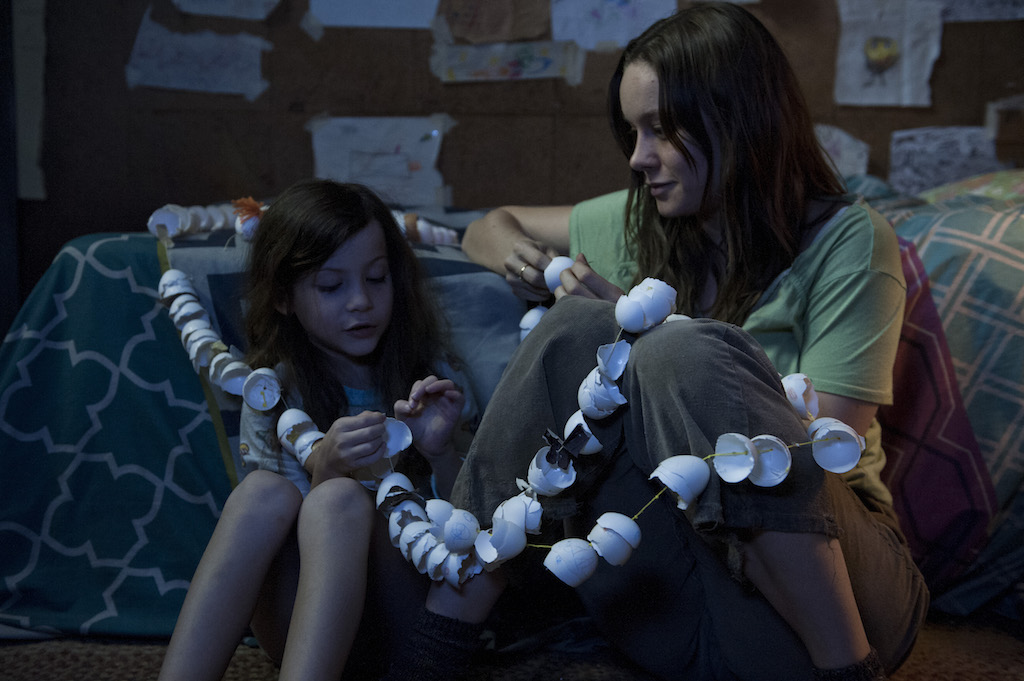 A24
As Room begins, a little boy named Jack (Jacob Tremblay) wakes up on his fifth birthday. He's like any other five-year-old, jumping on his mother's bed, excited for what the day may bring. At first we don't really even notice anything peculiar about Jack and his "Ma" (Brie Larson), except that Jack has unusually long hair for a boy and a strange way of anthropomorphizing objects: "Good morning, Desk!" he chimes. "Good morning, Sink!" Eventually, the true horror of Jack and Ma's situation reveals itself: "Room," as Jack calls the place where they live, is in fact, a locked, windowless shed. They are being held captive by a man Jack calls Old Nick (Sean Bridgers), who creeps into the shed at night and rapes Ma, as Jack hides in the closet. Jack is the product of one of those rapes.
At its heart, Room is about the power of maternal (and filial) love. Jack is happy precisely because he knows of no life outside of Room—and Ma has designed it that way. She doesn't want him wanting for anything, aspiring for anything that he can't have, so she pretends that there is no world beyond the safe space she has created for him in that shed.
But of course, Jack's reality is fragile. And just because Big Nick hasn't abused Jack yet that doesn't mean he won't. Ma comes to realize that she needs to get her son out of Room, so she plans a risky and improbable escape.
Virtually all of Room is told through the eyes of Jack—and we take in his sense of awe and wonder, his perspective from floors and desktops and closets, his nearly solipsistic relationship to his tiny world. The intimacy between Ma and Jack is palpable, almost feral—they cling to each other, whisper things; Jack keeps his mother's tooth in his pocket and, at one point, stashes it in his own mouth.
So when they plan this escape, it's absolutely terrifying, partly because it's something Jack has to do on his own. "I'm going to be there in your head talking to you the whole time," Ma says—and we know this is true; the bond between mother and son is that intense.
The film's direction, by Lenny Abrahamson, is profound and poetic—he does wonders with the little shaft of light that comes through Room's skyroof—as is the nimble screenplay by Emma Donoghue, based on her own wildly popular novel. But Room's success hinges on the performance of its two leads. Brie Larson (Short Term 12) is rapidly becoming one of my favorite actresses, thanks to the honesty and complete lack of self-consciousness in her work. Ma could easily be depicted as this saint-like pillar of maternal strength and love—she is, indeed, those things—but Larson also shows us her jangly nerves, her grief, her anger over her predicament. As for young Jacob Tremblay, he's remarkable—never overacting or mugging, just living the reality of his character, his wide eyes expressing his love and confusion and fear. Watching the film—and this is crucial—you absolutely believe that Tremblay and Larson are mother and son. (Supporting work, by Joan Allen as Nancy, Ma's quiet rock of a mother; William Macy as her wreck of a father; and Tom McCamus as Leo, Nancy's menschy new husband, are all excellent.)
Of course, I won't tell you if Jack is able to escape, or what happens after that, but I will say this: I disagree with those who think the film's second half isn't strong. No, it doesn't contain the first half's magic and poetry, but it has an unsentimental honesty that is astonishing in its own right. Room can be, at times, an almost unbearably emotional experience, but that's a good thing. It feels good to feel so much at the movies.