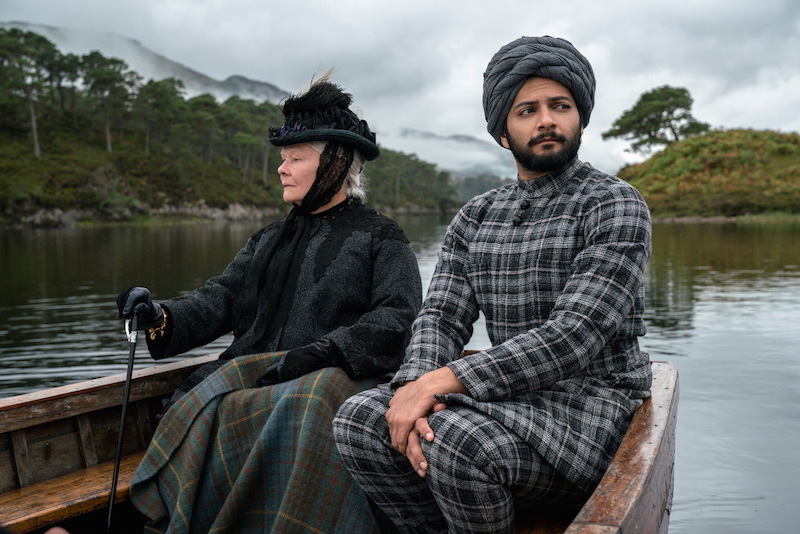 Focus Features
What happened to Stephen Frears? The English director was responsible for some of my favorite films of the last few decades—High Fidelity, Dangerous Liaisons, My Beautiful Launderette, Dirty Pretty Things, just to name a few. Those films certainly didn't advance an auteur theory of Frears—they all couldn't have been more different—but they proved him to be a shrewd, adaptable director with excellent taste in material. But in the last few years, he has seemed content to helm mild, middlebrow showcases for acting grand dames. It all started with The Queen, a film that justifiably earned Hele n Mirren an Oscar. From there, Frears has directed Philomena (Judi Dench), Florence Foster Jenkins (Meryl Streep), and now, Victoria & Abdul (Dench again). I'm sure Emma Thompson is anxiously waiting by the phone.
None of this is to say that Victoria & Abdul—or any of those films—are bad, they're just somewhat formulaic, and a little cutesy. I liked Victoria & Abdul well enough—and, more to the point, your mom will absolutely love it. But I can't quite shake the vague feeling that Frears has, as the kids say, sold out.
For the second time in her career, Dench plays Queen Victoria. In this one, she's 81-years-old—bored, jaded, a little fat; a propped up monarch who's essentially going through the motions. Her husband, Albert, has been long dead—as has her personal attendant, good friend, and possible lover John Brown (the subject of Dench's last take on the role, Mrs. Brown).
"Everyone I love has died and I just go on and on," she moans at one point.
Enter Abdul Karim (Ali Fazal), a strapping young Indian clerk who is randomly chosen to deliver a ceremonial coin to the queen because he's tall. He travels from North India, along with another man, Mohammed (Adeel Akhtar), a last minute replacement because the other tall presenter fell off an elephant. Abdul and Mohammed are given strict instructions by the queen's fastidious staff. The ring will be delivered on a tray. They will present the ring, avoid eye contact at all costs, and slowly back away until they are out of the queen's eye shot.
Of course, it doesn't go that way—Abdul does lock eyes with the queen and they are both instantly, well, smitten.
No, there's nothing sexual in the relationship between this old woman and the young man—but it's more than just a friendship. The screenplay makes it clear that the lonely queen has a bit of a crush on Abdul. He's exciting to her—he tells her new things, about Indian food and language and culture, that reignite her passion for life. Turns out, old Victoria is a voracious learner, who wants to absorb as much about Abdul's world as possible. Much to the great consternation of the various ladies, lords, and attendants who watch over her—not to mention Bertie, the Prince of Wales (Eddie Izzard)—she announces that Abdul is no longer a servant, he will be her "munshi," or teacher.
Victoria & Abdul is explicitly anti-racist, openly condemning the palace officials who reject Abdul because of his brown skin and Muslim faith, but it doesn't grapple particularly well with its own thorniness on matters of race. Namely, Abdul has no choice but to become Queen Victoria's munshi—his returning to India is not even presented as an option until late in the film. What's more, the queen knows little about her chosen companion—when he reveals something personal about his life back in India, she is completely stunned.
The film tries hard to make the case that the affection was mutual and that Abdul chose to stay with Victoria out of genuine admiration and loyalty (at one point, he tells her she's the most important woman in his life). But again, he had no choice.
Meanwhile, Frears stacks the deck, showing the rapport between Abdul and the queen to be nothing short of delightful and making sure that the palace staffers really lean into their villainy. (There was no actual mustache-twirling, as far as I saw, but it wouldn't have surprised me.)
Although the real-life story of Abdul is somewhat sad—his place in history was only recently discovered because surviving members of the royal family worked hard to bury all evidence of his influence over the queen—Victoria & Abdul feels like a romp. Frears stuffs his film with reaction shots, funny runs through the palace, and doubletakes. Yes, we laugh at the stuffy staffers in their befuddlement and frustration over the queen's new friend and enjoy Adbul's guileless, fish-out-of-water naivete—but it all feels a little facile. Mohammed, who can't adjust to the English climate, is also trotted out for comic relief—until he isn't (his character's fate is yet another reason why I was uncomfortable with the film's largely unexamined politics of power and race).
Still, Victoria & Abdul is engaging, and the leads are great. Dench is delightful as a woman who has surprised everyone, including herself, by finding a new lust for life, and Bollywood star Fazal—who, with his limpid brown eyes, resembles a young Omar Sharif—is quite affecting as the earnest and devoted object of her affections. It's hard not to like Victoria & Abdul—but it's all shiny surfaces. I can't help but to wonder how much deeper Frears might've dug into this rich material had he directed it 20 years ago.