Richard Chizmar Co-Authored Book with Stephen King
The Bel Air writer discusses 30 years of writing horror and suspense stories.
Richard Chizmar has been in the literary world for 29 years as a writer and creator of the horror and suspense press Cemetery Dance. But, as he shared with us in this Q&A, nothing could prepare him for the opportunity to co-author a book with Stephen King earlier this year. 
You've scored this amazing achievement—authoring a book with a hugely best-selling author. How did the book come to be?
I started my publishing business way back in 1988 when I was still a student at University of Maryland College Park. I started with a horror/suspense magazine that was called Cemetery Dance, and that progressed to book publishing in 1991. I've sent everything that we published to Stephen King, because he was such a big influence and inspiration. He was always very supportive—I think we published our first Stephen King story in 1991, our first Stephen King book 10 years later. 
At some point, we became friends as well. We email each other a lot, and it's usually about baseball, football, family stuff—we rarely talk writing. But one day, the first week of this past January—and this shows how quickly this happened—he mentioned that he had a short story that he couldn't finish, and I said, 'Well, if you ever want to send it my way, I'd love to read it.' And the next day he sent me Gwendy's Button Box, with a note that said, 'Do whatever you want to it.' So I immediately sat down, read it, and I sent him a 10,000-word chunk three days later. It was finished by the first week of February.
That's amazingly fast.
Yeah. It was completely out of the blue, unplanned. He sent me the story on a Friday and over the weekend, thoughts were lurking in my brain, like 'Oh my God, man, how can you do this?' And then I sat down to write and my hand was shaking. I was like, 'Ok, mild terror has given way to sheer terror.'
Yeah, I'm not sure what any writer would do if someone of that caliber entrusted us to finish it.
The cool thing is, as soon as I pulled my laptop out and started actually writing, the nerves just disappeared. I got lost in the story and a half hour in, the words were just pouring out of me. I think I even surprised Steve by sending him such a big chunk.
It's cool how collaborative Stephen King is. 
When we were writing the story, we talked a little bit about characters, but when we finished we didn't really talk about it.  Because it all happened so fast, there are still quite a few moments of 'What? This can't be happening.' Somebody sent me a big picture of a poster for Gwendy's Button Box in York, Pennsylvania, and I'm just like, yeah, that's my name on there, too. 
Steve did the set up work. It was going to be a short story, I believe. And maybe that was the thing, that it was always destined to be a longer piece. 
As he said, he couldn't figure out a way to end it. I liked that when his story opens, Gwendy is 12, and she's given this box that comes with huge responsibilities and ramifications, not just in Maine but the whole world. I immediately fell in love with the character. We're introduced to her when she's going into the seventh grade, and I thought that we needed to see her through middle school, high school, and I wanted to end the story when she was in college. It needed to be this coming of age where this really decent young lady is really weighed down by responsibility and all the choices she has to make. When it was time to send him the file, I got really nervous again, and I thought, maybe I should do another paragraph. But I knew that if I did that, I would never send it. So I just hit send and crossed my fingers.
We're friends, so we're honest with each other, but he never came back and said, 'Rich, this sucks,' or anything like that. He was really happy with the progress of the story. I have several text messages that I may or may not have screenshot. Neither one of us made big changes with each other's writing. And that was the coolest thing for me as a writer to see the choices he made.
Is it possible to tell who wrote what? 
The early reviews have said pretty universally that you can't pick out the passages that Steve and I wrote. It's funny because someone said, 'I know you wrote the section about the Orioles hat.' But actually, I had written it as a Red Sox hat, and Steve changed it. Steve says the best thing about working together is when you have both voices that overlay each other so much that it gives birth to a third voice. He's said that he thinks the fact the Gwendy was a female character really helped us do this, because we were writing outside of our own perspective. And I just keep telling Steve, 'Man, that was so much fun.' It was a blast to do.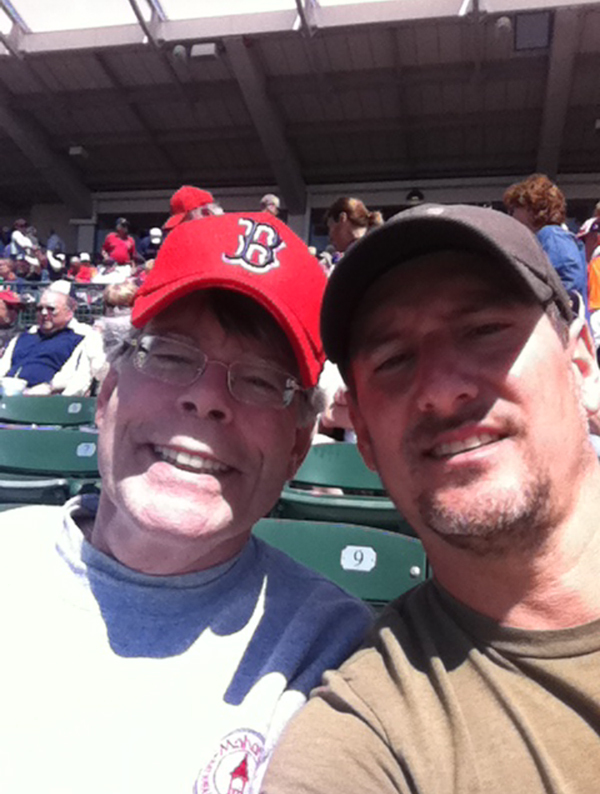 Stephen King and Richard Chizmar at Oriole Park at Camden Yards.
When did you first realize that Stephen King was such a big influence? 
I grew up in a house of readers. I was surrounded by books and magazines, and my sisters and parents and I went on library trips all the time, which turned into book store trips. I always like scary stories as a kid, and then in 10th grade, my English teacher brought in a photocopy of Stephen King's "The Monkey," which was a novella about this evil monkey with cymbals. We read it out loud in class, and when we were finished, I was like, man. The thought was not 'I want to be a horror writer,' it was just 'I want to do this.' That story took me to a completely different place, and, it sounds cheesy, but it really was a lightning bolt of magic. I came out with a different idea of creating. After that, I read anything of Steve's I could get.
What made you decide to create your own publishing company?
At College Park, I found journalism limiting. After two years of writing sports articles, I thought, I don't really want to do this, but I liked writing feature stories, and that led me back to fiction. I was selling short stories to smaller magazines, and I would get contributor copies and I thought, I can do a better job. I had no idea how difficult it was, but I decided to jump in. I started the magazine six months before I graduated. I didn't make any money for the first few years at least, but I knew it was what I wanted to do. Once I branched out into the book business it became more profitable, and we've outlasted everyone. We were stubborn and definitely worked hard, and we're still here.
Do you have a favorite Stephen King work?
My favorite is It. I was at University of Maryland Baltimore County playing lacrosse when the book came out, and I had just walked away from the game after playing in high school and college. I was lost, trying to figure out what I was going to do, and I just remember reading It, savoring it, and not wanting it to end. I was one of those rare people who felt like 1,200 pages wasn't enough. It did the same thing that "The Monkey" did earlier, re-focused me and reminded me and helped me. A month later, I was writing for the school newspaper, and then I transferred to the University of Maryland to get a journalism degree, and everything changed. I always look back at It and it kind of saved me.