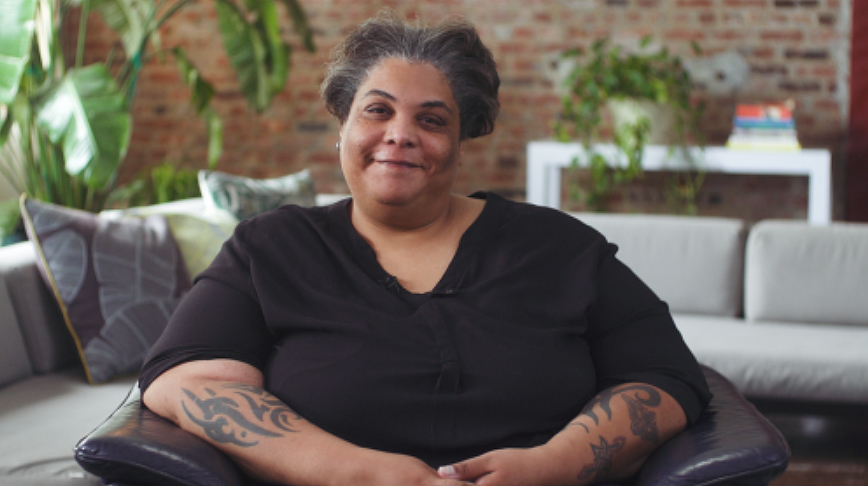 Roxane Gay
Visual Art
Raoul Middleman: Watercolors & Monoprints
An artist's passions are explored with frenetic mono-prints and impressionist watercolors in this new show from Baltimore native Raoul Middleman at C. Grimaldis Gallery. From his studio 19 floors above the city streets, Middleman has documented the changes in daylight as well as changes in the skyline itself. Back on the ground, his inky depictions of horses and burlesque capture motion and beauty in two distinctly different venues. Opening reception 6-8 p.m. Jan. 17; on view during gallery hours Jan. 17-Feb. 16. C. Grimaldis Gallery, 523 N. Charles St.
Art and Healing with WombWork Productions
Explore The Walters Museum's historic property at 1 West Mount Vernon Place, and enhance your experience of this storied residence with a performance from local social change theater group WombWork Productions. One of WombWorks' goals is to use art as a method for healing, and this new work will seek to connect the present to stories from 1 West Mount Vernon Place's past. 7-8 p.m. Jan. 24, The Walters Art Museum, 600 N. Charles St.
Music

BSO Pulse: Dan Deacon
Two forces of Baltimore's music scene will combine their talents for one night only during the next iteration of the BSO Pulse series. Come early for Deacon-curated entertainment from Jamal Moore, Amy Reid, Stewart Mostofsky, Alex Silva, and Amanda Schmidt in the Meyerhoff lobby and stay to hear the world premieres of new compositions blending acoustic and electronic sounds. 6-10 p.m. Jan. 17, Joseph Meyerhoff Symphony Hall, 1212 Cathedral St.
Kentavius Jones Album Release w/ Brooks Long & Mad Dog No Good
An Eastern Shore native releasing his long-awaited album and the return of Brooks Long & The Mad Dog No Good? Count us all the way in. Join singer-songwriter Kentavius Jones as he celebrates his new album, The Bohemian Beatbox, at Creative Alliance. He'll be joined by CA curator of special projects Brooks Long and his rock and soul band for a full night of homegrown hits. 8-11 p.m. Jan. 25, Creative Alliance, 3134 Eastern Ave.
Super City, Chaunter, and Soul Cannon
Embrace the "freakwave" sound of Baltimore's Super City as they return home after dancing their way through the south. You've probably heard tracks off the band's latest project, Sanctuary, by now, but nothing compares to experiencing these guys' rock anthems and expert choreography live. Local acts Chaunter and Soul Cannon will also join the party at the Ottobar. Doors at 8 p.m., show at 9 p.m. Jan. 26, Ottobar, 2549 N. Howard St.
Theater
Thank You, Dad
His twisted legacy has been immortalized by filmmakers, songwriters, authors, and poets. Now revisit Jim Jones' deadly Peoples Temple with the world premiere of this collection of three plays by Aladrian C. Wetzel. Performed by Rapid Lemon Productions Artistic Director Lance Bankerd, this trio of works based on the life of Jones will kick off RLP's 2019 season, which explores the power of belief. Jan. 11-20, Baltimore Theatre Project, 45 W. Preston St.
Roald Dahl's Charlie and the Chocolate Factory
Dive into a world of pure imagination with Charlie, Willy Wonka, and the rest of Roald Dahl's colorful characters in this musical based on the beloved work of children's fiction. With colorful costumes, classic songs, and plenty of twists and turns, this tale is sure to be a delight for all ages. Just be sure not to slip Slugworth any trade secrets on your way out of the theater. Jan. 22-27, The Hippodrome Theatre, 12. N. Eutaw St.
Film

Who Will Write Our History
When lies and hate took over their world, a group of journalists, scholars, and community leaders fought back with the only weapons they had left—their words. This new documentary from Roberta Grossman exposes the secret band of writers known at Oyneg Shabes, who documented life under Nazi rule in the Warsaw Ghetto.
Drawing from the group's writings, new interviews, dramatizations, and archival footage, Grossman has crafted a film that carries on the legacy of this brave group determined to ensure their stories would survive. The Who Will Write Our History screening at Landmark Theatres, Harbor East is one of several around the world that will take place as part of International Holocaust Remembrance Day. 1 p.m. Jan. 27, Landmark Theatres, Harbor East, 645 President St.
Literature

Roxane Gay With One N
Loyola University's annual Martin Luther King Jr. Convocation always brings incredible personalities with powerful stories to Baltimore, and this year is no exception. For the 26th annual event, author Roxane Gay will discuss feminism, body image, and social justice at Reitz Arena and end the evening with a book signing. Though the event is free, you'll want to register early to secure your seats. 7-9 p.m. Jan. 22, Loyola University Maryland, 4501 N. Charles St.