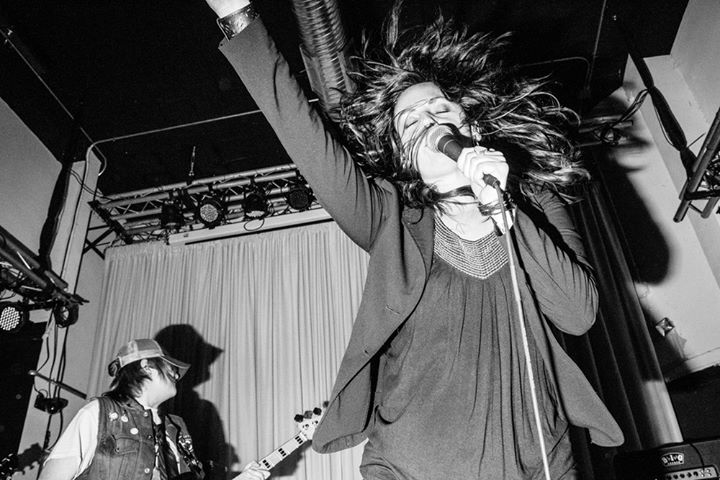 Farrah Skeiky
After a year off, the Scapescape music and arts festival returns to Station North this weekend for a three-day celebration of homegrown talent. Now in its fourth year, the grassroots festival will feature some 90 bands, DJs, and performers, as well as an arsenal of local artists across five small venues. From Bmore club and hip-hop to electro-pop and experimental—acrylic and oil and spray paint to collage and glitter—it's a full weekend dedicated to the city's diverse and accomplished creative community, bringing together its mixture of art and music genres, as well its neighborhoods.
On Friday, hear music from some 15 Baltimore bands, including Al Rogers Jr., Blacksage, Sal Bando, Sun Club,
Super City, and the return of Arbouretum, the early aughts alt-rock band of Thrill Jockey records who's been on hiatus since 2013. On Saturday, catch even more artists, with a 40-plus roster including Abdu Ali, Baltimore Boom Bap Society, Bobby Donnie, Cex, Ed Schrader's Music Beat, Kane Mayfield, Microkingdom, Oh Hang, and Raindeer. Even on Sunday, see some 30 sets, with music by Among Wolves, Black Lung, Bond St. District, Chiffon, J Pope & Funk Friday, Nerftoss, and War on Women. With a lineup like that, it's safe to say that surprise performances are rather likely, and dance parties will take place at The Crown with local DJs on Friday and Saturday nights.
Curated by Baltimore painter
Adam Estes, local art will also be on display at The Windup Space throughout the festival with painters Teddy Johnson, Erin Fitzpatrick, Felipe Goncalves, collage artists Matt Bovie, Jeremy Crawford, illustrator Melody Often, and many more.
"It's exciting to do a festival with so many friends," says Greg Wellham of Super City, a local rock band playing the festival together for the first time, on the heels of their debut album. "It's nice to be a part of because it feels like a community. Everyone involved—through music, visual art, and especially the people organizing the event—really care a lot about arts in Baltimore, and each other."
After gathering some 120 bands for the 2013 festival, the organizers took a brief break before gearing up for this year's panoply. "We pushed ourselves really hard in 2013 to make sure we had topped the previous year," says Adam Smith, one of Scapescape's organizers, who helped launch the festival after the closure of The G-Spot on old Falls Road in 2011, an alternative art space that has since been turned into loft apartments. "It was a lot of fun but it was a very big operation and we just needed a little bit of rest and some time to regroup. Now we have a whole slew of new bands who weren't even around or playing in 2013, so in a way, it's a whole different festival."
Various
set times take place across the five venues—Charles St., Ynot Lot, The Metro Gallery, The Windup Space, and The Crown—and tickets range from $10 to $30, which you can nab at scapescape.com. Operating under the Station North Arts & Entertainment District umbrella, the festival is a non-profit, with all proceeds going back to the artists and venues.
"I'm just excited its happening," Smith says. "We were talking earlier like, 'Wow, we kind of forgot how fun this was.' It's really rewarding to see it all come together."