Sharayna Christmas Mindfully Invests in Black Artists
The artist, choreographer, and youth mentor has been a steady force in an otherwise static year.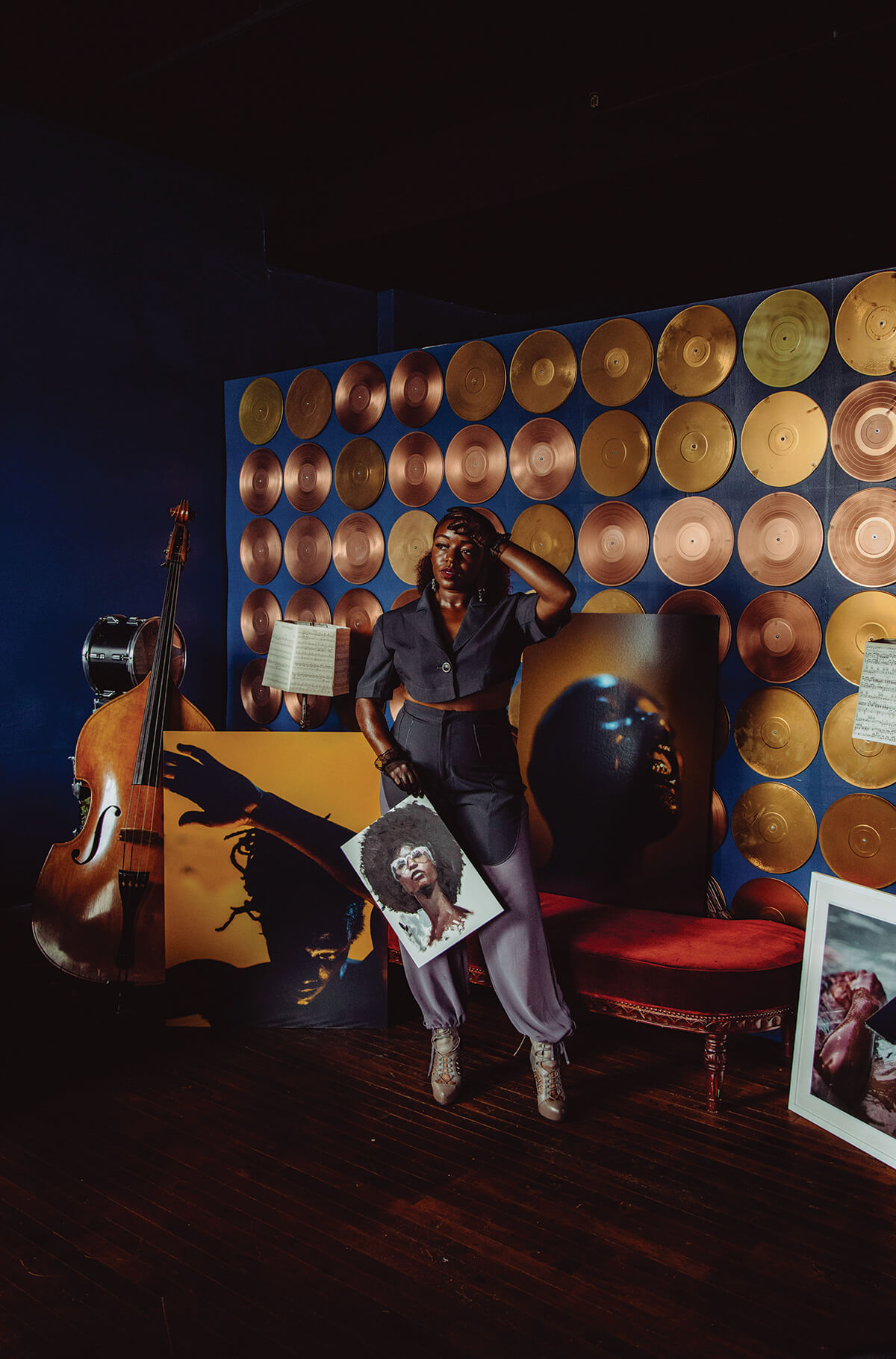 For the Baltimore arts community, artist, choreographer, and youth mentor Sharayna Christmas has been a steady force in an otherwise static year.
Over time, many have come to know her as the founder of Muse 360 Arts, the multifaceted youth arts program she launched in 2004, as well as, more recently, Necessary Tomorrows, the self-described "radical multimedia arts platform" established in 2017. But in 2020, she truly cemented her role as a cultural leader in the face of COVID-19.
As the pandemic's closure of arts spaces and cancellation of exhibitions and performances threatened the livelihoods of her fellow Black artists, Christmas launched an emergency relief fund in March, inspired by Black women in the Reconstruction Era who would create community funds their neighbors could draw from, both for enterprise and help during hard times.
"I've always wanted to start a fund for Black philanthropic endeavors that is run by us, for us, with no barriers," says Christmas. "Black radical investment is very, very important. It's important for people to see that you can do it. I was doing it in the spirit of my ancestors."
Through Necessary Tomorrows, which also works to center Black artists, her efforts helped raise more than $5,000 from local investors, including herself, to distribute to more than 45 creatives. The fund also amplified the financial strain experienced by Black artists in Baltimore, inspiring other organizations, like the Baltimore Office of Promotion & The Arts, to establish their own fundraisers for creatives as well.
"BLACK RADICAL INVESTMENT IS VERY, VERY IMPORTANT…I [DO] IT IN THE SPIRIT OF MY ANCESTORS."
In the months since, Christmas has continued her work through Muse 360, carrying on her travel-based arts education program, New Generation Scholars, and rebranded Necessary Tomorrows with a fresh design and expanded mission statement.
On view January 1, 2021, its new virtual exhibition, Immaterial Souls, will feature works by the likes of multidisciplinary artist Glenford Nunez, who also helped her with the website's redesign, as well as filmmaker Gyasi Mitchell and photographer Kirby Griffin. Each available for sale, these powerful paintings, portraits, and films—or what she calls "immortal moments"—were inspired by reflections on the spiritual realm.
"The soul is what lives within us," says Christmas, noting that the exhibit urges viewers to contemplate both what is and what is not seen. "[These works are] definitely dealing with the idea that Black people are one with spirit, that we transform and reform and are reborn, and our images are not one in the same. When you think about a crescent moon, you only see one part of the shape, but there's so much more."
Looking ahead, Christmas aims to embody that sentiment for others—and herself. The current group exhibit is a launching point, of sorts, for Christmas' solo show, Strwbrrys + Gnpwdr, created in collaboration with Griffin and previewed in Immaterial Souls. Debuting later in January, the exhibition features dynamic works that touch on sensuality, sexuality, and death while incorporating sound and sight.
"In the next year, I hope to use my platform to continue to provide resources for artists to gain autonomy," says Christmas. "But also Necessary Tomorrows is a platform for me to be expressive and redefine curating. What does it mean to create an artistic experience? Is it just an exhibition, or is it performance? Is it dance? Is it film? Is it a garden in the back? That's what I'm going to be challenging myself with—the constant redefinition of what this all means."