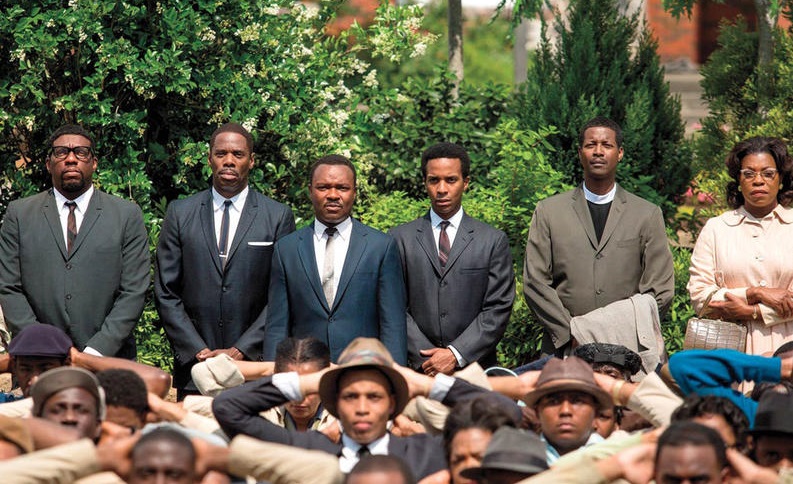 The Oscar nominations came out today. Here are a few preliminary thoughts. . .
Selma Was Robbed
Last year, I talked about the elements that made a perfect Oscar film. It had to be a thematically important film that was nonetheless accessible. It had to have wonderful lead performances and sure-handed direction. It helped if the film had a grand scope and a sense of historical significance.
There's only one film this meets that criteria this year and that's Selma—and man, was it robbed. This is the second year in the row—with last year's 12 Years A Slave—that Oscar had a chance to honor a "perfect Oscar film" that also happened to be great. (They don't always go hand in hand). And now that won't happen.
Yes, you'll point out. Selma was nominated for Best Picture, but since neither Ava DuVernay, the film's director, nor David Oyelowo, who starred in the film as Martin Luther King Jr., were nominated, it feels like a consolation prize. Selma won't be winning Best Picture this year and that's a shame.
So what happened? Well, at least partly, the fault lies with Paramount, who botched the publicity campaign, getting screeners to voters late or not at all. Still, Selma was already playing in theaters in NY and LA before the voters' ballots were due, so that's no excuse.
Nope, the biggest reason that Selma didn't get nominated is because the smear campaign worked. Someone—Harvey Weinstein always gets blamed, but he can't possibly be the only one—started complaining that the film was unfair, possibly even unpatriotic, in its depiction of LBJ. The fact that most people who made that accusation hadn't even seen the film— in fact, Selma's depiction of LBJ is quite even-handed—was irrelevant. The narrative had stuck.
Women and People of Color Were Also Robbed
Among the acting awards, there was not a single person of color nominated. Not David Oyelowo, or any of the wonderful cast from Selma. Not Tyler Perry (no, really!) for Gone Girl. Not Oyelowo, again, for A Most Violent Year. Not Chadwick Boseman for Get On Up. Not Rosario Dawson for Top Five or Gugu Mbatha-Raw for Belle or Beyond the Lights. Let that grim thought sink in for a moment.
As for women, along with the inexcusable DuVernay snub, Gillian Flynn was robbed for adapting her own novel, Gone Girl. She had been considered a near lock.
Speaking of Gone Girl . . .
Yikes! What happened there? With the exception of Rosamund Pike for Best Actress, it got shut out. No David Fincher for Best Director (I'm not the biggest fan of the film and even I thought he deserved it), no adapted screenplay as mentioned, no best original score, no Best Picture nod. Methinks history won't look kindly on these snubs.
I Hate the Word "Snub" But Okay, Here Are Some More of Them . . .
Ralph Fiennes, who created one of the most original and irresistible characters of all time in The Grand Budapest Hotel.
Jake Gyllenhaal, who reached DeNiro-in-Taxi-Driver levels of all-American weirdness in Nightcrawler.
The Lego Movie, which was certainly one of the best animated films of the year.
Life Itself, which was most certainly one of the best documentaries of the year (despite some reservations I had about the creepy, from-beyond-the-grave voiceover).
Force Majeure, a brilliant film by any measure.
And Here Are Some Pleasant Surprises…
Marion Cotillard, receiving a richly-deserved Best Actress nod for her work in Two Days, One Night.
2014 MVP Laura Dern, getting a Best Supporting Actress nomination for Wild (she was also wonderful in The Fault in Our Stars).
Jennifer Aniston NOT getting a Best Actress nomination for the shamelessly Oscar bait-y Cake. (She's a great actress but I can't even with that film.)
The wonderful Ida, getting both Best Foreign Film and Best Cinematography nods.
The genius Wes Anderson getting his first Best Director nomination. *
Things That Made Me Go Hmmm . . .
If you buy into Bennet Miller's oppressive direction and Steve Carell's caricature-like performance, why not go ahead and give Foxcatcher a best picture nod? That made no sense.
Are the respectable but FAR-from-great The Imitation Game, The Theory of Everything, and American Sniper really three of the best films of the year? Do better, Oscar!
How did American Sniper come on so strong, anyway? It's currently sporting a not-so-great 73% positive rate over at Rotten Tomatoes.
Things That Made Me Giggle
Academy president Cheryl Boone Isaacs calling Mr. Turner cinematographer Dick Pope "Dick Poop." Sorry, I'm 12.
It's Too Early For Final Predictions But Here Are Three You Can Take To Vegas:
Patricia Arquette for Best Supporting Actress in Boyhood
J.K. Simmons for Best Supporting Actor in Whiplash
Julianne Moore for Best Actress in Still Alice
(I'll make the rest of my predictions closer to Oscar day.)
As for Best Picture, the Jury Is Still Out
Oscar pundits have been calling for Boyhood for a while now and I've been (stubbornly) disagreeing. I adored the film, but in my mind, Boyhood is too deeply personal, too small (none of that grand sweep I was talking about), and too structurally loose (Oscar loves a plot) to take home Best Picture. But if not Boyhood, then whom? I'm beginning to think it just must might be the little indie, 12 years in the making, that could.
In closing, always remember this: If you expect the Oscar nominations to disappoint you, they never disappoint.
The Oscars air February 22 on ABC
*An earlier version of this story failed to mention this cheering fact