Last August, visual artist Stephen Towns traveled to his home state of South Carolina and joined millions of Americans when he stood in the path of totality and witnessed a total solar eclipse.
"It is something that is indescribable," he tells a crowd gathered to see his exhibit at the Baltimore Museum of Art. "You know there is something bigger than you."
The same celestial forces played prominently in the story of Nat Turner, who led a rebellion of slaves and free black people in 1831, a story that the Baltimore-based Towns had been studying and using as the impetus for his latest body of work, a series of quilts that explore how slavery has impacted modern life. After seeing a solar eclipse in his time, Turner, a minister and deeply spiritual man, believed it was a sign from God to move forward with his revolt against slave owners, which he did, though it would ultimately bring him to his death when he was convicted.
"And about this time I had a vision—and I saw white spirits and black spirits engaged in battle, and the sun was darkened," he writes in the book The Confessions of Nat Turner. 
The glowing moon and beaming sun against shimmering, starry skies play prominently throughout Towns' pieces, which are are on exhibit in the solo show Rumination and a Reckoning at the BMA from March 7 through Sept. 2. The work is in the textile gallery space of the American wing of the museum and marks Towns' first museum show.
Towns and internationally renowned artist Mark Bradford will be in conversation with BMA director Christopher Bedford on March 7 to discuss their work and chosen mediums. The event is free to the public and begins at 7 p.m.
Towns is trained as a painter but moved to fiber arts in 2014 when he made the large-scale quilt "Birth of Nation," a Madonna and Child of sorts, depicting a black woman wet-nursing a white baby, set against the historical 13-star American flag.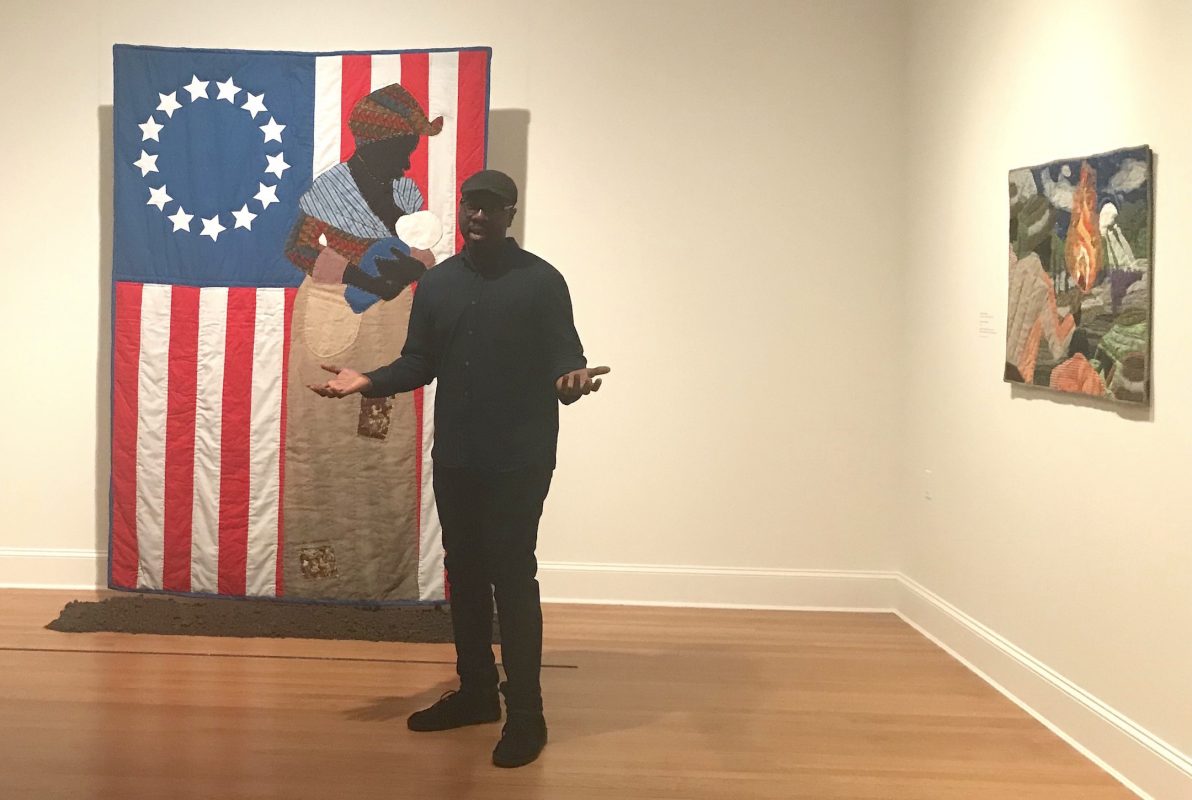 "I tried through painting, I tried through drawing, but it wasn't working," he says about starting the. When he turned to fiber arts to convey Turner's story, "something about the materiality of the fabric" lent itself to the work. The self-taught seamstress says he learned a lot watching YouTube tutorials—which is fascinating, given the meticulous detail of the pieces that combine metallic thread, glass beads, buttons, tulle, and, in some cases, acrylic paint.
The quilts aren't particularly large, averaging about 30 to 35 inches. Towns says that's partly because he's a creature of habit—and this size is similar to the canvases he once painted. He also says, "They're like windows into that past time period."
He brought to quilting his knowledge of, and interest in, sacred art, portraiture, and 19th-century photography.
In addition to his "Birth of a Nation" piece, seven smaller story quilts tell Turner's story—from a child learning to read, through his work as a minister, and finally to his hanging as a martyr for enslaved people. Turner as prophet is depicted with a yellow, beaming sun around his head in some pieces, reminiscent of Towns' older series of paintings, inspired by medieval altarpieces, that showed modern-day men and women with metallic golden halos. Two quilted portraits of Nat and Cherry Turner, believed to be his wife, complete the show.
Aside from those two portraits, the figures in Towns' series are intentionally faceless, appearing as black cutouts, silhouettes. He wants them to be representative of all of us, he says.
He also chose to not show blatantly violent images, in part because he's heard from friends that they're tired of seeing films about slavery that contain graphic depictions of the old South. Instead, Towns focused on the positive frames of the story, and much is told abstractly through symbolism. A red scarf-like ribbon, for example, runs through several pieces, representing the blood and sacrifice of slaves. The heavens, too, serve as a metaphor, "a place beyond that is always there," as Towns put it, "that you don't always have the wherewithal to get to."