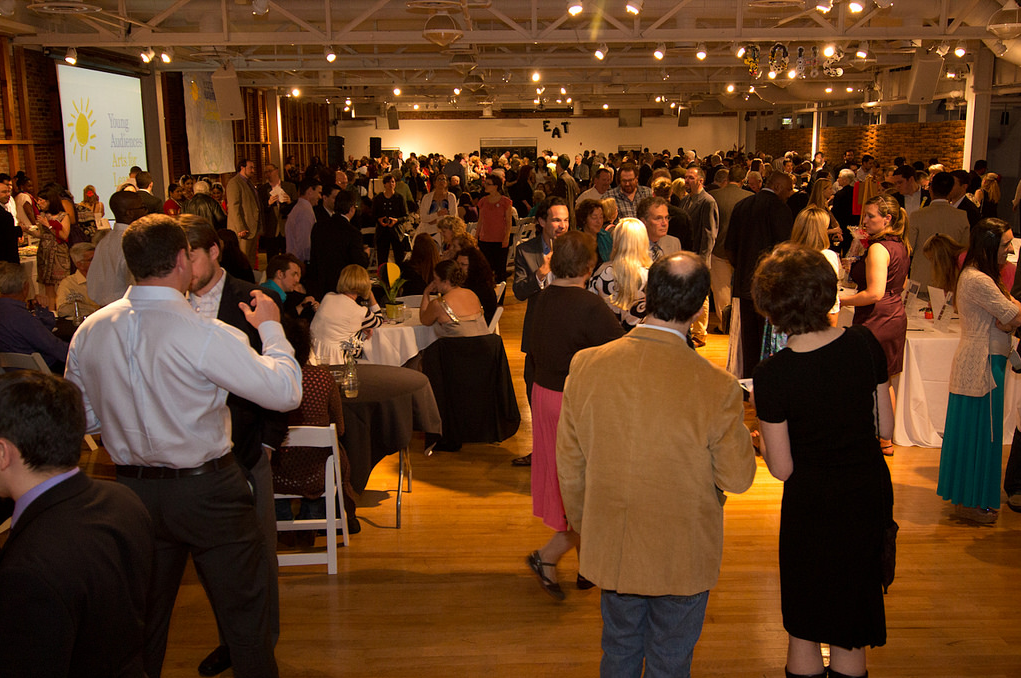 Courtesy of Himmelrich PR
For more than 65 years, Young Audiences Arts for Learning Maryland (YA)—the founding chapter of the largest arts-in-education provider in the country—has been striving to enrich the lives of local youth through exposure to the arts.
In an effort to continue its work, which reached more than 150,000 students in 2015, the organization is bringing together 25 local restaurants and a plethora of performers for its 10th annual Taste the Arts fundraising gala at the Hippodrome Theater on May 6.
"It's fun, but it's very mission centered," says YA's executive director Stacie Sanders Evans, who transformed the benefit from a seated dinner into a more interactive gala 10 years ago. "We put the teachers, artists and all of the folks who have put their heart and soul into the organization front and center."
The nonprofit, which recruits local artists to lead programs in 450 schools throughout the state, specializes in increasing exposure to culturally diverse art forms.
Resident artist Jamaal Collier, for example, incorporates rhyming couplets, spoken word, and rap into his lessons to help students engage in everything from summarizing text to breaking down the process of the water treatment cycle.
"You can use music to convey just about anything," Collier says. "Whenever you're working with different art forms, be it rap or beatboxing or the blues, you're making a connection with people that enables them to be creative and do things academically that they might not have thought were possible."
Collier, a local hip-hop artist from New Carrolton more fondly known as "Mr. Root," has been on YA's roster since 2008, and is being honored with the Artist of the Year award at this year's gala. Other honorees include arts-education advocates Paul Wolman, Lois and Michael Mark, and the staff of Thomas Jefferson Elementary/Middle School in West Baltimore.
"It's really humbling," Collier says, "There are so many of us working day in and day out to provide an opportunity and create an impactful experience that really touches these children in a positive and spiritual way."
In addition to a collaborative performance from Collier and Baltimore Boom Bap Society's Wendel Patrick, Taste the Arts will feature acoustic roots and blues music by Curtis Blues, Indian classical dancing by NRITYA, pantomime theatre by D.C.-based Synetic Theater, and interactive design demonstrations by engineering experts FutureMakers.
While strolling around to watch the performances, guests will also enjoy tapas-style bites from the likes of Clavel, La Cuchara, Blue Pit BBQ, Charm City Cakes, Scratch Mill Kitchen, Heavy Seas Alehouse, Mother's Grille, The Local Oyster, Tio Pepe, Alma Cocina Latina, The Charmery, and Baltimore Waffle Company.
Belgium native Janin Hardin, who owns Baltimore Waffle Company with her husband, Craig, is excited to participate for the first time this year. As a mom of two boys, ages 9 and 7, she says that the cause hits particularly close to home.
"My kids are still young, but they already tend to be a little more geared toward the arts versus sports," Janin says. "If I said, 'Hey should we go watch a lacrosse game or go to a play?' they would definitely opt for the play. That speaks volumes."
Baltimore Waffle Company, which hit the farmers' market scene in 2011, will be serving its signature Liege-style waffles topped with spreads like Nutella and Speculoos (Belgian cookie butter) at the event, which is expected to attract upwards of 600 guests.
Evans says that her main goal for the gala is not only to raise funds, but also to raise awareness about YA's mission.
"Taste is a fundraiser, but it's also one of the ways that we have built a community of people who really care about this cause," she says. "We're trying to connect people and get them excited about the power that the arts can play."