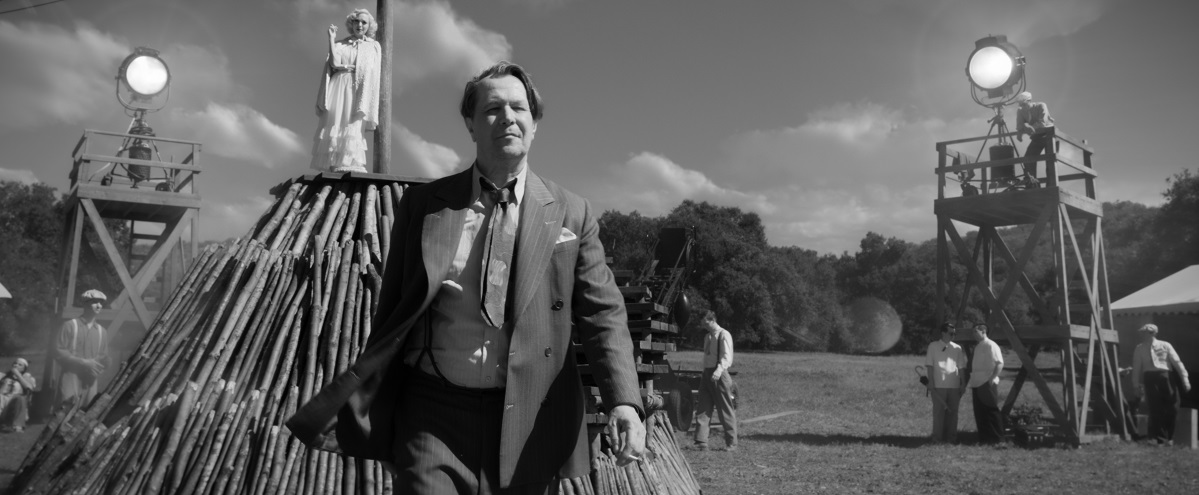 —Courtesy of Netflix
One positive thing to come out of this godawful pandemic: It had a democratizing effect on the movie industry. Most films were released on a digital platform of some sort—and if they did have a theatrical release, it was a brief one before they retreated onto our computers and TV screens.
As such, very few films benefited from a big studio rollout. Moviegoers had the same instant access to an intimate indie like Nomadland as they did to a would-be blockbuster like Wonder Woman 1984. Small films that might've gotten lost in the noisy shuffle of a typical movie season found an audience. All of which boosted their Oscar chances.
With that in mind, let's take a look at the nominations, which were announced this morning, and I'll give you my breakdown of the snubs, the pleasant surprises, the early favorites, and the things that made me go "hmmm."
Best Picture
The Father
Judas and the Black Messiah
Mank
Minari
Nomadland
Promising Young Woman
Sound of Metal
The Trial of the Chicago 7
The snubs: For me, the biggest snub was Spike Lee's Da Five Bloods but, for reasons unknown, that never got a lot of awards momentum. (One day, we will look back at Lee's remarkable career and say, "How on earth did the Academy not honor him more?" But I digress…) However, both Ma Rainey's Black Bottom and One Night in Miami were considered strong contenders and neither made the list. I also would've loved to have seen First Cow, Never Rarely Sometimes Always, and News of the World get nods. But as the man once sang, you can't always get what you want.
The pleasant surprises: With snubs, always come surprises. I was thrilled to see Judas and the Black Messiah, a film that quietly snuck into the race just a couple of months ago, get a nod. It's a powerful film—beautifully acted, thought-provoking, entertaining, and gorgeous to boot. I was also pleasantly surprised to see Sound of Metal nominated. That radically empathetic film about a metal drummer—a recovering addict who suddenly goes deaf and finds a community of deaf people in recovery—is raw and real and features a couple of stunning performances, both of which were honored here.
Things that made me go "hmmm": I thought Mank and The Trial of the Chicago 7 were both decent, but middling works by their respective directors, David Fincher and Aaron Sorkin. How on earth the "stodgy" (to use a Great British Bake-Off term) Mank led the field in nominations is beyond me.
Early favorite: Holy moly, it's my favorite film of the year, Nomadland.
Best Director
Lee Isaac Chung, Minari
Emerald Fennell, Promising Young Woman
David Fincher, Mank
Thomas Vinterberg, Another Round
Chloé Zhao, Nomadland
The snubs: Spike Lee. Spike Lee. Spike Lee. Oh and also, Spike Lee. Beyond that, I was very much expecting Regina King to get nominated for her nimble work on One Night in Miami. She's obviously got the goods as a director, though, so I think it's just a matter of time. Some might say that Aaron Sorkin got snubbed. I won't be one of them.
The pleasant surprises: Look at this beautiful diversity, folks! Two Asian directors—Chloé Zhao (China) and Lee Isaac Chung (Korean-American)—made the cut. And two women—Zhao and Emerald Fennell—were nominated, the first time this has ever occurred. (Shockingly, there have only been five women ever nominated for Best Director and only one, Kathryn Bigelow for The Hurt Locker, has actually won. I know, right?)
Things that made me go "hmmm": It's not that I didn't like the Danish film Another Round—it's a charming, witty, and bittersweet movie about a bunch of men drinking their way through a midlife crisis—for science! And its final five minutes are among the most ecstatic I've seen in a film all year. But considering how rare it is for a director of an international film to get an Oscar nomination, I'm still not quite sure why director Thomas Vinterberg broke out of the pack the way he did. I honestly think it's because it's a foreign film that most apes the themes and rhythms of an American one. When the American remake comes—and Will Ferrell is probably on the phone with his agent as we speak—it'll be completely unnecessary.
Early favorite: Ka-Pow! Zhao!
Best Actor
Riz Ahmed, Sound of Metal
Chadwick Boseman, Ma Rainey's Black Bottom
Anthony Hopkins, The Father
Gary Oldman, Mank
Steven Yeun, Minari
The snubs: I think Delroy Lindo in Da Five Bloods gave the best performance of the year, full stop. So, yeah, him.
The pleasant surprises: Steven Yeun in Minari! He's wonderful in that film, a kind of reimagination of the starry-eyed American dreamer, this time from an immigrant's perspective. The great Yuh-Jung Youn, who plays his mother-in-law, had been getting lots of pre-Oscar buzz, as did cutie-patootie Alan Kim, who plays his son. But Yeun had been unfairly overlooked. Wonderful to see him here.
Things that made me go "hmmm": Nothing really. I haven't seen The Father yet, but I hear Hopkins is wonderful. I didn't think Oldman exactly nailed it in Mank, but it's not quite a head-scratcher.
The early favorite: I think the late, great Chadwick Boseman nearly has this one locked up. Bittersweet, indeed.
Best Actress
Viola Davis, Ma Rainey's Black Bottom
Andra Day, The United States vs. Billie Holiday
Vanessa Kirby, Pieces of a Woman
Frances McDormand, Nomadland
Carey Mulligan, Promising Young Woman
The snubs: None that were particularly noteworthy. I had a few personal faves—Julia Garner in The Assistant, Sidney Flanagan in Never Rarely Sometimes Always—that didn't make the cut, but they weren't really expected to.
The pleasant surprises: No snubs = no real surprises, but it's nice to see Andra Day get this love. She was utterly amazing in a film that wasn't quite worthy of her performance.
Things that made me go "hmmm": Nothing! A side-eye free category!
The early favorite: I think it's McDormand? Unless the Academy is bored with her—a la Meryl—in which case look for the sneakily brilliant Carey Mulligan to score the upset.
Best Supporting Actress
Maria Bakalova, Borat Subsequent Moviefilm
Glenn Close, Hillbilly Elegy
Olivia Colman, The Father
Amanda Seyfried, Mank
Yuh-Jung Youn, Minari
The snubs: None really although it seemed like Jodie Foster could've snuck in there after she picked up a Golden Globe for her performance in The Mauritanian.
The pleasant surprises: Just in general, I've been thrilled that Bakalova has been an award season regular in this category. Oftentimes comedic performance are overlooked, especially ones that include so much improv, but what Bakalova does in Borat has such a high-degree of difficulty that she handled so brilliantly, Oscar voters had no choice but to bow down.
Things that made me go "hmmm": When I saw the trailer for Hillbilly Elegy it almost seemed like it could've been a parody called Gunning For Oscar. Glenn Close is an amazing actress, generally speaking, but I'm slightly miffed this gambit worked.
The early favorite: Yuh-Jung Youn has a good shot and that would fill my heart with joy. (For what it's worth, I also adored Amanda Seyfried in Mank—she's reason alone to see that film—but I doubt she'll win.)
Best Supporting Actor
Sacha Baron Cohen, The Trial of the Chicago 7
Daniel Kaluuya, Judas and the Black Messiah
Leslie Odom Jr., One Night in Miami
Paul Raci, Sound of Metal
Lakeith Stanfield, Judas and the Black Messiah
The snubs: Some were expecting Chadwick Boseman to get nominated for Da Five Bloods, but the Academy's blindspot for that film continues apace. Little Alan Kim from Minari also had a chance—he's been on something of a charm offensive this awards season (he was so stinking cute, pinching himself, a callback to the film, when he won his Critic's Choice Award). I just hope he's not too disappointed! Two great performances—David Straithairn in Nomadland and Mark Rylance in The Trial of the Chicago Seven—were also overlooked, not quite surprisingly.
The pleasant surprises: Thrilled to see character actor Paul Raci get the nod for Sound of Metal, as the gruff but loving Vietnam vet who patiently guides our hero through his crisis. His is the kind of performance this category was made for.
Things that made me go "hmmm": Category fraud—the practice of a studio pushing an arguable lead toward the supporting category because he or she has a better chance of winning there—is a well-documented thing and it happens every year. The great Daniel Kaluuya, the favorite here, is something of a Category Fraud. He is, after all, the Black Messiah of the title and takes up more than enough screen time to be considered a co-lead. But I accepted his demotion to the Supporting category as a necessary evil. (I really want him to win!) But then the Academy pulled a fast one, also nominating Kaluuya's co-star, Lakeith Stanfield, in this category. If Stanfield isn't a lead, I don't know who is! Call it "The Case of the Mysterious Leadless Film."
The early favorite: Kaluuya has cleaned up all the pre-Oscar awards, deservedly so. But does Stanfield's appearance in this category set up a potential scenario where the two actors split votes? If so, it's a wide-open race.
See the complete list of Oscar nominations, here.