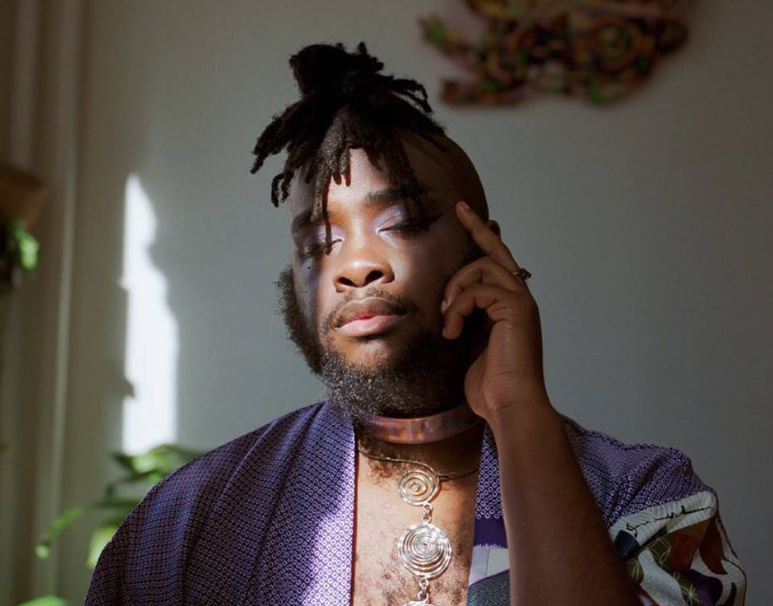 Micah E. Wood
In the latest iteration of The Big Baltimore Playlist, we found five local songs ranging from avant garde rap and heartfelt electronic pop to outright funk. Check back each month for new top songs of the moment, and follow our Spotify playlist as we continue to build a soundtrack for our city.
---
"I'm Here Now (Fiyah!!!)" by Abdu Ali
This title track is the last song on Abdu Ali's transcendent new album, FIYAH!!!, released last week, and yet, in a way, it's a beginning. The experimental artist has spent the last several years defying all musical boundaries in honing their homegrown hometown craft, and with each new release, the Baltimore native has found new ways to fuse the genres that shaped them—Bmore club, hip-hop, jazz, soul. And now, with this fifth record, they emerge anew, presenting a truly unique amalgam of sound that only Abdu and their journey as a queer black artist born and bred in this city could create. This vivacious song, in particular, captures their intensity, ingenuity, and free-spirited live shows, now featuring the sonic elevation of a full band. The lyrical mantra—"I'm here now, I woke up today, fire in my soul, I'm here to stay"—tells you all you need to know. This is just the beginning. See for yourself when they play live tonight at the Ottobar.
"Gnat Booty" by Black Root Underground*
In Baltimore, funk is alive and well thanks to the six-piece hip-hop collective of Black Root Underground. Fusing both sounds with blues, soul, reggae, and spoken-word poetry, these multi-instrumentalists create an all-around feel-good sound, fueled by drums, didgeridoos, trombones, bass, and keys. Together, they create high-octane rhythms that propel forward Blackroot's own energetic verses, playing on positivity, humor, and fun. Take this new single off the new album Root Canal. It's as much an old-school James Brown show as it is a trip to Preservation Hall in New Orleans, where the lead singer refers to himself as "a large child with a really nice beard." Be sure to check out one of their live performances, which include audience participation, encouraging the crowd, like the Godfather of Funk himself, to get on up out of their chairs.
"Grammy Speech" by Kotic Couture
There are few artists in Baltimore these days with better lyrical finesse than Kotic Couture. With a deliberate delivery and warm, husky, heartfelt vocals, the rising rap artist has become a force to be reckoned with on the local scene, drawing on their own story to honestly speak to dreams, doubts, and staying steadfastly true to yourself. "I'm at peace with my past, it can no longer haunt me," they declare over lilting strings in this new track, featuring singer Lavon, off their upcoming album, Diary of a Dreamer, laying out a mission statement of sorts. It introduces new listeners to their lyrical prowess and storytelling swagger, and cements their ambitions and intentions for longtime fans and their future self. Fans have flocked for braggadocious party starters such as "Drippin'" and "Go Awff," but this more reserved moment of vulnerability showcases how versatile Kotic can truly be.
"Stay Right Here" by Micah E. Wood
Leave it to electronic troubadour Micah E. Wood to turn heartache into a club-ready bop. On this track, as in much of his forthcoming self-titled third album, due out May 17, Wood's trademark talk-sing sentimentality returns, but with a bigger, bolder, newly-baring-it-all sound. Heart on his sleeve, he embraces new emotions, reassesses old ones, and doesn't hold back with fresh vocal highs. As the title suggests, this love song for long-distance relationships is about not wanting to say goodbye, but owning your own desires and needs, and, ultimately, letting go. As the infectious rhythm swells, amorphous local musician Josh Stokes joins in for a soulful verse and smooth backup vocals alongside his sister, R&B singer-songwriter Bobbi Rush, adding an extra dose of urgency to this fiery, fervent track.
"I See Her Face" By Outer Spaces
This first single off Outer Spaces' upcoming Gazing Globe gives us all the warm-weather feels. It burns like early summer. It rambles like a sunset drive. It aches like the early days of a fleeting crush.
Maybe it's the jangly strums of guitar, the steady subtle drum beats, or frontwoman Cara Beth Stalino's low, listless vocals, but it's all reminiscent of humid Maryland heat. A follow-up to the band's 2016 debut, this new bittersweet indie-pop record follows the singer's recent breakup and forges a path for finding herself again. Though you never quite know whose face she sees hiding in the sun, by the end of the searing crescendo, you think it might be her own.
*Not on Spotify. We'll add it to the playlist when it becomes available.