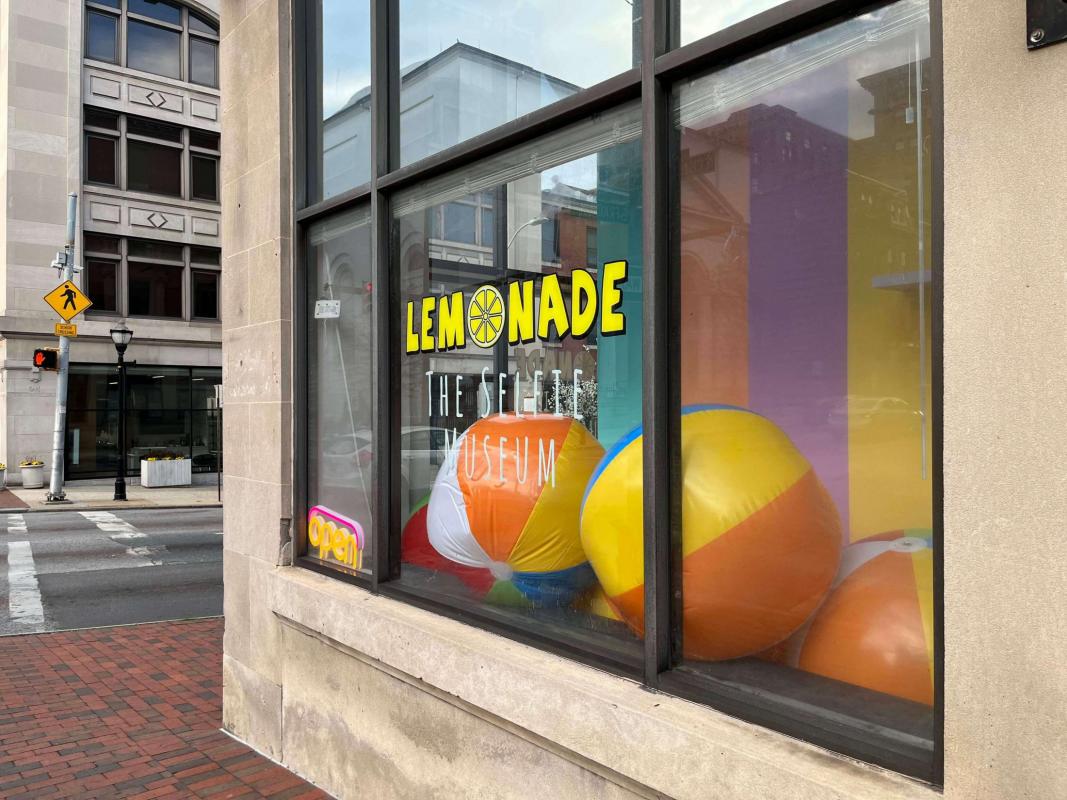 — Photography by Grace Hebron.
On a Friday evening in Mt. Vernon, the upbeat sounds of Otis Redding, Stevie Wonder, and Diana Ross bounce between the walls of 1 East Franklin Street as guests sip glasses of tart lemonade, and novelty pool floats in myriad designs and colors—a popsicle, a diamond ring, a camera, a hot air balloon, and unicorns with multicolored tresses—float above the entrance.
To the right, a lush, green velvet couch waits against a yellow wall, and to the left, a hoisted floor-length mirror sits precisely photo ready. After all, the Lemonade Selfie Museum's entryway was designed with a purpose. Opened to the public since February, it joins a growing trend of local spaces that were designed to be posted on Instagram, featuring various rooms created for parties, field trips, pop-ups, and, you guessed it—selfies—which can be reserved by the hour on Wednesdays through Sundays.
At a lavishly pink table, we catch up with the museum's founding owner, Michelle, who is using a pseudonym to protect her privacy, about the inspiration behind the first venue of its kind in Baltimore.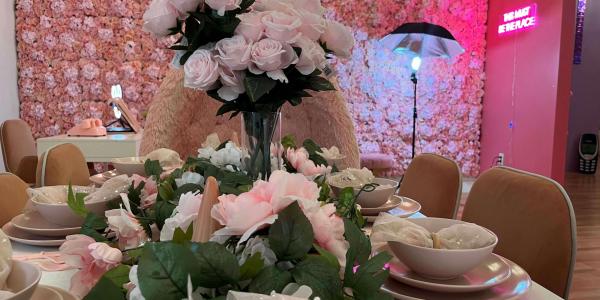 What led you to open a museum?
I went to California and they have some selfie museums that are similar to this one. I remember thinking, "We don't have anything like that in Baltimore." I really wanted our museum to have a theme and speak to something more than just taking a picture, so I did a lot of research and went to other museums to make sure that ours was [up to the same standards]. At the Museum of Ice Cream in California, the coolest part about it was the props. We wanted to make sure that we had props that people could actually pick up and utilize. We make sure we have staff to help take pictures. Sometimes guests will stand in our windows and we'll go outside to take pictures for them. Creativity is really what I want.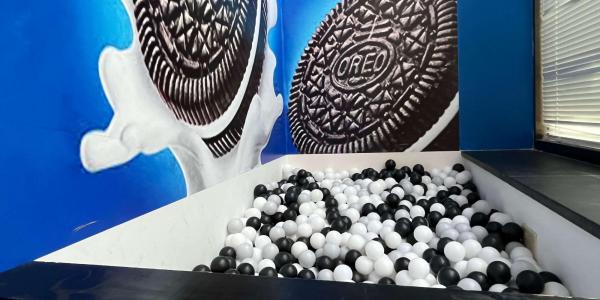 How would you describe the Lemonade Selfie Museum's theme?
The idea was for the Lemonade Selfie Museum to be a museum of affirmations. I had experiences with domestic violence, and putting little sticky notes with affirmations on them in my bathroom, on the window, or my mirror, was always just a way to remind myself that I had everything I needed to move on. I didn't want to do this for the money. I created this place to be a way to remind myself that I'm always going to have good vibes, I didn't stop, and I'm still going to be great. And every person who walks in here, they're going to be great too!
It reminds us of Beyonce's Lemonade album.
Exactly! She created that album as a self-proclamation, like, "I am Beyonce. Whatever I went through, I made lemons into lemonade." We wanted to embody the effects that album had and bring them into one space. We have a sign that says, "This Must Be the Place," meaning any place you are is "the place." Our mirror in the entryway says "G.O.A.T.," because we want everybody to feel like they're the "Greatest of All Time."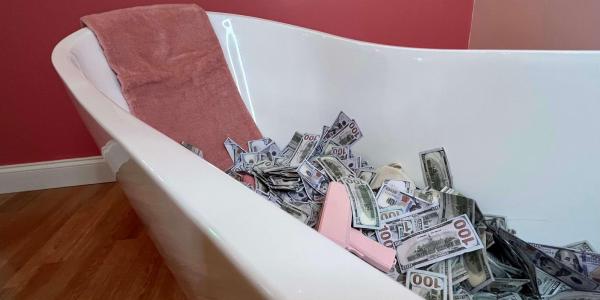 What went into designing every room?
I wanted each room to be its own and everything to be friendly and family oriented. That's why you see stuff that looks like it's for kids, but adults can use it too, like the seesaw. We also have a rain installation. Why not have our rain be colorful? And why not have a clear umbrella so we can see how pretty it is? We reached out to different artists in the area; one of them hand-painted our Burberry wall.
How do you decide what music to play?
We always try to make sure our music is PG-13, but we try to mix it up. When people come in with big crowds, we let them choose their own music. The museum is about creativity, and music is a form of art as well.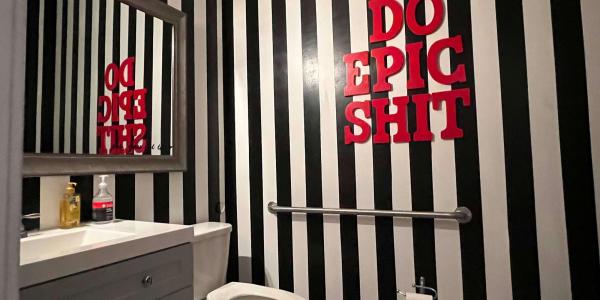 What's the most rewarding part of this experience?
Being able to use this platform to reach out to other women. Besides coming in here to feel good, I want them to be able to utilize the space for their own businesses as well. We've had people come and ask to use our backdrop for their podcast. We want them to be able to use this space for pop-up [vending.] Why not make it a one-stop shop? A lot of people can't afford [their own] brick-and-mortar.
What's next for the museum?
I'm hoping to create an upstairs, too. I definitely see us coming up with multiple locations. I've been playing with the idea of music. Maybe recreating old music videos from back in the day, like Missy Elliot's videos, or recreating the scene of the SZA album cover with the TVs.