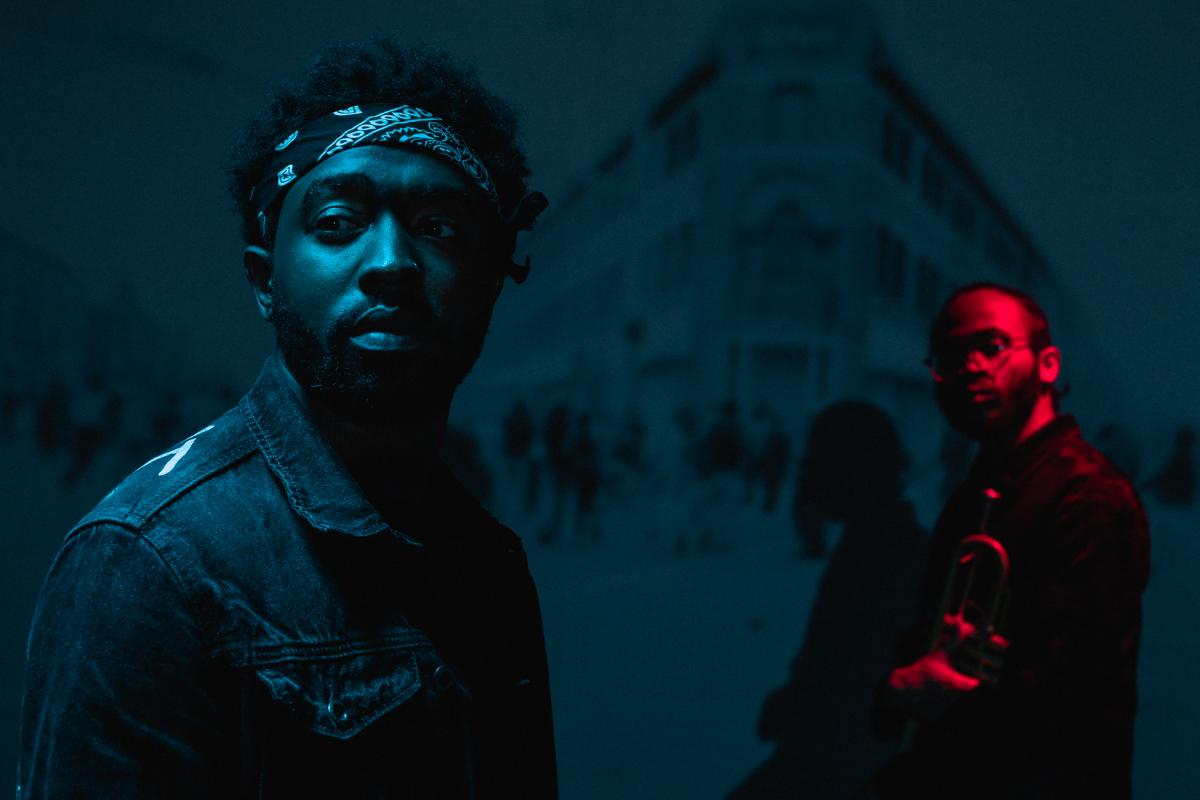 Photography by Kirby Griffin
There's a train track that runs through Asbury Park, New Jersey and splits what Baltimore resident Ajamu White calls "two worlds." White, 47, grew up on the side of the tracks that he says never fully recovered from the race riots of the '60s. But on the other side, tourists flocked to beaches and restaurants as vacation destinations. 
For White, life on the other side of the tracks seemed like a drastically different world. That was his earliest experience witnessing the realities of racial disparities  and their systemic roots in America.
"My family is from there and has been there for years, so I saw poverty and drugs and what that was doing to communities first-hand," White says. "I don't forget that, I guess—where I'm from."
White's childhood experiences continue to influence the work of the self-proclaimed cultural curator. Drawn toward "the community vibe and energy of the city," he moved to Baltimore in 2017 and soon after founded The Medicine Show—a storytelling project in which comedians, poets, musicians, and other artists (think local greats including Joy Postell, Amy Reid, and David Fakunle) amplify the missions of social change organizations using their different mediums.  
"Its seeds kind of started theater-based," White says. He's organized numerous live shows highlighting music, performance art, and spoken word throughout the years (locals might remember showcases that were part of the Red Bull Amaphiko festivals), but he says COVID-19 has provided the opportunity to work with filmmakers and visual artists to explore digital storytelling in a new streaming series, "Medicine Show Presents: Our Voice."
The Medicine Show recently kicked off the new series with a visual collaboration in which local poet and spoken word artist Kondwani Fidel, trumpeter Brandon Woody, and dancer Asya Melan Shaw perform a lyrical love letter to the city titled, "Paint it Black, Baltimore."
Directed, edited, and filmed by local cinematographer and street photographer Kirby Griffin, the collaboration was inspired by the work of community groups B-360, an organization that utilizes dirt bike culture to teach young people of color about STEM, and Baltimore Ceasefire, a movement that calls for the elimination of gun violence.
Fidel's soulful words, paired with Woody's moving score, touch on prevalent social issues in Baltimore City, including racial injustice, gun violence, and the criminalization of dirt bike riding. White hopes that people who see the video, particularly artists and other creatives, will be moved to support the two causes.
"When I say 'Take action,' it doesn't always mean donate and give money," he says. "It's also about really lending your skill-set, and that can be in many different ways. Everyone can lend a voice in this fight for social justice and social change. No one needs to sit on the sideline."
We caught up with White to discuss the transition from live theater to digital, solution-based community work, and the relationship between art and activism.
What inspired The Medicine Show?
I would say that culture is my starting point in music, film, and art. I was all about producing experiences, bringing people together, and community building. That has led me to this intersection of culture, storytelling, and social impact work. 
How did "Paint it Black, Baltimore" come together?
At the time, I was doing some work with this program called the Red Bull Arts Book Share. You basically donate money to an organization, which was actually B-360 and Baltimore Ceasefire, and then you were able to get a book from a local Black author—which in this case, included Nia June, Kondwani Fidel, and D. Watkins—and that book was actually purchased from a Black-owned bookstore, Everyone's Place African Culture Center, in West Baltimore.
So I was helping manage that program and [I thought,] 'Oh, all these people are tied together, let's add another layer to that and really put together this film to speak about it.' That's when I reached out to Kondwani, who said he'd really wanted to work with some of these other artists like Brandon Woody and Kirby Griffin. 
What was the timeline from coming up with the idea to eventually premiering the video?
Over the last month I'd say. It came together really quickly. It's just been a strange, weird year. I came to a point where I was just like, "Let's do something." 
"Paint it Black Baltimore" conveys a really powerful message. Would you say The Medicine Show has always been a place to showcase that kind of work, or is this a recent shift?
It has always been about telling stories of people doing the work and finding solutions to the issues. And a lot of those issues are facing marginalized communities, which tend to be Black and Brown people. So you have the energy, culture, and creativity of Baltimore and then you have the other side—the grassroots organizations and changemakers on the ground putting out solutions to problems. Those are the people we really want to put together.
One of the things that I noticed when I came to Baltimore was that there was an opportunity to foster a working relationship between those two groups, and that's what we want to continue doing. How do we make it so that if you're an artist growing up, it almost becomes second nature to try to find people to lend your skills and your voice to if there's something you're passionate about?
What do you think the relationship is between artists and activism?
There's an old saying that artists are always the speakers of truth. Activism to me is basically telling people that there is a problem. I think some of these social impact organizations like B-360 or Baltimore Ceasefire, they're activists, but they're also bringing a solution to the problem. They're not only trying to tell you that there's a problem, they're also saying "Hey, this is a problem, but I actually have an innovative solution to hopefully combat the problem and fix it." Those are the kind of ideas that we want to get behind. 
To me, artists are kind of the gatekeepers to that—getting people emotionally connected to those solutions. They're the ones who can really resonate your interest in music, poetry, and film. If you can hear that message in those forms, it can resonate with you more and hopefully then you start to understand more about that organization or what that solution is. Maybe you start to volunteer for that group or donate money to that group or lend whatever you can to their mission. I think creativity and art really can be the first touchpoint with someone to get them to see the organizations in human ways and see the solutions as something that everyone can get behind. It's not "those peoples' problem" or "that community's problem," it's really a human problem. 
What do you hope viewers get out of the video and the new series?
Really, I want people to understand how incredible B-360 and Baltimore Ceasefire are. Someone described it to me as a love letter to the social impact organizations that are doing the work. It was really uplifting that these two organizations are both led by strong Black women in Baltimore that are not always put on a pedestal and not always talked about. They need support. The more people that we can get to support them, whether it's through donations, volunteering, or just awareness, I think that is one thing. 
The second thing is just, the talent that's in the city of Baltimore, we want to put on display for a broader audience. But also, hopefully share with emerging artists, future artists, and younger artists that you can be an artist and your work and messaging through your art can help uplift people. I think that's one of the things that Kondwani really did well in his words is not just talk about issues, but also the solutions that B-360 and Baltimore Ceasefire are bringing to the table.
Ultimately, the long-term goal of The Medicine Show is that everyday people feel that they can lend their skills and talents to uplifting the work that's happening on the ground in communities throughout the country. There are so many grassroots organizations that have great ideas to solve  a lot of the bigger problems that are facing the Black community, but they're lacking in resources. The more that we can really build movements around them, I think is better for everyone.