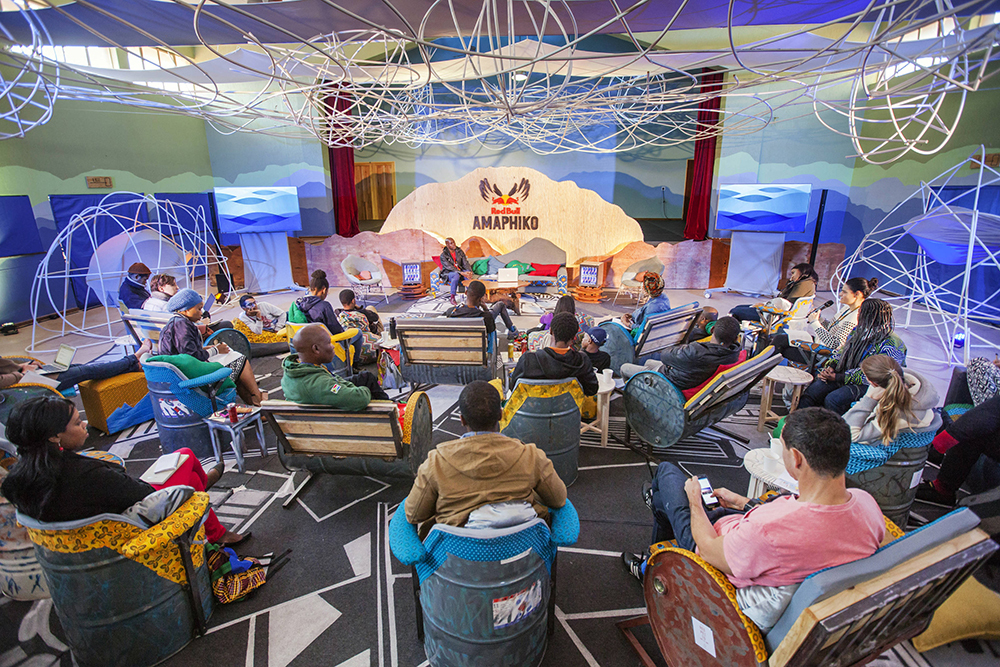 Courtesy of Red Bull
For decades, Red Bull has been billed as the energy drink that "gives you wings." And recently, the company has brought new meaning to its famed slogan, with a social justice initiative meant to elevate the ideas of change-makers across the globe.
Launched in South Africa in 2014, Red Bull Amaphiko—the Zulu term for "wings"—is a program that supports social entrepreneurs inspiring change in their communities. The organization periodically selects an academy of 15 fellows, and brings them together for a 10-day immersion of lectures, entertainment, innovation workshops, and creative collaboration.
To date, the conference has taken place five times, three times in South Africa and twice in Brazil. But it just so happens that, this time around, six of the 15 social justice leaders selected to participate in the cohort hail from Charm City—which is why organizers chose Baltimore as the first U.S. hub to host the Red Bull Amaphiko events August 11-20.
"We look for people using creativity to better their communities on a grassroots level," says program manager AJ White. "That's pretty prominent in Baltimore, and it shows. Six of our actual participants are from here as a direct result."
Among the academy of national innovators (who have spearheaded everything from STEM programs to sustainable bike repair shops) are local leaders including Walker Marsh of urban farm Tha Flower Factory, Changa Bell of The Black Male Yoga Initiative, microgreen farmer Dominic Nell of City Weeds, C. Harvey of Baltimore's Gifted, Muhammad Najeeullah of educational robotic gaming system PURGG, and Brittany Young of B-360 Baltimore—a program that uses the dirt bike culture as an avenue for STEAM education.
"It's exciting to have the opportunity to explain what makes Baltimore so great, and tell others about the amazing people that live here," says Young, a West Baltimore native. "There's great power in controlling your narrative, and the academy can help shine new light into the beauty of the city."
In keeping with its mission, Red Bull has collaborated with area trailblazers at Impact Hub Baltimore, Brown and Healthy, and Be Free Fridays at The Eubie Blake Cultural Center to curate local programming and entertainment in conjunction with the Amiphiko residency.
The free public events will highlight everything from art and live music to yoga and rollerskating, and allow the community to learn more about each academy members' initiative.
The festivities begin with gallery show at the Eubie Blake Cultural Center on August 14, followed by a family-friendly evening of yoga, meditation, dance, and rollerskating at the Shake & Bake Family Fun Center in West Baltimore on August 15.
Another highlight will be The Medicine Show—a storytelling project where local musicians, comedians, and spoken word artists share the stories of Baltimore startups (like Touching Young Lives and the Station North Tool Library) using their different mediums—on August 17 at Arena Players.
A culminating festival to close out the week will take place at the Station North Surface Lot on August 20, featuring interactive workshops, live performances from local musicians like Abdu Ali, Ultra Naté, and Bond Street District, appearances by writer D. Watkins and photographer Devin Allen, and a special screening of "Baltimore Stories"—Amaphiko's documentary series that includes three short films of people making changes in the community.
White describes the 10-day program as a "kickoff" for each of the fellows, who will be paired with a mentor for 18 months following the event.
"Each coach is tailor-made for a specific participant," he explains. "So whether they need help with funding, branding, or storytelling, it's never a one-size-fits-all type of thing. But the coaches help to identify their needs and support them as best they can."
He says that the goal of Amaphiko is twofold: to give the social pioneers a platform, and to also educate the community using the arts.
"Amiphiko isn't the right fit for someone who has lived in Baltimore, but wants to solve global hunger in Budapest," White says. "It's about helping early-stage social entrepreneurs that are solving an issue in the community that they are familiar with. We see the people closest to the problem as those who are best to find solutions to it."