Meet the New Steward of The Walters' Treasure-Trove Collection of Material Culture
Earl Martin—the museum's new Deborah and Philip English Curator of Decorative Arts, Design, and Material Culture—studies how the 18th- and 19th-century artifacts had an impact on the world around them.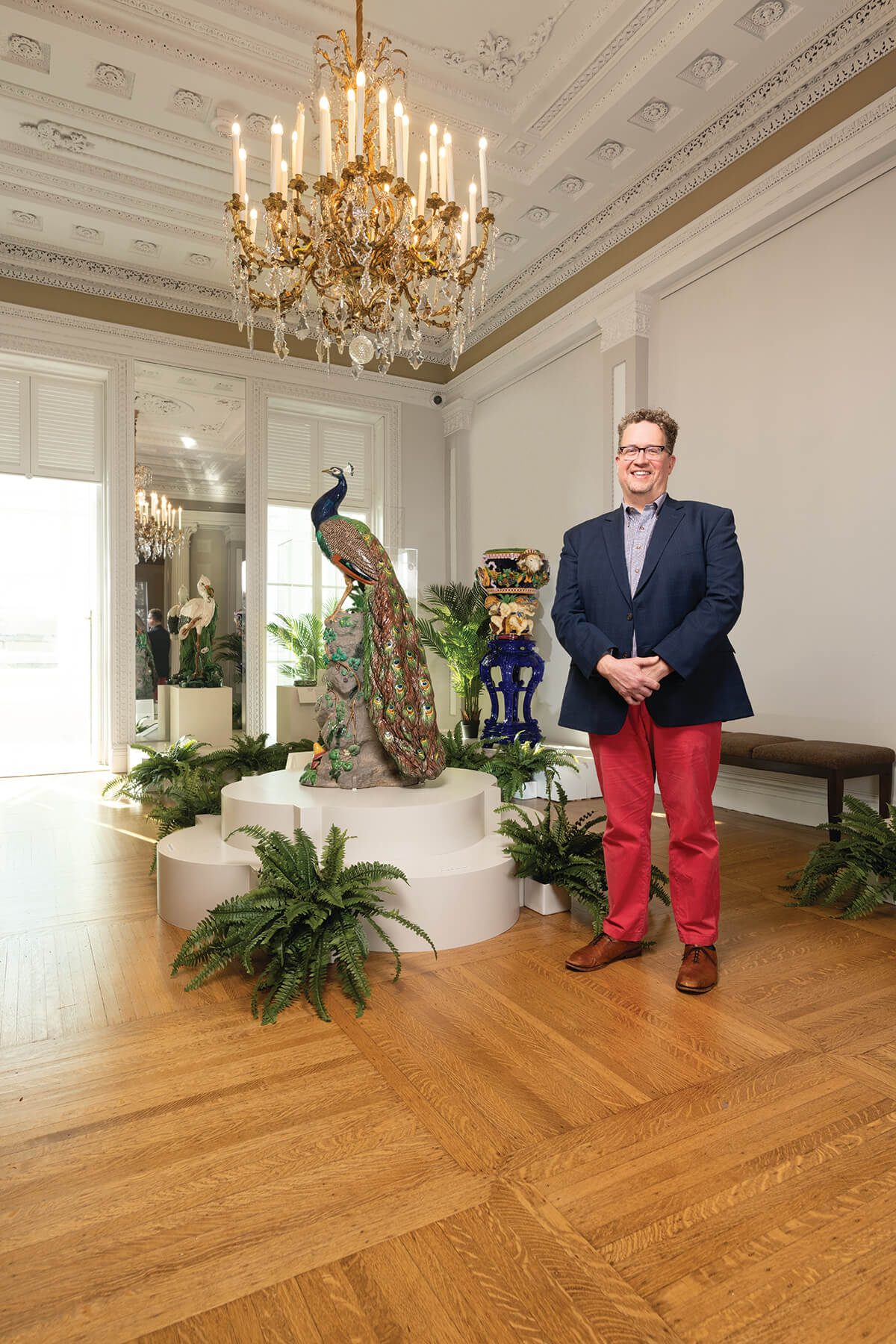 Earl Martin is a curator of several thousand ordinary but extraordinary things. A snuffbox with a tiny portrait of Louis XIV. A Russian drinking bowl made of gilded silver. A Fabergé sugar bowl covered in botanical garlands.
Specifically, Martin is the Deborah and Philip English Curator of Decorative Arts, Design, and Material Culture at The Walters Art Museum, a new position created with a $2.5-million endowment from its namesake local art collectors and tasked with caring for the Mt. Vernon institution's collection of 18th- and 19th-century artifacts.
But the job requires more than just preserving pretty things from the past, ranging from ceramics and textiles to glass: Martin is looking at how these pieces—both functional and ornamental—had an impact on the world around them.
Like paintings and sculpture, "[These objects] reflect the cultures and histories of the world," says Martin, pictured above. "They can range from everyday objects that you might actually have all around you at home to [those that] the royalty and elite of Europe and the Americas would own," from small simple mugs by Baltimore silversmith Samuel Kirk & Son to ornate rococo clocks made with French and German techniques.
This will soon include more than 400 pieces of majolica pottery to be donated by the Englishes and overseen by Martin, who first arrived at the museum as a collaborator on Majolica Mania. Launched last March, the building-wide exhibition in the newly renovated Hackerman House was part of the museum's newfound emphasis on creating a world-class venue for the study of decorative arts in Baltimore.
Majolica, a style of ceramics first introduced at London's Great Exhibition of 1851, was a favorite of the Victorians, who celebrated its colorful glazes and natural themes. Given its high quality and comprehensive selection, the acquisition means that the Walters, "without hyperbole. . .will probably have the greatest collection of this material in the world," says Martin.
The Wisconsin native came to the Walters after 15 years as a curator at the Bard Graduate Center in New York City. Before that, he interned with the Center in New York City. Before that, he interned with the Cooper Hewitt, Smithsonian Design Museum, during which time he earned his M.A. in art history from the Parsons School of Design.
Particularly enchanted by material culture, Martin's area of study includes an appreciation for the artistic techniques used to create these objects, but also an understanding of the artisans themselves, and perhaps the lives they led.
In curating the Walters' collection into new displays, he wants viewers to understand these objects holistically—from their function to the industries that created them to their role in global trade. Through this intimate exploration of the past, we can connect these stories to present-day, says Martin, as well as, "convey histories that might otherwise not be told."
That includes his interest in highlighting little-known Baltimore makers of the 18th- and 19th-centuries—especially ceramicists, of which the Walters has an extensive collection. One such object is a covered pitcher created in the mid-1880s by D. F. Haynes & Co. of Locust Point. Made of Maryland clay, its decorations were applied by Maryland Institute artisans, many of whom were female at a time when few jobs existed for women beyond domestic labor.
Says Martin, "Something as simple as a pitcher can be key to telling a wonderful story of the history of this city and its people."