Big Bad Wolf
When he's actually home, Warren Wolf is the jazz great next door.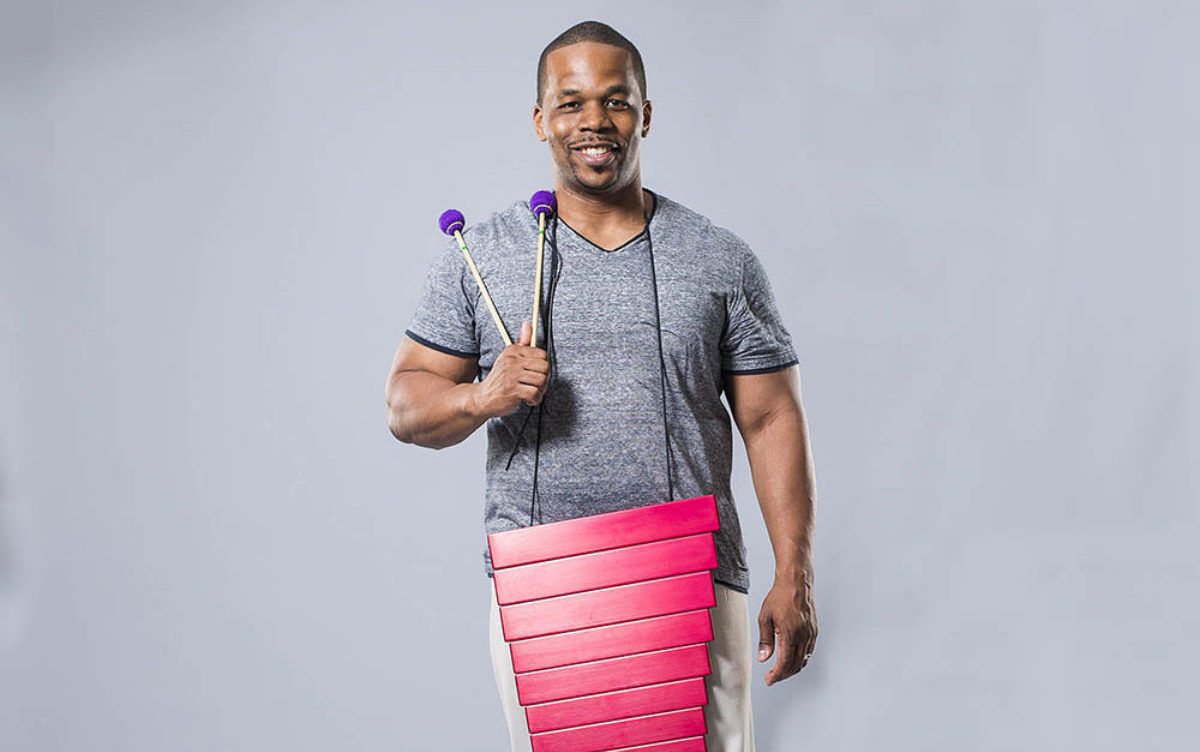 This past December, there was a buzz in the air at An die Musik Live!—the tiny, 90-seat jazz haven perched on the second floor of a Mount Vernon townhouse. Onstage, a murderers' row of locally reared jazz talent was assembling for a concert that would be part holiday show and part homecoming. In the midst of it all, exchanging warm greetings and playful ribbings, was vibraphonist Warren Wolf. Though raised in West Baltimore and a current resident of Reisterstown, Wolf doesn't play his hometown all that often. As one of today's most in-demand jazz musicians, you're much more likely to find him gigging around the globe than tuning up in Timonium, or some such place. But he's happy to be here tonight. 
"You know, it's good to leave home, and it's good to come back," Wolf says later. "You have to reconnect with your people regularly. There's something about those DMV musicians, those players from D.C., Maryland, and Virginia. There's a fire to how we play, and we like to play with each other, because we share that."
Tonight, Wolf has formed a quartet with three fellow Baltimoreans-turned-jazz-hotshots—drummer Quincy Phillips, bassist Kris Funn, and pianist Alex Brown. As the set begins, Wolf, wearing a close-trimmed Afro, thin goatee, and dark blazer over an open-collar white shirt, demonstrates the skills that led the voters in DownBeat Magazine's 2016 Critics Poll to name him one of the five best vibraphonists in the world. 
As his two mallets begin their rapid up-and-down motion, the felt ball at the end of each stick multiplies into a blur. Aided by the whirring motors beneath the instrument's wooden, xylophone-like keys, every note he strikes boasts the sustained vibrato that gives the vibraphone its signature chime. Out of that blizzard of notes emerges a strong melodic pattern that, once established, is endlessly restated in new variations. It's that combination of physical dexterity and lucid musicality that has launched Wolf out of Baltimore's local orbit and into the national galaxy of jazz stars. 
"[Bassist/composer] Curtis Lundy turned me onto Warren 11 years ago," says Bobby Watson, the legendary alto saxophonist. "Curtis said, 'You have to hire this guy—he's a beast.' He's another child prodigy. He's such a nice person, but he's always playing his butt off. . . . I always told him, 'I'm glad I got you now, because you'll be hard to get in the future.'"
In September, Wolf will unveil his new duo with fellow vibraphonist Joe Locke. And then in November, the same week he turns 38, Wolf will introduce his new quintet during shows in New York and Switzerland. Meanwhile, Wolf will continue to teach at Philadelphia's Temple University.
"I hear people saying, 'Oh, Warren's big-time; he's playing with all those famous people and making big money,' but I don't let that stuff affect me," Wolf says. "I don't mind going down to HomeSlyce Pizza here in Baltimore and playing for $60 and some free pizza at the Wednesday night jam session that Todd Marcus runs. I like the freedom of a situation like that, because a lot of the time when you're touring, you don't get to play as freely as you'd like. You have to stick to what you're selling, so you have to play the latest record."
"But who I am—
and who my father trained me to be—is a complete
musician."
Wolf's latest record, last year's Convergence, is his third album with the high-profile jazz label Mack Avenue Records and the best proof yet of how high he has climbed in the jazz world. It features the young vibraphonist leading an all-star quartet comprised of pianist Brad Mehldau, guitarist John Scofield, drummer Jeff "Tain" Watts, and five-time Grammy Award-winning bassist Christian McBride. 
"I sat down with my manager, Andre Guess, and Denny Stilwell, the president of Mack Avenue," Wolf recalls, "and we agreed that as great as the first two records were, we wanted to do something that would put my name in a different context, that would raise the bar. So we decided to get some of the best players available. . . . It was time to show that Warren can hang with the best."
Wolf acquitted himself just fine, writing six strong compositions that pushed his guests to work hard. He also showcased his talent for reinterpretation, arranging old standards by Stevie Wonder and even Frédéric Chopin.
"Sometimes you have to change it up," Wolf says. "A lot of guys just want to play their own songs and don't pay attention to what the audience wants. So much jazz is all this swing and a lot of drums over and over again. Okay, but let's include something else, too. 
"For this album, that 'something else' was Motown and classical music," he continues. "When I was a child, I toured with the Baltimore Symphony Orchestra and we played John Corigliano's Pied Piper Fantasy. Now I'm hearing all those styles inside me, and I want them all to come out in my music. A lot of people put me in this box called 'a jazz musician' because I play so fluently through changes. But who I am—and who my father trained me to be—is a complete musician."
Wolf grew up in Edmondson Village in West Baltimore, running through the alleys where he and his friends would nail crates to the telephone poles and play basketball. From the very beginning, his musical diet was varied. He consumed '80s R&B via his sisters, hip-hop with his friends, and just about everything else from his father, Warren Wolf Sr. The elder Wolf was a social studies teacher in Baltimore—working at Northern High School, Booker T. Washington Middle School, and Paul Laurence Dunbar Middle School, among others. But he was also a percussionist who led a group called Wolf Pac that played at local clubs such as the Sportsmen's Jazz Lounge in Howard Park. He had always dreamed of becoming a full-time musician, and he wanted to make sure his son had that chance. 
"When 5:30 hit, that's when practicing started," Wolf recalls. "From 5:30 to 6:30 it was piano. From 6:30 to 7:30 it was drums. From 7:30 to 8:30 it was vibraphone. It was like that five days a week from the time I was 5 until I was 17. It was hard, because what kid wants to be stuck in the basement practicing when he could be outside playing? But when I played a solo with the Rock Glen Middle School Band, people clapped and later came up to say, 'Warren, you sound really good.' I got off on that, so I kept practicing."
One effective technique involved playing along to his father's cassettes of classical concertos. "Those violinists can play really fast, but I was determined to keep up, wrong notes or not," Wolf says. "That built up my speed." 
Though Wolf considers himself equally proficient on vibraphone, drums, and piano—and still plays all of them onstage and in the studio—he got the most attention for his vibes work, if only because there's a lot less competition on that instrument. 
"It's important for me to . . . let the world know that
a strong music
culture comes
from Baltimore."
"Honestly, I think of myself as a vibraphonist-slash-drummer," he told DownBeat in 2013. "But . . . the vibes have given me the most recognition, so I lean in that direction. . . . It's an instrument you don't see every time. At almost every show I play, at least one person comes up and says, 'Wow, I've never seen a xylophone out front before.' I say, 'Thanks, but it's not a xylophone.'"
All of his practice paid off when Wolf was accepted into the Baltimore School for the Arts and then the Berklee College of Music in Boston, pushing him out of the comfortable nest of Baltimore and into a give-and-take with some of the best college-age jazz musicians in the world—and with some of the world's best working jazz musicians on the faculty. The education happened not just in the
classroom but also at Wally's Cafe, a Boston jazz venue where Wolf got to test himself against the best players of his generation. It's an irreplaceable experience, and Wolf believes too many Baltimore musicians make a mistake in never leaving town to be challenged and heard in the wider jazz world.
"You just have to do it," he says. "My sister said, 'I've got to figure out how to get out of Baltimore and make some bigger connections.' I told her, 'There's no secret; you just raise a little money and go do it.'"
Wolf graduated from Berklee in 2001 and stayed in Boston, teaching at Berklee, playing in a band led by Rachael Price—now the lead singer for the famed Americana quartet Lake Street Dive—and waiting for the phone to ring. It required some patience, but eventually the job offers started coming in from jazz luminaries, including—most crucially—Christian McBride.
The McBride connection—along with playing on a album by saxophonist Tia Fuller—got Wolf his record deal with Mack Avenue, which in turn gave him a visibility that led to guest appearances with established artists and an invitation to join one of the most unusual ensembles in jazz: the SFJazz Collective. SFJazz, San Francisco's nonprofit jazz institution, sponsors a resident octet that each year records a two-CD, 16-track album devoted to one composer. 
Each of the eight members contributes a new arrangement of a piece by that composer as well as an original composition in the composer's style. Then, they play that music at the SFJazz Center and on national and international tours. Wolf has already participated in the albums devoted to Joe Henderson, Michael Jackson, and Miles Davis. Most unusually, the SFJazz Collective is provided with the rarest commodity in modern jazz: subsidized rehearsal time. 
"That's so important," says Wolf. "Most of the time in jazz, someone brings in a lead sheet; you play the melody, then each person solos, you play the melody again and you're done. Next song. It's totally not like that with the SFJazz Collective; there's time to create music that's through-composed. It keeps the music fresh."
Wolf left Boston in 2004 to return to the Baltimore area. After you get to a certain level in jazz, he points out, you're traveling all over the world anyway, so it really doesn't matter where you live, as long as you're close to an airport. Wolf, his second wife, and their two children now live in Reisterstown, not only because Maryland is cheaper than Boston or New York, but also because he feels more comfortable being close to family and the community of musicians he grew up with. Those ties have seemed especially important since his mother, Celeste, died two years ago.
"My mom was the backbone of the family," he says. "She treated everyone as they would want to be treated. When she retired as a supervisor for Baltimore Gas and Electric, she needed something to do, so she taught herself piano. My dad was always there for me, but he was all about the music. My mom taught me how to love, because she was a very loving person." 
For any artist from Baltimore, two big challenges are knowing when to leave, and knowing when to come back. Wolf feels he did both at just the right times, and that he now enjoys an international career because he never lost the special flavor of his Baltimore roots.
"It's always important to know where home is, and for me that's Baltimore," Wolf reflects. "It's important for me to bring the Baltimore music style to the world, to let the world know that a strong music culture comes from Baltimore. And it's important for me to play a few local shows per year to always give my fans a world class show that the city doesn't receive too much."