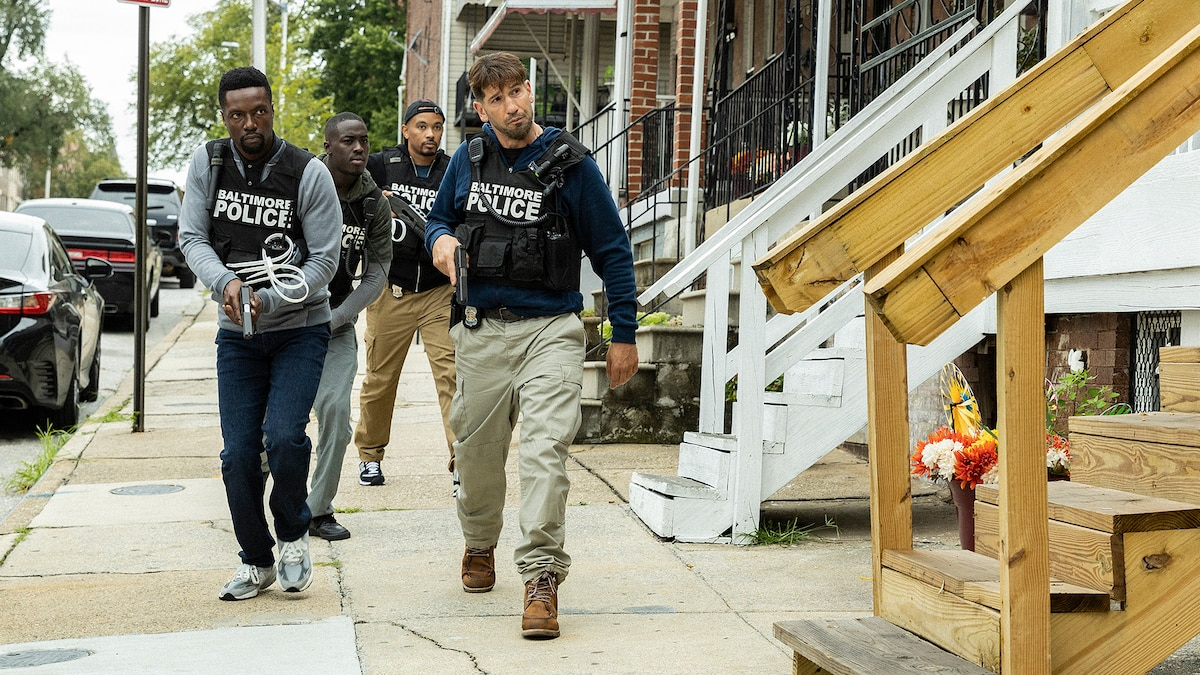 'We Own This City' premieres April 25. —Courtesy of HBO
Based on the 2021 book by former Sun, now Baltimore Banner, reporter Justin Fenton which chronicled the crimes and trials of the BPD's infamous Gun Trace Task Force, HBO's six-episode series We Own This City launches April 25. Developed by David Simon and George Pelecanos, and directed by Reinaldo Marcus Green, the series brings the horrific corruption within the Baltimore Police Department to the screen, going all the way back to The Wire era and follows the disastrous prosecution of the drug war all the way forward.
Former BPD homicide investigator Ed Burns and former Sun assistant city editor Bill Zorzi—both Wire alum—joined Simon and Pelecanos in the writers' room for We Own This City, along with New York Times best-selling author D. Watkins. Also returning from The Wire are numerous actors, most notably Delaney Williams, who portrays former police commissioner Kevin Davis. There's also Jamie Hector portraying former detective Sean Suiter—whose controversial death, one day before he was scheduled to testify in front of a grand jury about police corruption, was ruled a suicide. Baltimore native Josh Charles (The Good Wife) plays former rogue GTTF officer Daniel Herschel. Jon Bernthal (The Walking Dead) is in the lead role as the corrupt and brutal GTTF leader Wayne Jenkins. Both Herschel and Jenkins, among other Gun Trace Task Force officers, remain incarcerated. Wunmi Mosaku (Lovecraft Country) stars as a composite Department of Justice attorney leading the investigation into the BPD that became the police department's current operating consent decree with the DOJ.
Much like The Wire, We Own The City weaves several seemingly disparate storylines—Jenkins' rise and fall as the GTTF ringleader; the federal investigation into BPD corruption that did not begin with Jenkins, but eventually ensnared him and others; and the damning examination of the broader department by the DOJ after Freddie Gray's death that led to the current consent decree.
Even those viewers familiar with the recent history of the Baltimore Police Department and the Gun Trace Task Force scandal may struggle initially to follow the narrative, but eventually, the pieces come together. Many HBO viewers will likely be shocked by the casual brutality and broad daylight crimes of the Gun Trace Task Force, a supposedly elite plainclothes unit that operated more like a street gang with police impunity. Not much in We Own This City will surprise informed Baltimoreans at this point, though it will no doubt re-anger, frustrate, and dishearten Charm City citizens. Some may question if the department is capable of reform.
With the series scheduled to air its first episode April 25 and conclude May 30, we spoke with Fenton about the experience of seeing his book adapted for the screen:
Have you seen all six episodes yet?
I saw the first two episodes at the film festival in France. And then I sat in on sound editing for episode four and half of five [recently] in New York. I know what the scripts say, but I haven't seen all the episodes yet.
How close does the televised series hew to the events and reporting in your book?
There are an awful lot of scenes that are word for word, actual dialogue. Some of that is from wiretap conversation, [other dialogue] somebody said to me in an interview, or it's something that was said at a press conference. Certainly, there are other scenes that we know, generally, what happened from different participants, but we weren't there in the room with a microphone recording. And then, there are other characters who are sort of a mash-up of different people, or they're supposed to represent a [policy] position, or they're symbolic of something and they serve that purpose. But it's all rooted in real life events. There's just some, I don't know if I'm supposed to say liberties, but there are some liberties.
The series also goes back in time for additional context. The Baltimore Uprising after Freddie Gray's death is included, but it even goes back to the start of former officer Wayne Jenkins' career in the early and mid-2000s.
The show, to my delight, tracks with the book. It does not just catch up with these guys in 2015 and 2016 while they're robbing people. It attempts to establish in the first episode where things are going to go, and then it makes great use of flashback. It jumps back to Jenkins in 2003, when he's a rookie, about what he's being told to do, what he's observing in others, about how the department works. So, it's true to the book in that sense. I didn't know they were going to use the title of the book. I knew they were going to use it for source material, but that it uses the title and [the show] actually has the sort of the same structure as the book, that was pretty cool.
[The show] was a way to put all the things I'd seen and experienced over the years, all the contacts I made, into good use and tell a comprehensive story that you just simply wouldn't be able to do in a newspaper.
Essentially, Jenkins' career is the major throughline?
Yes, but it's trying to show how this [corruption] happens over time, along with the federal investigation that is playing out in real time.
From what I understand, David Simon had suggested that you write a book based on your Gun Trace Task Force reporting. You have known each other for a while, right?
He follows what is going on in the city and at some point I met him, probably in 2009. We've been in touch occasionally, but yeah, he contacted me during the trial. I'm a newspaper reporter. I'm trying to think about what my next story is going to be, what my week is going to be, and maybe how I can tell this in a narrative format for the paper. He said there was interest from HBO [as the Gun Trace Task Force crimes were unfolding]. I think it was one of the executive producers in the show, who was following the story. I know George Pelecanos was interested, and he said you need to write a book and we'll option it. It had not been on my radar to do a book. I didn't have aspirations of being an author. Honestly, considering that I have covered these things for so long, I've been covering crime for The Sun since 2008, the story was just a culmination of all of that. It was a way to put all the things I'd seen and experienced over the years, all the contacts I made, into good use and tell a comprehensive story that you just simply wouldn't be able to do in a newspaper.
Is there anything from a journalism or storytelling perspective, in terms of seeing your reporting and book adapted for the screen, that stands out?
I wish had a better answer for that. The writing process was very interesting to watch in terms of how it's very deliberate and focused. They seemed like they came into the meetings and knew where they wanted to go, and everything was efficient. It was sort of putting up different [plot points] on the wall and saying, 'This is what's going to happen here.' Anything could certainly be revised, but they kind of jumped right into it, especially given how complicated a lot of the narrative was—with a lot of jumping around of the timelines.
Not on a journalistic level, but as a spectator, it was impressive to watch. [Similarly], there wasn't a lot of technical prep for filming as far as the actors and the lines that I saw—they kind of just jumped in, and they do it three or four times, and that was it. If the first take would go bad, if someone flubs their line, they'd quickly do it again. They're like, 'Great. Good. Okay, we're done.' Just like that. But I also have to say, as far as the writing and production, I did have a limited role. I was happy to help with facts and information and make suggestions. [For example], if they said, 'Hey, we want to show this theme,' I might say, 'I think this one case from the book shows that theme,' but writers wrote the scripts and I wasn't very much involved with it.
This is a look at what was happening right under our noses, all the time.
What do you think Baltimoreans will take away from the series?
I hope that Baltimoreans, who experienced this [criminal behavior from the police department], feel validated, and also that there's some perspective on how the police department works and doesn't work. Hopefully, it's illuminating. I think there are people who think this stuff doesn't happen or can't happen or that people are lying [about being victimized by police]. You know, that we just need to support police without any reservation. This is a look at what was happening right under our noses, all the time. I think maybe journalism and the written word can only portray things so well, and that bringing it to life is important while staying true to the story. [Ultimately], I think it'll get the story to a wider audience.
*This interview has been edited for length and clarity.