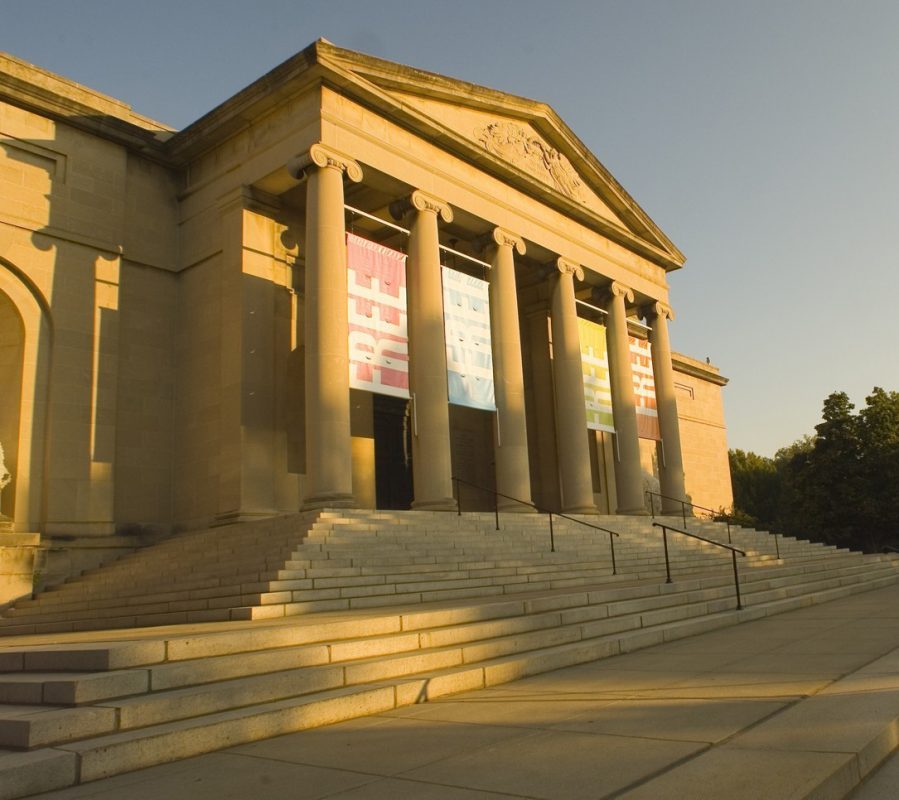 [Editor's note: We will continue to update this space as more information becomes available.]
Following an announcement by Governor Larry Hogan on March 12 that all gatherings of 250 people or more are to be postponed, many of Baltimore's venues and art spaces have announced cancellations and rescheduled events. Here's what's still open, what's coming later this year, and what to expect from the weeks ahead.
Visual Arts

The JHU Museums have announced that, as of March 16, all locations will be closed and public programs through April 12 are postponed or canceled. The American Visionary Art Museum has closed through March 31, with public programs and tours cancelled through April 12. The previously scheduled Logan Visionary Eco-Conference has been postponed to a later date.
Leadership teams are hoping that the BMA's 2020 Vision Community Celebration and the opening for Brice Brown's PROSCENIUM at Evergreen Library and Museum can be rescheduled for later in the year.
The Walters Art Museum and The Baltimore Museum of Art have closed to the public through March 31 and cancelled all events and programming through April 12. The Reginald F. Lewis Museum is also closed to the public, and a reopening date has yet to be released.
Some options remain for viewing museum collections. The Walters' St. Francis Missal can be viewed in full on the museum's Ex Libris site along with many other precious manuscripts.
The Baltimore Office of Promotion & Arts announced that all galleries and attractions will be closed starting March 14.
Events related to Maryland Art Place's Out of Order and Merkin Dream have been postponed, with new dates TBA. Y:Art Gallery has cancelled its March 21 artist talk with Maureen Delaney, Erin Raedeke, and Richard Townsend but will remain open for regular business. Please check with your local galleries for information on postponements and adjusted hours.
Music

Creative Alliance has instituted a new full refund/exchange policy during the month of March and fully canceled the March 21 performance by the Marja Mortensson Trio. The annual Baltimore Old Time Music Festival has been postponed, and the leadership team is currently looking at new weekends, likely in the summer, to hold the event. Tickets will be transferred to the new date once it is confirmed, and refunds will be available at that time for those who do not wish to attend.
The Baltimore Symphony Orchestra and other events scheduled at both the Joseph Meyerhoff Symphony Hall and The Music Center at Strathmore are cancelled through March 21. BSO president and CEO released the following statement regarding the closure: "Of course, as recent history has shown us, the BSO has navigated challenging times thanks to the collective support and strength of our community. In addition to inviting patrons to exchange into future programs, we are also deeply appreciative to those patrons who would consider donating their tickets to support the BSO at a pivotal time in our transformation."
The Modell Performing Arts Center at The Lyric has postponed all events through March 18, and some performances have already begun being rescheduled for this summer.
Horse Lords, Mdou Moctar, Versus, and Joy Postell have postponed their upcoming shows at the Ottobar, though the venue remains open at this time. According to the Ottobar Facebook page, "Our plan is to remain open this weekend in full capacity, and evaluate throughout. We'll then start the new week studying the news and continue on from there…We will post online and our website any sudden changes that may arise. If you do not feel comfortable attending a show, you have the option to adjust or refund your ticket."
Rams Head Live! has closed indefinitely in response to the 250+ gathering rule, and will work to reschedule impacted performances. Tickets for performances that are rescheduled will remain valid, and tickets for shows that cannot be rescheduled will be refunded within 30 days of an announcement of cancellation. Baltimore Soundstage and Metro Gallery have also postponed events through late March.
Sound Garden announced today that Record Store Day will be moved to June 20, 2020, affecting all area record stores.
Literature

Enoch Pratt Libraries has closed to the public, and all public programs, including the CityLit Festival, are postponed or cancelled through March 31.
According to a statement from Enoch Pratt CEO Heidi Daniel, the library is expanding programs for those stuck at home, including instituting a digital library card program to offer those without library cards the opportunity to register for instant access to online materials and databases. The Books by Mail program for homebound customers will also be expanding and can be initiated by contacting the library's circulation department.
Greedy Reads has closed to the public and suspended all events through the month of March at both locations, but patrons can still make purchases via phone/email for pick up or delivery, or through bookshop.org and Libro.fm. Charm City Books announced that all events are cancelled. In addition, all Charm City Books stock will be available for purchase online, and delivery within Baltimore City is available for free. For those outside the city, delivery is still an option at the cost of $5 or less. Events at The Ivy Bookshop and Bird in Hand are cancelled through March 30, and updates will be posted as soon as new dates are scheduled.
Theater
As of March 12, the Hippodrome Theatre has cancelled the upcoming Celtic Woman and The Band's Visit touring dates and shared the following: "If you are a ticket holder for one of these events, please hold onto your tickets as we work to reschedule their performances in Baltimore. We will be in touch in the next 7-14 days with more information on the status of this event."
Everyman Theatre has waived ticket exchange fees and upgrade charges for the remainder of the New Voices Festival, and the two remaining shows in the festival, Cry It Out and Berta, Berta, have been postponed to the summer. Queens Girl: Black in the Green Mountains will be suspended following the March 14 performance and resume on April 15. The theater's annual gala, originally scheduled for March 14, has also been postponed. Center Stage has postponed the Baltimore Butterfly Session previously scheduled for March 14, but is organizing with local artists to hold a virtual discussion about responses to the current public health crisis within the creative community. More information about this online gathering can be found here.
Charm City Players' production of Matilda originally scheduled for March 14-29 is postponed, and CCP has encouraged ticket holders to keep their tickets while they work to reschedule show dates. Announcements regarding the status of the show will be communicated over the next two weeks.
Baltimore Improv Group's managing director Terry Withers announced on Thursday that it would suspend all performances starting March 16 and reevaluate the following week. This includes practices, meetings, and unofficial gatherings at BIG's theater and training center. Classes will continue but switch to larger venues to enable distance between performers beginning March 16.
Vagabond Players will suspend the remaining performances of Constellations, which were originally scheduled through March 22. The Fells Point company will offer ticket holders refunds or exchanges for future performances.
Chesapeake Shakespeare Company, which had previously reduced seating capacity to promote social distancing, has suspended The Complete Works of William Shakespeare (Abridged) and March student matinees for Romeo and Juliet after March 15. Those with tickets to this weekend's shows are asked to make responsible choices about their attendance. Options for ticket holders beyond those dates are outlined here, and the company hopes to continue with Studio classes.
The closing weekend of The Mineola Twins at Fells Point Corner Theatre has been suspended, and plans for the upcoming production of Who's Afraid of Virginia Woolf are to be determined. Tickets for the current production can be exchanged for future performances.
Arena Players is suspended through March 27 and has also reduced seating capacity for its shows effective immediately. Spotlighters Theatre has delayed the opening of its Dogfight until March 26. The Strand remains open with increased sanitation measures.
Film

The SNF Parkway Theatre is closed from March 13-March 26, and the theater will be deep-cleaned before staff and patrons return at the end of the month. The Charles, CinéBistro at The Rotunda, The Landmark Harbor East, and The Senator Theatre will be closing by end of day March 16 in response to the latest announcement by Gov. Hogan.