Artist Whitney Frazier Combines Art and Storytelling to Recognize Local Women Leaders
Funded by a Rubys Artist Grant, Frazier's project "The Guardians of Baltimore" honors strong women from different neighborhoods.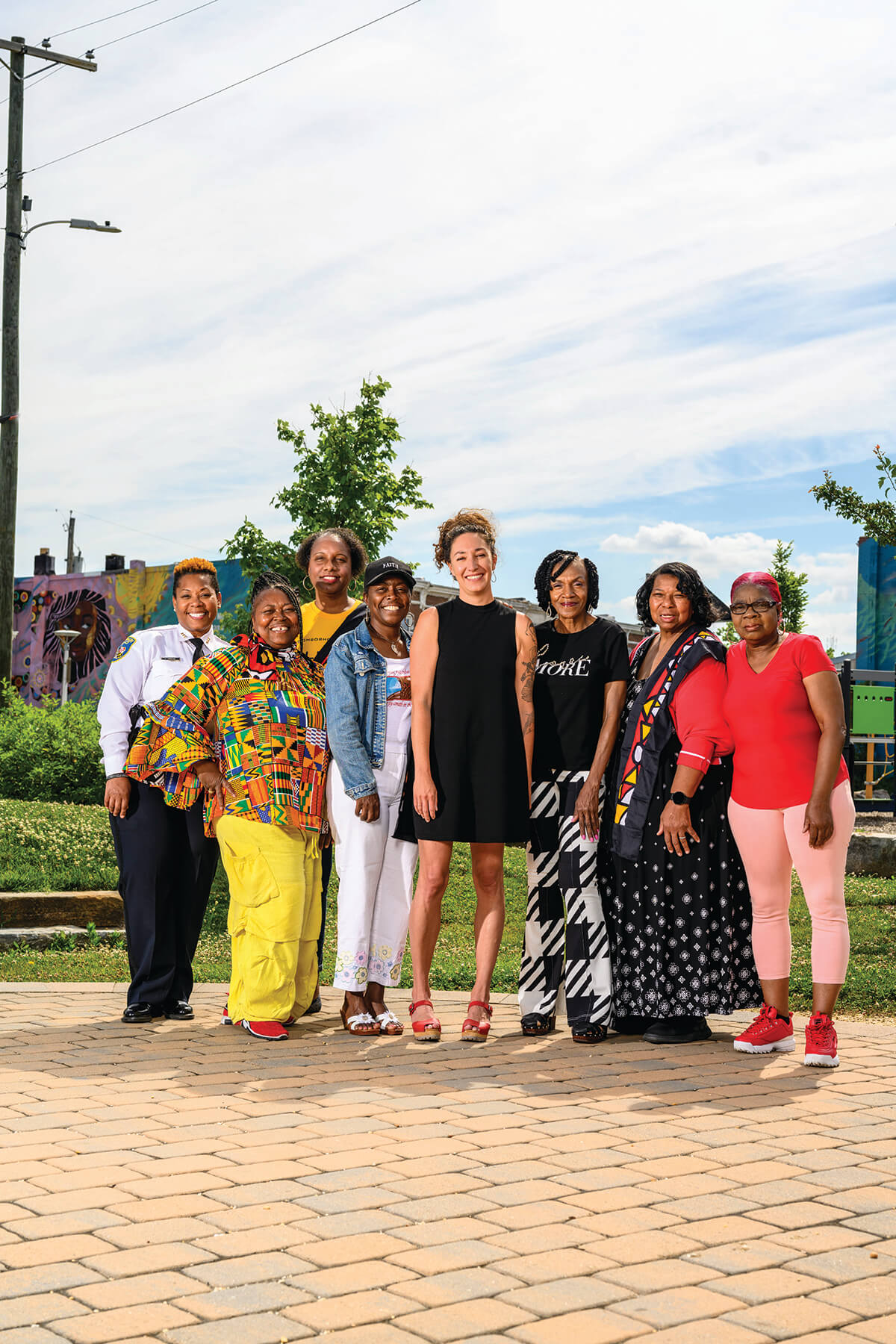 Whitney Frazier believes that community art has the power to transform lives and strengthen communities. As a Baltimore-based interdisciplinary artist, public artist, and educator, she has teamed with organizations and individuals throughout Baltimore over the past two decades to hear their hopes for their community. She has used her paintbrush to spread their vision onto canvases that include abandoned lots, sides of buildings, and renovated play spaces.
Along the way, Frazier got to know a lot of inspiring people who share her passion for improving Baltimore's neighborhoods. In particular she got to know the strong and steady women who watched over these neighborhoods—whom she calls "The Guardians."
"I would sit in the homes of these awesome community leaders and learn the stories of these women who, day in and day out, would be fighting for change and for more resources for their neighborhoods," recalls Frazier. "In every neighborhood I worked with, I would meet a 'Guardian.' No one really knew how hard these women worked or seemed to know what they did. Without them, I think things would be a lot worse in some of these neighborhoods."
Frazier decided it was time to share the stories of these women through a photo documentary and storytelling project she called "The Guardians of Baltimore." Frazier applied for and received the Rubys Artist Grant in 2020 that gave her the seed money to bring her vision to life.
All told, Frazier selected 13 women from nine different Baltimore neighborhoods for the first cohort of Guardians. Baltimore-based filmmaker and self-taught photographer Kirby Griffin captured vivid portraits of the women that were then displayed in the interior and exterior of the Peale at Carroll Mansion, as well as on the facade of Baltimore City Hall in fall 2021 through winter 2022. Furthermore, the women were given space to share their stories through interviews with Frazier, which have been archived on the Peale museum's website.
The Guardians' stories are riveting. For example, Audrey Carter lost her son to gun violence, yet she continues to tirelessly advocate for change in her community. Gwen Brown, whom Frazier credits as one of her mentors, currently works to pioneer new methods to address mental illness throughout Baltimore. Pauline Charles, affectionately known as "Aunt Ham" in her Darley Park neighborhood, helped transform a neglected block into a playground and park. Then there is Samirah Franklin, who graduated high school during the Uprising of 2015, which only fueled her determination to bring about social justice in the West Baltimore area she calls home.
"These women are 'Guardians' because they guard culture, they guard people. I believe that the spirit of their neighborhood is guarded by these women," explains Frazier. "And they're pretty fierce!"
Perhaps that's why a groundswell of enthusiasm has propelled The Guardians to be more than an art installation, but a movement. In fact, their recognition and expanded network has helped several of the Guardians be more successful in their community work and even attract more funding.
According to Frazier, fueling a movement was her hope from the beginning. "As an artist, I offer a megaphone to what they're trying to do."