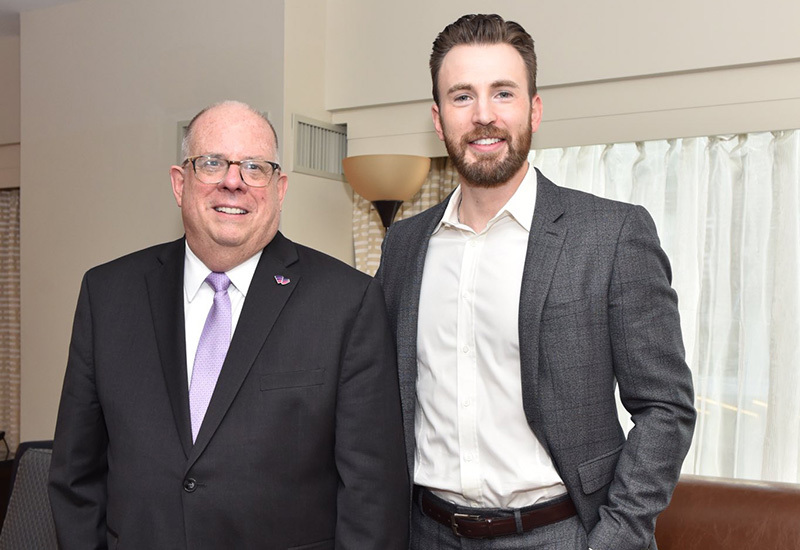 Chris Evans is perhaps best known for playing Captain America, and lately, he's been placing the emphasis on the "America" part of that moniker.
Evans has been making the rounds on Capitol Hill in an effort to raise awareness about his new project, A Starting Point, which explains political concepts in the form of short video clips starring politicians across the country. He's been connecting with lawmakers over the course of several months, and this past week, he met with Governor Larry Hogan.
In a tweet posted from his account, Hogan displayed his support for Evans' efforts.
"I still believe that in spite of all that divides us in America today, there is far more that unites us," Hogan wrote.
Great to talk to @ChrisEvans this morning for his upcoming series, "A Starting Point," which seeks to promote respectful discourse and civic engagement. I still believe that in spite of all that divides us in America today, there is far more that unites us. pic.twitter.com/xtES03cyY0

— Governor Larry Hogan (@GovLarryHogan) February 9, 2020
Hogan is the chair of the National Governors Association, and he was front and center at the organization's winter meeting this past weekend. The event is a way for governors to meet with federal leaders and talk about the issues in their state, and it was there that Evans and Hogan crossed paths.
"I had a great time talking with Chris Evans during the NGA Winter Meeting," Hogan said in a statement provided to Baltimore. "I'm looking forward to the launch of his project and glad I was able to represent the nation's governors and our mission of bipartisan political discourse."
In a Wired magazine cover story last month, the politically-minded Evans explained that he often found himself confused when trying to research the topics that made up the news of the day.
Partnering with actor and director Mark Kassen and Joe Kiani, founder and CEO of medical technology company, Masimo, Evans developed the initiative to divide big-picture political issues up by category (immigration or education, for example), and provide breakdowns on each.
The project's format is centered around politicians explaining their position on these issues in digestible one-minute videos. It also provides links to contact local representatives and an updated list of "trending topics." As for the extent of Governor Hogan's involvement, that will be revealed when A Starting Point is officially up and running.
Evans has recorded more than 1,000 videos for the project, which is set to launch in March. If successful, he told Wired, the project will "reduce partisanship and promote respectful discourse."