Poetic Justice
Baltimore City's Youth Poet Laureate shares original work "What If..."
In April, 19-year-old Deleicea Greene was crowned this year's Baltimore City Youth Poet Laureate, becoming the fifth local student to hold the coveted title. We asked the Woodlawn High School alum to share the poem "What If…," which she created based on the idea that everyone can create their own heaven. "No one knows what truly makes an individual happy and content," Greene says. "So anybody—more specifically a black boy from Baltimore—can already have their heaven without having to die."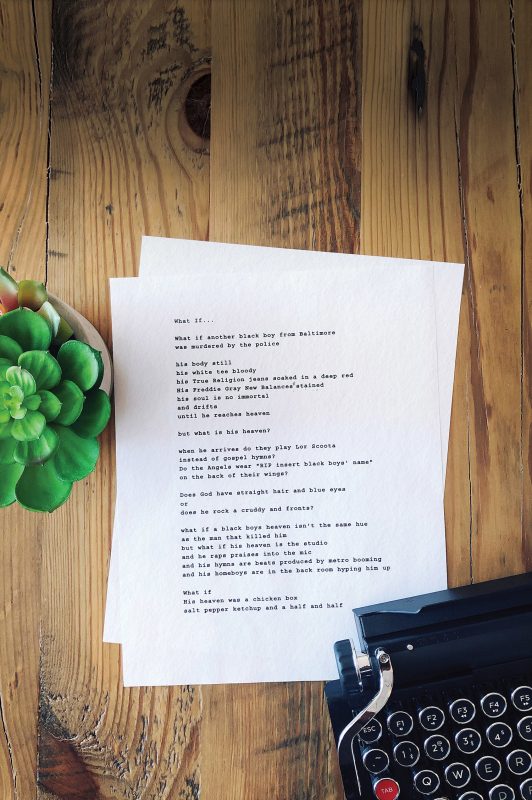 What If…
What if another black boy from Baltimore was murdered by the police
his body still
his white tee bloody
his True Religion jeans soaked in deep red
His Freddie Gray New Balances stained
his soul is no immortal
and drifts
until he reaches heaven
but what is his heaven?
when he arrives do they play Lor Scoota
instead of gospel hymns?
Do the Angels wear "RIP insert black boys' name"
on the back of their wings?
Does God have straight hair and blue eyes
or
does he rock a cruddy and fronts?
what if a black boys heaven isn't the same hue
as the man that killed him
but what if his heaven is the studio
and he raps praises into the mic
and his hymns are beats produced by metro booming
and his homeboys are in the back room hyping him up
What if
His heaven was a chicken box
salt pepper ketchup and a half and half